Alicia Vikander: The Swedish Danish Girl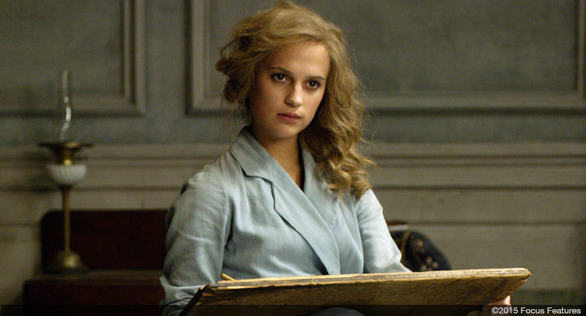 How Alicia Vikander became the hardest-working superstar in show business.
Vikander's rise has been meteoric...
It's hard to take one's eyes off Alicia Vikander. She has a ballerina's physique. Her voice can range from a very "dolly" English accent, to American, to her native Swedish-lilted English. But her dimples and doe-like eyes can't hide her ferocious discipline and appetite for work — she had an amazing five movies released in 2015.
Only 27, Vikander's rise has been meteoric — from teenage principal ballerina turned down by drama school to tripping the 1960s light fantastic in The Man from U.N.C.L.E. in 2015, to earning this year's Best Supporting Actress Oscar for her nuanced performance in The Danish Girl. Of her Oscar, standing alongside beau Michael Fassbender, she said: "It's the greatest recognition you could ever get, but it's still all about storytelling."
Indeed, The Danish Girl is a movie so beautifully filmed and told, it's like a living, breathing painting. Its real-life story, set in the 1930s, about two married Danish artists, Einar/Lili and Gerda Wegener, and their groundbreaking struggle to realize Lili's transgender journey, is propelled by not one but two outstanding performances — by Vikander and by co-star Eddie Redmayne, last year's Best Actor Oscar winner.
And while the story ostensibly follows the painfully poignant journey of Redmayne's Einar transitioning to Lili, Vikander's Gerda can be viewed as the Danish girl. She stands out as a working woman in the 1930s. And we watch Einar's transformation through Gerda's eyes, as she's our conduit into this moving story.
Vikander, whose agents had told her there was a second very good female role in the script, says of her character: "After I read the script, I found there wasn't too much information out there on Lili and Gerda. So I felt incredible when [director] Tom Hooper asked me to join and help tell this story. I saw Gerda as an extraordinary role, and she felt very different than other roles. She was brave and extremely unselfish and supportive. She was also empowering in how she knew what was the right thing to do. If you're truly able to sacrifice for the person you love, that is extraordinary."
Gerda, perhaps subconsciously, speeds up Einar's transformation. When in need of a female model for her own art, she encourages him to put on stockings and shoes to help. Then for a social event that Einar would rather skip, she suggests that he "go as someone else." When hesitant Einar decides to go as Lili, Gerda helps "her" with her wig, makeup and advice on how to walk.
Later, after several doctors cruelly try to "fix" Redmayne's character, they visit a physician who is finally told by Einar: "I believe that I'm a woman." Gerda lovingly concurs. "And I believe it, too," she says, even though she knows she'll be giving up her husband and their former life. Einar's transformation into Lili wouldn't have happened without Gerda's promptings, encouragement, and sacrifice.
"This story, the struggle that the trans community goes through, needed to be told."
Paris art dealer Hans, Einar's boyhood friend, says of Gerda before he meets her: "I have some Danish girl waiting to see me." Which speaks to the theme that the movie is equally Gerda's story. Einar/Lili admits as much, saying: "You make me beautiful and now you're making me strong. There is such power in you …" Near the end, she asks: "How have I ever deserved such love?"
Vikander suggests that her view of gender is now extremely fluid. "This story, the struggle that the trans community goes through, needed to be told. So it's wonderful that we're part of shining a light on it."
As for her other recent movies, Vikander says it feels back-to-back-to-back, but the "experience has been extraordinary and all the films have been different."
Regarding Guy Ritchie's reboot of The Man from U.N.C.L.E., Vikander says she loved both the spy-adventure genre and the fact that her character (car mechanic turned fashionista Gaby) is a "feisty, strong woman who's kind of ambiguous" and comes with a lot of secrets. When she cavorts in her silk pyjamas with Armie Hammer as KGB operative Illya, the chemistry between the two is palpable.
Vikander's outfits in TMFU are jaw-droppingly gorgeous, channelling fashion icons Jean Shrimpton and Catherine Deneuve. Vikander credits costume designer Joanna Johnston: "We were inspired by Joanna, who used the whole spectrum of '60s fashion." She adds that working with Ritchie and all the boys [Hammer and Henry Cavill] was really fun, especially when "we shot all over Italy, with a lot of great food and good wine."
As Hollywood's new "It girl," Vikander also appears in the new Jason Bourne movie with Matt Damon, and is happily riding her hot streak: "I feel extremely lucky, as I love making films. It's my biggest passion."
Ashley Jude Collie is a Canadian entertainment writer based in Los Angeles.