Amy Schumer: A Woman After Her Own Heart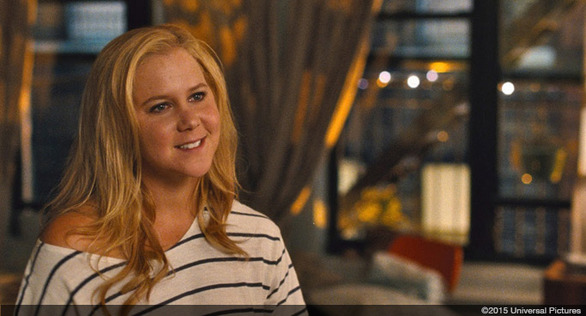 The Trainwreck star subverts the onscreen dynamic of traditional romantic comedies...
Hello, now what do I do?
Filmmaker Judd Apatow cut his cinematic teeth on the bromance subgenre with The 40-Year-Old Virgin, Knocked Up, and Step Brothers. But inspired by the exciting emergence of new female comedic talent, he has been increasingly using his helming and producing talents to work with female writers — Kristen Wiig (Bridesmaids), Lena Dunham (Girls), and now Amy Schumer in Trainwreck, a box-office hit that he produced and directed.
The movie turns the commitment-phobic protagonist role on its head, focusing on a young woman played by Schumer. In a priceless flashback scene, nine-year-old "Amy" and her kid sister, Kim (sweetly played as an adult by Room star Brie Larson), are advised by their father (poignantly played by Colin Quinn) that "monogamy isn't realistic."
That results in adult Amy taking his supposedly helpful advice to heart. We see her happily sleeping with an endless parade of guys, while doing all the stereotypical guy stuff — not cuddling, slipping out right after sex — and turning gender norms completely around. The humour and insights are ratcheted up when Amy, who isn't as together as she lets on, meets a good guy (a restrained Bill Hader) and her whole program is challenged. Hello, now what do I do?
Credit Apatow, who sees "men and women as equally talented and funny," with seeking out smart, talented women like Schumer and setting the scene.
In turn, Schumer admits she might not have written Trainwreck if "Judd hadn't suggested we do something together. … It was only … his confidence in working with me and his encouragement that gave me the belief that I could write this movie. He asked me to write something personal, something taken from my own life, from some of the pain and awkwardness I'd gone through."
She used autobiographical stuff about her family and college dating years to humorous effect in this, her feature-writing and starring debut.
Born and raised in New York City, Schumer released her debut standup comedy album, Cutting, in 2011. She came to prominence doing her satirical sketch comedy series Inside Amy Schumer (2013 to present). She's now on a steep upward trajectory and felt a kinship with comedy king Apatow on Trainwreck: "I've always found some humour in tragic stuff. In some way, humour makes it bearable for us. I found that Judd and I both see humour the same way, that you can use it to work out the tragedy or tough stuff. Often for me, the funniest thing is watching people trying really hard but failing miserably. And then they're getting back up and trying it all again."
Sure enough, her Trainwreck character gets knocked down but pulls herself back up. Schumer, who has been using her newfound celebrity as a platform to raise consciousness about gun control and other hot-button issues, also presents a neo-feminist viewpoint. Unlike in many other rom-coms, Schumer's heroine is not some cute damsel in distress. She's a proactive agent of her own wishes and desires — even if she's sleeping around and wearing micro-mini and sky-high heels.
It's a comedy, so everyone gets slammed a little. Schumer is an equal-opportunity putdown artist of both men and women, including her character, who's been skating through life with behaviour that isn't so cute or healthy anymore. Schumer doesn't let women off the hook for being as stupid as men can be.
"She's getting older, and real life catches up with Amy as she realizes that she's really hurting herself and hurting others around her, like her family. Then she meets someone that changes things up for her," Schumer has said.
About zeroing in on new female voices like Schumer's, Apatow says: "It's hard to say if I'm consciously seeking that out, because in my head, I'm seeking out talented and nice people to collaborate with. But my wife [Leslie Mann] used to say how a lot of scripts were very weak for women, so it was planted in my head very early that the overall work wasn't strong enough. And also that people really wanted there to be great stories for women. Now there's been some excellent work by women with great characters, but there just should be way more of them."
But change is afoot. There are mostly female casts for remakes of Ghostbusters and Ocean's Eleven, with female writers on board. There's Lena Dunham, another Apatow collaborator, brilliantly dealing with modern girl/guy romance on HBO's Girls. And then there are new stars like Schumer, following in the footsteps of Tina Fey, Amy Poehler, and others, who are helping to change the dynamic.
Ashley Jude Collie is a Canadian entertainment writer based in Los Angeles.