Chasing Amy: Adams Shines in Sharp Objects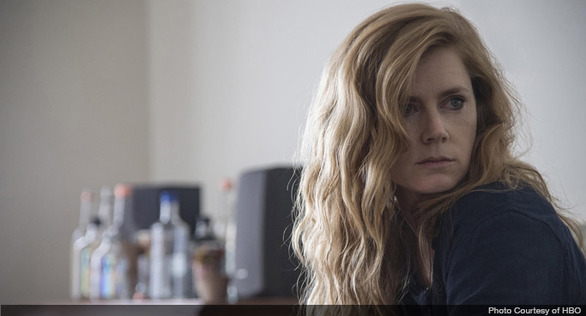 From Enchanted's winsome princess to a self-destructive reporter in HBO's new miniseries Sharp Objects, this late bloomer can do it all...
Adams admits she was "initially afraid to explore" her character's darkness...
Amy Adams is awesome — that's what viewers will be saying after watching Sharp Objects, HBO's limited series adaptation of Gillian Flynn's dark debut novel. As Camille, a psychologically unhinged reporter, Adams leads a powerful female cast that includes Patricia Clarkson as her loving but intimidating mother, Adora. Newcomer Eliza Scanlen plays Camille's teen half-sister, Amma, who inhabits a double life in this modern-day, gothic murder mystery.
Flynn (who also wrote Gone Girl) is fascinated by "people who do bad things." So the series' intention is for viewers to be riveted, entertained, and shocked as literal and metaphorical sharp objects creep out of the secretive recesses of Camille's Missouri hometown, where she is sent to write about the brutal murders of two local girls.
Adams admits she was "initially afraid to explore" her character's darkness, which includes mental illness, alcoholism, and self-harm. The gleaming razor blade in the series' poster is significant.
"In exploring Camille's character I was going to get really thin, but remember seeing alcoholics who were bloated," Adams says, confessing that she purposely put on weight. "OK, if I can be brave enough, then this was a girl who lives on sugar and vodka, so you're not going to look your best. I didn't want Camille to be a beauty queen who had flaws. I wanted her to feel flawed."
Adams' powerful portrayal of Camille is diametrically opposed to her success as the ethereal Disney princess in Enchanted. But this role also stands out from her steely resolve in The Master, her snap, crackle, and pop in American Hustle, and her stirring performance in Arrival. Indeed, immersing herself in Camille's darkness is a courageous step for the A-list actress.
That courage involved partial nudity in some scenes, and also in prepping for the SFX makeup of Camille's self-harm "scars."
"I had to be naked to put them on. The makeup team were all very professional but I felt vulnerable, which was actually helpful," Adams says. "I didn't drink as a normal habit like Camille. But, I'll be honest, there were scenes where there was a certain amount of vulnerability due to nudity or sexual situations and I sipped some whiskey, I'm not going to lie. That's how Camille was, so I justified it."
In Adams' presence, you're taken by her elegant composure and lack of insecure egotism. She takes time to answer questions and is very down to earth. So much so, she has been described as being "un-narcissistic" for a Hollywood star.
Adams says she has a "low-key life" revolving around her family, close friends, and her young daughter, on whom she bases her career choices. "I believe in the power of storytelling, and I love the work. But, if I am to be away from her, the story and project now has to count."
This from a woman who "didn't start working regularly" until her early 30s. Since then, she's been nailing it, choosing a kaleidoscope of roles. "I've learned to shed characters quickly, although some are harder to lose."
These roles have earned her two Golden Globes for American Hustle and Big Eyes, and five Oscar nominations for her work in American Hustle, The Master, The Fighter, Doubt, and Junebug. Adams is now one of Hollywood's highest-paid actresses.
"The storytelling was very intense, and Jean-Marc works in that way."
But why Sharp Objects? Directed by Canadian Jean-Marc Vallée (Dallas Buyers Club, Big Little Lies), the story takes up the feminist mantle by intimately revealing how women deal with pain. Flynn believes that if you "want to write about crime, start with a family." She writes about three generations of violence, adding: "It's been much safer for women to internalize hurt, and yes, they're also capable of violence."
"Partly," Adams explains, "it's bringing three women to the screen together, but also three women dealing with intergenerational violence and the way that women execute violence upon each other — versus the kind of violence we see between males, which is very physical. This is much more psychological and fascinating. The storytelling was very intense, and Jean-Marc works in that way. And it helps inform his material, as you never really leave the set."
Clarkson calls working with Adams "yummy," and Adams describes Clarkson as "delicious." Adams then delightfully morphs into character, an exaggerated version of Clarkson playing Adora in a Southern accent: "I could barely have had her. My waist is smaller. Clearly, I didn't give birth to Amy." Adams laughs. "I love doing Patricia, one of my great joys in life."
And one more thing, Adams adds: "I'm not pregnant — all these publications think I am. Hey, I'm a girl who likes a nacho and I wear very loose clothing. 'Are you hiding something?' And, I'm like, 'No!' "
Ashley Jude Collie is a Canadian entertainment writer based in Los Angeles.