Gloria Vanderbilt: Nothing Left Unsaid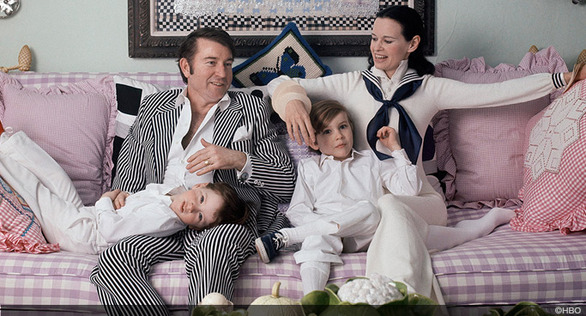 Anderson Cooper's personal new documentary unravels the life of his mother, Gloria Vanderbilt: heiress, artist, author, actor, socialite, and the last link to Hollywood's Golden Age...
Cooper sees his mother as the last link to the rich and famous of yesteryear.
From Adele to Kate Middleton to the Kardashians, it's easy to spot who's hot in the tabloids today. One woman, however, has been in the public eye longer than any other living person: Gloria Vanderbilt.
That's according to her famous son, Anderson Cooper. The CNN host and 60 Minutes correspondent helps tell his mother's incredible story in an eye-opening HBO documentary, Nothing Left Unsaid.
Spry and stylish at 92, Vanderbilt was live and in person this year at the TV critics' press tour in Pasadena, California. Son Anderson joined the session via satellite.
Cooper sees his mother as the last link to the rich and famous of yesteryear. He's hoping this documentary will shine a light "on forgotten stories or on people whose stories are no longer being told."
Vanderbilt was born in 1924 to a wealthy railway magnate and his teenage bride. By the time she was 10, she was the subject of a sensational custody battle. Cooper said it was called "the trial of the century" long before the O.J. Simpson trial received the same billing. "Her entire life has played out on a very brightly lit stage."
Vanderbilt's father, Reginald, had died before she was two. She became heiress to a fortune valued at $65 million US in 2014 dollars. A paternal aunt demanded custody at the trial amid allegations that the child's mother was squandering the inheritance in a "gay" lifestyle in France. The ordeal was later fodder for a book and a 1982 miniseries titled Little Gloria … Happy at Last.
Gloria Vanderbilt was rarely out of the spotlight. The pretty socialite was photographed by Harper's Bazaar at 15 and was dating movie stars at 17, as cheeky son Cooper unabashedly boasted to critics.
Among her suitors was Howard Hughes, "when he was 35 and my mom was 17, before he was, like, Desert Inn Howard Hughes with the tissues," Cooper said.
One of the biggest movie stars of the 1940s was another conquest. Anderson remembers watching old movies with his mother, back when he was a youngster, asking if she knew Errol Flynn. "And she'd be like, 'Oh, yes,' " said Cooper, spilling the beans that Vanderbilt dated the notorious Hollywood hunk back when she was just 17. Said Cooper, "She's had a much more interesting life than me."
There were other famous conquests, including Frank Sinatra and Marlon Brando. There was plenty of heartache and odd unions, too. There was a quickly dissolved early marriage to an abusive agent. Then, when she was 21 and he was 63, Vanderbilt married symphony conductor Leopold Stokowski. They had two sons. After that marriage ended, she married movie director Sidney Lumet. Seven years later, they were divorced.
Marriage No. 4 to writer/actor Wyatt Cooper in 1963 brought happiness and two more boys, Anderson and his older brother, Carter. Sadly, Wyatt died during open heart surgery in 1978 and in 1988 Carter leaped to his death — in front of his mother — off the family's 14th-storey Manhattan penthouse balcony. Vanderbilt has said her son's death was the low point of her life and left her bed-ridden for weeks.
Vanderbilt and Cooper felt they had to tell the whole story, warts and all. "This idea of leaving nothing left unsaid is something that I feel really strongly about," Cooper said. "My dad died when I was 10. My mom's father died when she was 15 months old. We both grew up with this fantasy that there was a letter out there somewhere" from their departed parents. "I didn't want to have that feeling with my mom," he said.
The two went through old boxes of love letters and other memorabilia while working on the project. They've also written a memoir together. They hope their process will help others with "changing that conversation that you have with your parent," Cooper said. "There are always questions you want to ask. You kind of think: 'Well, I'll wait; one day. I'll ask it some other time.' And then it's too late."
Sure, there were moments that were awkward and painful, "particularly when it's being filmed," Cooper said. But when things got a little touchy, he would remind himself that he has made a career out of asking other people sensitive questions. "It just seems appropriate that I should be willing to do the same."
For her part, Vanderbilt said the process was mostly painless. She feels closer than ever to her son. "If one is telling the truth, there's nothing to fear, and it's very freeing," she said.
Vanderbilt's life includes plenty to celebrate. She made her mark on New York's art and fashion scene, giving one-woman shows as early as the 1960s. Her line of tight-fitting blue jeans in the '70s, along with blouses, sheets, shoes and leather goods, were sought-after fashion items.
Cooper remains amazed at his mother's zest for life and belief that her next romantic suitor could be right around the corner. "She's the most youthful person I know, even at 92."
Bill Brioux is a Toronto-based freelance journalist and contributor to the Canadian Press.