Angelina Jolie: Natural Born Villain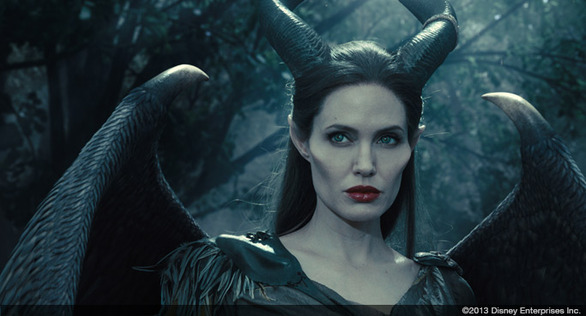 From rebel to saint and back again: Angelina Jolie returns to her bad-girl roots to play the heavy, Disney-style...
...she's been awarded, ad nauseam, the rank of Universe's Most Beautiful Corporeal Being...
Notoriety isn't unfamiliar territory to Angelina Jolie. Back in the 1990s, she was Hollywood's reigning wild child. Her admitted heroin use, her red carpet PDAs (with her brother, no less), and her puzzling interest in Billy Bob Thornton (whose blood she wore in a vial around her neck and whose name she had tattooed on her upper arm) made the celebrity hellraisers who came before her look like delinquent schoolgirls by comparison. A decade after her romance with Brad Pitt began, the tabloid media still can't untangle her from the spectre of a Sad Jennifer Aniston (even while Aniston seems to be content with fiancé Justin Theroux). And she's been awarded, ad nauseam, the rank of Universe's Most Beautiful Corporeal Being — a title that brings out the haters in droves. (Just ask Chris Hemsworth.)
Playing the seemingly evil title character in Disney's Maleficent, the live-action re-imagining of the Sleeping Beauty tale, then, was a sort of homecoming for Jolie, who, since her wilder days, has found a way to use her powers of celebrity for good (instead of emo).
So where did all that angst go?
The Angelina of 2015 is a mother of six, a brave cancer-awareness crusader, a United Nations Special Envoy, an honorary British Dame, and a fledgling director whose two films to date, In the Land of Blood and Honey (2011) and Unbroken (2014), both focus on themes of triumph of the human spirit and the atrocities of war — hardly trivial matters. So where did all that angst go?
It could be that Jolie's sojourns in war zones like Syria, Darfur, and the Afghanistan-Pakistan border — as part of her work with the UN High Commissioner for Refugees — satisfy the edgier side of her personality. Or maybe she works it out on screen. Since her role as the double-pistol-packing archeologist/adventurer Lara Croft in the Tomb Raider movies launched her career, Jolie has starred in a string of similar action movies, even taking over for Tom Cruise in 2010's Salt, a part written with a male action hero in mind.
Then, after a four-year break from the screen, Jolie was cast as the impala-horned Mistress of All Evil, Maleficent.
"There was no point in making the movie if it wasn't her."
Tim Burton signed on to direct the film but dropped out. However, the movie managed to hang on to Burton's Alice in Wonderland screenwriter, Linda Woolverton — the only woman with a solo screenplay credit on a billion-dollar box office hit. And then there was Jolie, with her made-for-Maleficent cheekbones; when news of the project first surfaced, she was inundated with family and friends telling her she had to campaign to get the part. "I got a phone call from my brother who said: 'You've got to get your name on the list for this!' " the actress told Entertainment Weekly. As it happened, the film's producer, Joe Roth, agreed.
"She seemed like the only person who could play the part," Roth said in an interview with WENN. "There was no point in making the movie if it wasn't her."
So how does it feel to be told — after more than a decade of humanitarian efforts, officially recognized by no less a personage than the Queen, and sanctioned by statuette distribution consortium the Academy of Motion Picture Arts and Sciences — that when people think pure evil, they think of you? Jolie seems to have a sense of humour about it. "It is really funny when people say you'd be obvious for a great villain," she told EW. "[Maleficent] was just my favourite as a little girl. I was terrified of her but I was really drawn to her."
Her villain isn't a woman who curses babies for kicks — there's a backstory to this bad girl, and that's something the actor says she relates to: "She's not what you assume she is," says Jolie, talking about her character — though she could just as easily be talking about herself.
Corrina Allen writes for TheLoop.ca