Brie Larson Knows No Bounds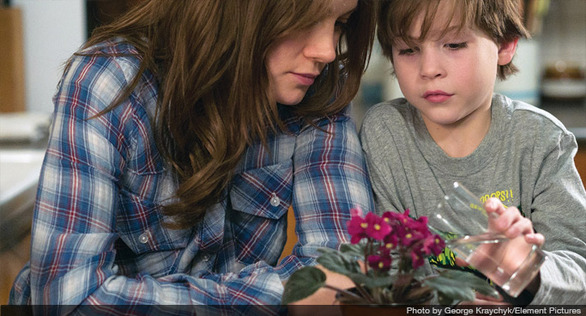 In her Oscar-winning performance in Room, Brie Larson draws from the well of her own mom's devotion.
Larson described the role as "intense, 24-hours-a-day mother love."
When I first interviewed Brie Larson, it was in Miami, for a Florida-filmed and soon-to-be-forgotten kid flick called Hoot. She was 16 and an aspiring pop star whose videos can still be seen on YouTube today. And her mother, Heather Desaulniers, was within earshot.
Eight years after that, Larson found herself in Toronto, filming a dark, harrowing and yet strangely tender psychological drama called Room. Taken from the novel by Irish-Canadian author Emma Donoghue and directed by Lenny Abrahamson, it's the story of a young woman, Ma, held captive in a converted garage for seven years, and of her child, Jack (Vancouver actor Jacob Tremblay).
At a press conference for Room at the Toronto International Film Festival, Larson described the role as "intense, 24-hours-a-day mother love."
Her own mother, who had accompanied her throughout her career as a child star, was not there, except in an inspirational sense. "I'm 25 years old now," Larson said. "I go to these jobs alone."
But the Oscar-winning performance that would permanently lift her from TV's pilot season and "daughter" roles was informed by some deep-seated personal experiences with her mother.
"A lot of old memories resurfaced," she said. "And one thing I remembered was moving to Los Angeles from Sacramento, California with my mom and little sister. I was seven and my sister was three or four. There was a studio apartment, a little bit bigger than (the one in) Room, and a bed that came out of a wall. It was a room.
"And I had about two pairs of jeans, a couple of shirts, a pair of shoes, and a handful of toys. Top Ramen (noodles) for every meal. And I remember that time as one of the greatest times of my life. I was so happy. My mom has an incredible imagination and filled so much life in that space that I never felt I was lacking and didn't realize we didn't have anything."
"And one moment moved me very deeply. We would all three sleep in that same bed that came out from the wall. And one night, I woke up and my mom was sobbing, like convulsions, shaking. I didn't realize until years later that my father had asked for a divorce, and that's why we moved to Los Angeles.
"It's giving me chills talking about it. It was a huge part of my life and something that was so palpable to bring to this film."
"I'd already fallen deeply in love with Ma and Jack when it came around to making a film."
The route from page to film set began with a coincidental reading of the book, a year prior to when Larson found out that the film was being made. "I fell in love with it," she says. "It made me weep. The only other time that ever happened was when I read (the Wilson Rawls children's book) Where the Red Fern Grows in fourth grade.
"So I'd already fallen deeply in love with Ma and Jack when it came around to making a film. Lenny had seen me in (the indie drama) Short Term 12 and arranged to have coffee with me — which turned into four hours long, with many ups and downs, tears, hugs, laughter, photos of dogs, photos of his children. And by the end of it, I felt even more invested in wanting to participate."
To find her quiet place — the state of mind of a woman in apparently endless solitary confinement — Larson consulted trauma specialists and confined herself to her home for a month.
"I had the key to my house, so it wasn't like I locked myself in," she said. "But it's an interesting space to imagine being in that place for seven years. If she'd been there a week, there would have been this constant intensity. But after seven years, there's a thing where the brain sort of learns awareness to certain things. The body can cope. It wants to find the good in whatever is in front of it.
"I also had some friends that went on these silent retreats, which includes no eye contact either, because that's also a form of communication. A lot of people didn't make it through. You get three days in and all of your thoughts start to pop up."
Of course, Ma is not literally alone. Larson worked extensively and exhaustively with the precocious, then seven-year-old Tremblay (tellingly, the same age Larson was when her mother moved her to L.A.). Larson and Tremblay would have a second phase of being joined at the hip, along the awards-season trail, where Tremblay won a Canadian Screen Award and was nominated for a Screen Actors Guild Award.
"The only person I was hanging out for all day, every day, during filming was Jacob — my best friend and my pal — hanging together, always talking about things," she said.
By the time the story moved forward, where there were other grown-ups involved, "I realized I was incapable of talking to an adult. I didn't know how to talk about something other than Star Wars or which animal would beat another in a battle," she said with a laugh.
Jim Slotek is a writer and columnist with the Toronto Sun.