Oh, Canada! Our Home and Native On-Screen Land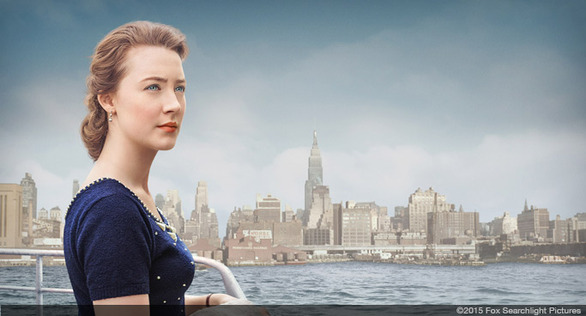 We see thee rise as a moviemaking superpower in such acclaimed international co-productions as Brooklyn, Room, and Remember...
The films ... marked the first time two Canadian movies competed for Oscar's top prize.
It's no wonder that, despite being set in the American Midwest, New York, and Ireland, two 2016 Oscar Best Picture nominees, Brooklyn and Room, have generated national pride in Canada.
Whether they qualify as legitimately Canadian films is debatable, but there's no denying these co-productions with the U.K. and Ireland are homegrown. The films, shot in Montreal (Brooklyn) and Toronto (Room), also marked the first time two Canadian movies competed for Oscar's top prize.
Both Telefilm Canada–backed films feature Canuck talent, notably Room's Emma Donoghue. The author, who lives in London, Ont., was nominated for adapting her novel about a mother held captive in a room along with her son (played in the film by Vancouver's Jacob Tremblay). Other key Canadians include Brooklyn cinematographer Yves Bélanger and production designer François Séguin, and Room production designer Ethan Tobman.
Brooklyn, which garnered Saoirse Ronan a Best Actress nomination for her luminous turn as a homesick young Irish woman who starts life anew in 1950s Brooklyn, was last year's highest-grossing Canadian film.
Toronto-based film distributor Mongrel Media president Hussain Amarshi theorized that Brooklyn's box-office success was due to Ronan's screen appeal and because we're a nation of immigrants who can relate to her journey.
Movies like Room, Brooklyn, and Remember, Atom Egoyan's riveting drama starring Christopher Plummer as a vengeful Auschwitz survivor, reflect a Canadian industry trend — a growing appetite for international co-productions to increase a film's chances of getting made and reaching a wider audience.
"These are how films get financed now," says Egoyan, whose Remember is a co-production with Germany.
"My first seven films were neat and tidily Canadian, but then there are different permutations. It gets funny," he said, recalling the controversy that surrounded Juno eight years ago.
The comedy was filmed in British Columbia and its director, Jason Reitman, is Canadian, as are co-stars Ellen Page and Michael Cera. But because the film was funded by U.S. company Fox Searchlight, it didn't adhere to Heritage Canada's legal criteria to have it certified as a Canadian film eligible for Genie Awards consideration.
Indeed, the attention generated by Canadian co-productions — not to be confused with Hollywood branch-plant productions of American mainstream fare that use local crews in Canadian locations — has sparked flashbacks and renewed conversations about our lingering cinematic inferiority complex.
Who can forget the infamous tax-shelter era of the 1970s, when economic highs outweighed artistic merit? It inspired such classic sell-outs as Porky's, Bob Clark's raunchy 1981 teen comedy that earned a whopping $7.6 million its opening weekend and $111.2 million to date.
That Canadian opening-weekend record wasn't broken until the hilarious bilingual comedy Bon Cop, Bad Cop in 2006, and artistic strides have been made since. While attempts to create other Hollywood-like fare have misfired — like Dave Thomas's ill-fated 2004 medical comedy White Coats — the visionaries saved the day.
The industry has benefited from the distinctive cinematic signatures of Oscar nominee Egoyan (The Sweet Hereafter), David Cronenberg (Eastern Promises), Patricia Rozema (I've Heard the Mermaids Singing), Anne Wheeler (Bye Bye Blues), Phillip Borsos (The Grey Fox), Denys Arcand (The Barbarian Invasions), Guy Maddin (My Winnipeg), Don McKellar (Last Night), Bruce McDonald (Highway 61), Sarah Polley (Away From Her), and Paul Gross (Passchendaele), among others.
Still, Maple Leaf movies can't seem to shake their status as the Rodney Dangerfield of Canadian culture in terms of attracting moviegoers. "What is the aversion to Canadian film? What have we done to the branding?" Egoyan has wondered. "We have no problem watching Canadian TV shows or embracing Canadian literature or music."
He says films like Room, Brooklyn, and Remember are easier to market than audience-starved indies like Sleeping Giant, Andrew Cividino's darkly affecting portrait of adolescence in rural Ontario. It's "a magnificent first feature," Egoyan says, adding that Cividino should capitalize on its acclaim.
Taking his cue from some of his favourite filmmakers, including Rainer Werner Fassbinder, Federico Fellini, and Bernardo Bertolucci, Egoyan says he learned the importance of being prolific and building your career incrementally.
"Many people thought Exotica (1994) was my first feature, but it was my sixth," he said, recalling his first big hit.
Although proud of his artsy earlier films, with dark themes of alienation and voyeurism, Egoyan says he realized he would have to try different genres. He admits he didn't get off to a particularly good start with Where the Truth Lies (2005), his sexy, glossy mystery starring Colin Firth and Kevin Bacon. Although his stylishly retro lark has its fans and won some critical acclaim, it was panned at Cannes and its box-office potential in the U.S. was torpedoed by its NC-17 rating.
Chloe, Egoyan's 2009 Toronto-set erotic drama starring Liam Neeson and Julianne Moore, and The Captive (2014), his abduction thriller starring Ryan Reynolds that is doing big business online, were more triumphant.
"Often filmmakers now aren't emphasizing the fact their films are Canadian because there's a stigma attached," lamented film critic Richard Crouse, who says another obstacle is that Canada's film industry lacks a star system. "Our stars are our politicians, not our movie actors," he says.
Anita Adams, executive director of First Weekend Club, the non-profit industry advocacy group, is working to change the distribution model that requires a one-week-minimum at cinemas.
"It doesn't work for smaller films without star power," Adams says. "It's better to do a festival run, then a special screening, then launch on VOD (video on demand). If you want to play Cineplex, do it through the special-events initiative."
Andrew Currie, whose new ensemble comedy-drama The Steps recently opened, says a new challenge for Canadian filmmakers is that foreign sales estimates have dropped and "countries around the world are paying less" because of an increase in digital-distribution models. Consequently, it's driving down production budgets.
While he has employed name recognition to secure funding and increase sales potential, as with Fido, his zombie satire filmed in Kelowna, B.C., featuring Scottish comedian Billy Connolly alongside Canada's Carrie-Anne Moss, he remains proudly Canadian.
Similarly, while the cast of The Steps, set in northern Ontario, is mostly Canadian, it's headlined by Americans James Brolin and Christine Lahti, who he says were in step with the film's Canadian tone.
"We need to take pride in our Canadian culture and express it through our stories, especially when our neighbour is a superpower with such a powerful influence culturally."
It helps when your Canadian lead happens to be a Hollywood star, adds Egoyan.
"One reason The Captive has done so well is because of Ryan," he says. "A lot of people probably wouldn't have seen it otherwise."
Michael D. Reid is a film writer and columnist for the Victoria Times-Colonist.