Clint Eastwood: Our Eyes Adore Him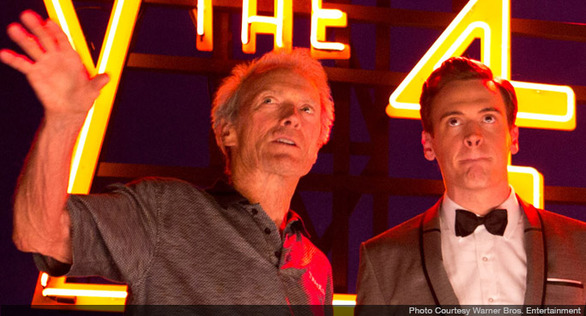 The octogenarian director's Jersey Boys sings its way into our lives
"Go ahead, make my day."
When most of us think of Clint Eastwood, we reflect back on his outstanding 50-year-plus acting career that has included being the main character in two legendary film franchises: the "Man with No Name" in the "Dollars Trilogy" of 1960s spaghetti westerns (A Fistful of Dollars, For a Few Dollars More, and The Good, the Bad and the Ugly); and as Harry Callahan in the archetypal Dirty Harry series.
His characters have uttered such iconic film phrases as: "Go ahead, make my day." And it's estimated that films in which he has acted have grossed a total of more than $1.7 billion US domestically, with an average of $37 million per film.
Steven Spielberg calls him "one of the most successful filmmakers in history."
But for more than 40 years, Eastwood also has directed an impressive array of movies. He has won two Oscars for best director (Unforgiven and Million Dollar Baby), and has directed five actors to Academy Award-winning performances: Gene Hackman in Unforgiven, Tim Robbins and Sean Penn in Mystic River, and Morgan Freeman and Hilary Swank in Million Dollar Baby. Steven Spielberg calls him "one of the most successful filmmakers in history."
He's also still going strong at 84. Eastwood's infectious, toe-tapping, musical biopic Jersey Boys was one of two directorial efforts for him in 2014. His big-screen version of the Tony-Award-winning stage musical tells the tale of four young lads from the wrong side of the tracks in New Jersey who formed the legendary 1960s rock group the Four Seasons. The film includes many of their greatest hits ("Sherry," "Big Girls Don't Cry," "Walk Like a Man"), songs that provided the soundtrack for many people who grew up in that era.
Eastwood describes the Four Seasons' music as "energetic and great fun" — and, we dare you not to sing along. He says the film platform allowed him to approach the narrative "from a more realistic angle" than the stage musical could. It puts more emphasis on the lads' hardscrabble backstory as part of a close Italian-American community. To add to the realism, Eastwood also cast actors from the popular musical itself to portray three of the four group members. Each had done more than 1,000 stage performances, so Eastwood challenged them to sing live in the film.
"...he's all the things you'd expect that made him the icon he is."
One of these musical actors was Canadian Michael Lomenda, who plays bassist/vocalist Nick Massi and who describes Eastwood as a "present but hands-off" director. The Alberta native says the legend was the best boss a guy could hope for: "It was the most ideal environment to explore, dive in, play, and enjoy. That speaks to Mr. Eastwood's respect and the fact that he's an actor first and he creates that environment. On set, it was as though he was creating an experience and a vibe for us actors that he would have enjoyed acting in. At the same time, he was patient, collaborative, focused ... and funny. In fact, he's all the things you'd expect that made him the icon he is. And then, he's also one of the guys, completely accessible and down to earth. I think I'll spend the rest of my life trying to chase the experience I had on his set."
Eastwood cites writing as a key element in the filmmaking process: "The director is an interpretive artist and the actors are interpretive. The writer is a creative artist — you take zero and make it into something; that's always amazing to me."
"I'd rather be lucky than good."
But he also cites the importance of casting, explaining, "Casting a film is one of the most important things, next to the writing, for me. If you cast it properly, everything takes place very easily. And if you don't, you're fighting an uphill battle. So we spend a lot of time on casting to make sure you get the right people. We were lucky with the casting but I'd rather be lucky than good."
As a celebrated director at the peak of his game, Eastwood also included a whimsical Hitchcock-like cameo of himself in Jersey Boys, appearing in a clip from his early days acting on the television show Rawhide. "That was from 1959 or so," he says, "and it was my first break after years of doing bit parts and unappealing roles." But he's not resting on his laurels either. Including the other movie he directed in 2014, American Sniper, he has directed 13 films since 2000 – a prolific pace of almost one per year.
So don't be expecting this tough old hombre to ride off into the retirement sunset any time soon. As he himself declares, "If you hang around long enough, good things happen."
Ashley Jude Collie is a Canadian entertainment writer based in Los Angeles.