Clive Owen Gets The Knick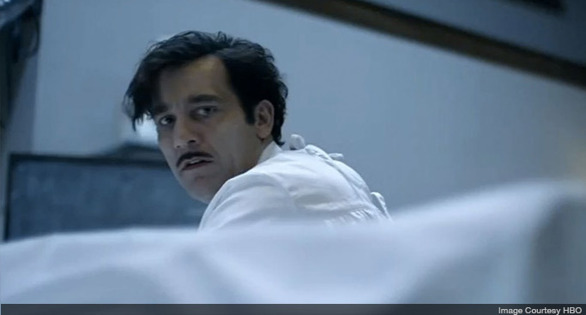 Clive Owen's role as a surgeon in a 1900 New York hospital is just what the doctor ordered
The always-dapper actor, who plays pioneering doctor John Thackery in Steven Soderbergh's riveting new period medical drama, The Knick, says, "It's 1900, and viewers are discovering a really shocking world: the world of medicine at this time and place, the Knickerbocker Hospital in New York. It makes for fascinating storytelling and exciting drama."
Picture this harsh scenario: During the Victorian era, there was at best only rudimentary anesthesia, no painkillers, and one in four patients died after surgery.
How shocking? Picture this harsh scenario: During the Victorian era, there was at best only rudimentary anesthesia, no painkillers, and one in four patients died after surgery. You were fortunate to have a competent doctor, let alone a hygienic operating theatre. There were no medical masks or gloves.
Owen, noting that most of The Knick's fictional characters and incidents were inspired by real people and ground-breaking medical events, says the series' consulting doctor showed him an authentic U.S. Civil War surgeon's kit that looked "like a builder's tool kit," complete with saws and wicked cutting tools.
Surgery in the late 1800s was often brutal and horrific, as the HBO series shows. Dr. Thackery, whom Owens calls a "very volatile but brilliant" physician, is seen performing surgery with students watching from above. The medical team attempts to save a patient's life while attaching clamps on blood vessels, cauterizing open wounds with something that looks like a soldering iron, and then dropping bloody sponges to the floor.
The British-born and charming Owen, who earned a Golden Globe award for Closer (2004) and an Emmy nomination for HBO's Hemingway & Gellhorn, describes the 10-episode shoot in New York as no different from doing a 10-hour movie. "It was gruelling and so challenging. But it was brilliant for an actor like me, feeling you're in such good hands – Steven's hands."
"Consultant Dr. Stanley Burns was an unbelievable source of information, with archival photos that were mind-boggling. There's not a procedure we perform that wasn't based on those photos. He had original turn-of-the-century booklets, page-by-page guides for doctors on how to do operations. He was our guide on how much blood there'd be flowing. He showed photos where you couldn't see the body for the clamps because that's the way they did it then."
If viewers cringe, Owen says the producers and cast "will love that because it'll show we've done our job." If your jaw drops, you won't be alone, because you've never seen anything like this despite the fact that medical dramas have been a staple of television since the early 1950s. From Dr. Kildare, General Hospital, M*A*S*H, and others, to Grey's Anatomy and perhaps the most popular of all, ER, medical science is a fertile source of storytelling, and the stories involve ordinary people we can relate to. They keep us coming back, just like The Knick will.
As Owen explains, "The doctors were on the cusp of huge innovations, so there's the science aspect. But you're also viewing this rich tapestry of New York — from the wealthy to the slums — through the eyes of a hospital. The characters are so deep and real. Unlike traditional period drama, they don't have that form and reserve. It feels incredibly edgy, tough and exciting."
This often-intense leading man, who can play thrillers (Croupier, Inside Man), period pieces (Gosford Park, Elizabeth: The Golden Age) and action comedies (Shoot 'Em Up) equally well, started out in U.K. television and theatre. After he appeared in the West End and Broadway hit play Closer, he got to do the movie adaptation of the cynical ensemble piece about modern relationships. His rave reviews earned him that Golden Globe and an Oscar nomination for Best Supporting Actor.
Despite such a sterling variety of roles, he says The Knick's Dr. Thackeray is unlike anyone he has portrayed: "He's volatile and an addict who's struggling. I don't think I've played a character like him, and he goes to some very strange places. He is a bit of a wild man because he's so unpredictable yet so brilliant."
Owen is extremely jazzed over how audiences will react, adding, "One of the joys of this business is that you take on a project like this and that world adopts you. You play Hemingway, you read all he's done, you go where he's been. Now you're delving into the world of medicine at a particular time, and it's a world I probably would never have looked into, but it's absolutely fascinating."
Ashley Jude Collie is a Canadian entertainment writer based in Los Angeles.