Concussion: Truth, Trauma & Touchdowns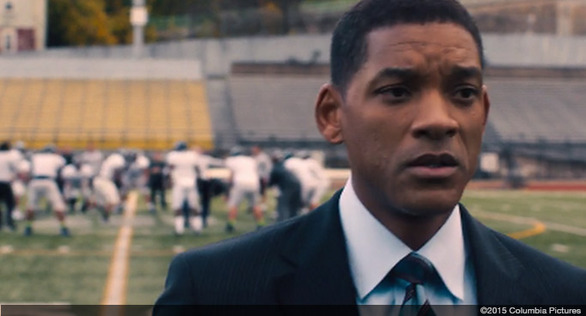 Will Smith tackles NFL deception as a crusading immigrant physician in Concussion...
Underneath Smith's genial demeanour, you can see that scientific mind furiously at work...
In person, Will Smith is lanky and gracious, and sports a winning smile. The former breakout star of The Fresh Prince of Bel-Air, is Hollywood royalty, boasting a string of box-office hits from the Men in Black franchise to Independence Day and Ali. Actor Josh Brolin, who used to be into the algorithms of day stock trading, told me once that he wanted to work with Smith in MIB 3 because he had a "mathematical" approach to choosing his movie projects.
Underneath Smith's genial demeanour, you can see that scientific mind furiously at work in his hand gestures and his logical answers to interview questions. But for his latest movie, Smith came up with an entirely unmathematical reason to go on this journey. Concussion is a stirring David versus Goliath story of Nigerian immigrant Dr. Bennet Omalu, the crusading forensic neuropathologist who uncovered the shocking extent of brain damage in football players.
"I felt compelled to deliver this film to the world, as a parent."
Smith, who earned a Golden Globe nomination for his nuanced performance, explains why he wanted to portray Omalu: "At first, I was a little conflicted with this film. I grew up in Philly, and I'm a big football fan and love my Philadelphia Eagles. I was also a football dad as my son, Trey, played competitive football, and the time we shared together was beautiful. But as my character, Dr. Omalu, uncovers, the reality of the science was an inconvenient truth. I didn't know, when my son was playing, that repetitive head trauma from football could cause long-term brain injury. So, I felt compelled to deliver this film to the world, as a parent."
Smith was also inspired by Omalu, who grew up "a poor boy in the African jungle and who came to the U.S. to be a somebody and become an American," according to the doctor.
Previously drawn to the mythic backstory of Muhammad Ali when he portrayed the heavyweight champion and great man in Ali (2001), Smith says of Omalu: "Concussion was a deeply inspiring pursuit for me, and its story is really about a man committed to the truth. Through Dr. Omalu's mission, faith and courage, he's able to make people's lives better. As an actor, it's rare that you get to take a true story that has a mythic shape to it, a true David versus Goliath conflict — and that was Dr. Omalu's story."
The narrative focuses on the dedicated public health practitioner as the little guy who shows that after multiple concussions, many retired professional football players are suffering from chronic traumatic encephalopathy (CTE), a progressive degenerative disease. He is pitted against the world of football, especially the National Football League.
For millions in North America, following pro football is a tribal passion and a way of life. Former NFL doctor Julian Bailes, played by Alec Baldwin, hits the concussive nail on the head when he says, "It is a mindless, violent game. And then it's Shakespeare. It's like life that way."
Smith's character sees the "beauty, grace, and power" of the sport. But when he tries to speak the difficult truth to the NFL, they pretend that both the concussion issue and Omalu don't exist. Given that the NFL is a billion-dollar corporate entity, taking it on seems a fool's errand.
But everyman Omalu challenges the corporate giant, arguing that when "a football player does not know he can lose his mind, family, money, his life…they have to know." His crusade is in keeping with his immigrant story of wanting to make a contribution to the American dream.
The real-life Omalu feels that Concussion goes beyond being just a rousing sports movie, saying it speaks more to our common humanity: "Concussion is not about football and sports. Yes, it does tell a story about every high-impact sport, including soccer and ice hockey. But this is an immigrant's story, about an individual's struggle from the perspective of that poor African boy, who came to America to be somebody and reclaim his dignity, and to give back. Also, no matter where you come from, truth is truth."
Smith, inspired by Omalu's "courage to keep pushing his mission," says his own goal in doing the film was to "get the information out." Concussion is a must-see for parents with football-playing kids.
As for what's next, Smith, a multiple Grammy Award–winning rapper and songwriter, is dusting off his Fresh Prince persona to tour this summer with longtime musical partner DJ Jazzy Jeff.
Ashley Jude Collie is a Canadian entertainment writer based in Los Angeles.