Daniel Day-Lewis: A New Kind of Transformation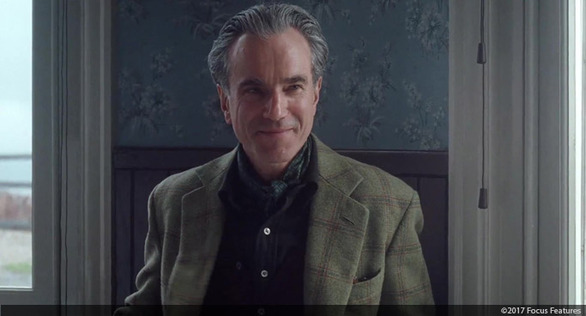 In Phantom Thread, Daniel Day-Lewis discovers an untapped resource: himself
It's not enough for him to simply understand the pursuits of his characters, he must also make them his own.
Daniel Day-Lewis has always had complicated feelings about acting. His most frequent collaborator, director Jim Sheridan, once claimed that the three-time Oscar winner hates his profession, and Day-Lewis has said that he often considers retirement after completing a role. However, it wasn't until Phantom Thread that he finally followed through on that threat, publicly announcing the end of his acting career in the wake of a claustrophobic shoot he describes as "a nightmare." Asked to elaborate on this decision, Day-Lewis said it was "made with conviction, but not full understanding." Which prompts the question: How did an acclaimed, award-winning film — nominated for six Oscars, including Best Picture — end the career of a man widely regarded as the world's greatest actor?
At first glance, it seems Day-Lewis approached Phantom Thread like any other project, beginning with his exhaustive preparation. In order to become post-war London dressmaker Reynolds Woodcock, he thoroughly studied the designers of the period, reading dozens of books, watching old fashion shows, consulting with experts, and carefully inspecting the vintage gowns at London's Victoria and Albert Museum.
Of course, if you know Day-Lewis's methods, you know he didn't stop there. It's not enough for him to simply understand the pursuits of his characters, he must also make them his own. For the purposes of Phantom Thread, this led him to apprentice for a year in the costume department at the New York City Ballet, learning sewing, cutting, draping, and measuring. By the end of his time there, Day-Lewis had the skills to credibly reconstruct a gown by Cristóbal Balenciaga, the primary model for his character. This level of immersion is typical for the actor, but when you take a closer look, you can see that he also deviated from his usual process in ways that might shed light on his untimely retirement.
Unlike Day-Lewis's other characters, many aspects of Reynolds Woodcock sprang from his own imagination — and experience. When writer-director Paul Thomas Anderson approached his There Will Be Blood star for a reunion, Phantom Thread was still an unformed idea. As Anderson wrote the script, he was in constant communication with Day-Lewis, who was deep in the process of learning Woodcock's craft. "I had bits and pieces of a story, but a very, very thin premise," Anderson has said, explaining that he collaborated with his star "every day over the course of eight or nine months."
A valuable sounding board for Anderson, Day-Lewis made many important contributions to the script — we have him to thank for his character's distinctive name and oddball phrases like "tinker's curse" — but the scope of his extra involvement didn't stop there. As one of Woodcock's creators, he was given the opportunity to select props, set dressing, even his character's dogs. Having developed a sophisticated understanding of fashion, he also took an active role in the costumes, selecting his own wardrobe, and helping determine the House of Woodcock's colour scheme, textures, and fabrics.
While most actors would kill for this kind of creative control and Day-Lewis clearly leapt at the opportunity, there's no question that he was taking a risk. Rather than transform for the role, he brought a relatively untapped resource to Phantom Thread: himself. He and Reynolds Woodcock might have their differences, but the line between the actor and his creation — two men who clearly need a break from obsessive creativity — blurred as never before. So far as Anderson is concerned, this was all part of the plan. After overseeing Day-Lewis's transformation into There Will Be Blood's maniacal Daniel Plainview, he wanted to capture something closer to the real person.
Having spent the better part of two decades playing Americans, Day-Lewis embraced the opportunity to play a character with roots closer to his own. After all, 1950s England is where his life began. It should come as no surprise, then, that he turned to his own father for inspiration when developing the character. This personal investment makes for a new kind of committed, deeply felt performance, one that sent Day-Lewis' obsessive perfectionism in a striking new direction — toward his past.
It could be that, after years of giving everything to his roles, he finally gave too much.
Drawing on his own experiences and helping shape the script, props, sets, and costumes would seem like a great luxury, but the actor's abrupt retirement suggests otherwise. It could be that, after years of giving everything to his roles, he finally gave too much. Day-Lewis has also reported deep feelings of melancholy during the shoot, which might stem from all that time spent considering faded memories of his country, his family, and himself.
The other possibility is that, like Reynolds Woodcock, Daniel Day-Lewis has impossibly high standards. The five-year break between Lincoln and Phantom Thread suggests that his longstanding disappointment in acting had already left him close to calling it quits. Plunging into bold new territory with Phantom Thread might have been a last-ditch effort to find fulfillment in this frustrating profession, but it seems he came up short.
Fortunately for the audience, this gamble pays off handsomely onscreen, though Day-Lewis would never know it because he refuses to watch the film. If he ever changes his mind, we can only hope that he's inspired to reconsider his other bold decision — and one day transform again.
Going the extra mile...
Since making his screen debut 47 years ago, Daniel Day-Lewis has appeared in only 20 films. While this limited productivity might say something about his preference for other pursuits, it is also a result of the time and over-the-top effort he puts into every role. Here are four of the most extreme examples.
The Unbearable Lightness of Being
In one of his earliest film roles — before he attained legend status — Day-Lewis took the unusual step of becoming fluent in Czech, even though his character speaks English onscreen.
Day-Lewis earned his first Oscar for his performance as Irish writer and painter Christy Brown. For maximum authenticity, he spent eight weeks in a cerebral palsy clinic, learned to paint with his toes, refused to leave his wheelchair, and insisted on being fed by others.
The Last of the Mohicans
In order to convincingly portray Nathaniel Poe, Day-Lewis fully immersed himself in the character's 18th-century lifestyle. He became adept with a tomahawk, tracked and skinned animals, and even built canoes.
The Boxer
For his role as boxer Danny Flynn, Day-Lewis trained relentlessly for 18 months, becoming so skilled in the ring that his trainer claimed he could hold his own with Britain's finest middleweights.
Jonathan Doyle writes about movies for CTV and Space.