The Foo Fighters' Sonic Highways to Happiness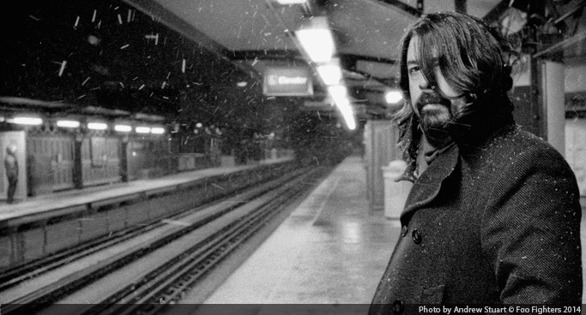 Dave Grohl gets on the road to rock (and jazz, and soul, and …)
Here's a thought: Dave Grohl is our Paul McCartney. If you were born in the 1980s or later, Grohl was in the most important band of your generation, the one that changed everything about rock 'n' roll. He was the fresh-faced, friendly member, the one left to carry on after the band's tragic end due to an untimely death—and boy, did he!
Much like Sir Paul, he didn't waste much time in starting a new band, stepping out from behind the drums of Nirvana to form and front the Foo Fighters, which became a bestselling, chart-topping, Grammy-winning, incredibly popular group in its own right.
Between Nirvana, the Foos, his supergroup Them Crooked Vultures (with Josh Homme of the mighty Queens of the Stone Age and John Paul Jones of the mega-mighty Led Zeppelin), and a slew of collaborations with everyone from Nine Inch Nails to Tom Petty and the Heartbreakers to – get this – Paul McCartney himself, Dave Grohl isn't just the busiest man in rock, he's pretty much its ambassador.
"...a love letter to the history of American music."
So there's really nobody better than the ever-curious, abnormally enthusiastic Grohl to put together an eight-part TV series for HBO about what he loves most: American music. Sonic Highways is not a new singing competition or reality show, or an archival encyclopedia like Ken Burns' Jazz miniseries. It's a show that traces the country's musical evolution through the sounds of its great cities, something Grohl has called "a love letter to the history of American music."
Sonic Highways comes on the heels of Sound City, Grohl's 2013 feature documentary about the legendary California recording studio of the same name, where Nirvana recorded its breakthrough album, Nevermind. That film featured an all-star cast of Sound City alumni (Stevie Nicks, Rick Springfield, Corey Taylor of Slipknot, to name just a few) and a historic reunion of Nirvana's remaining members with no less than McCartney on vocals. While many focused on the arrival of "Sirvana," Grohl had a new idea: Do the same thing for studios all across the country.
Sonic Highways sees Grohl and his Foo Fighters take to the road, writing and recording in eight cities: Chicago, Austin, Nashville, Los Angeles, Seattle, New Orleans, Washington, D.C., and New York. Music fans will recognize that those are not random choices, but rather the birthplaces of so many of America's important musical forms, such as jazz, country, R&B, hip hop, and the hardcore punk that Grohl grew up on. Think of it as a modern, super-sized Rattle and Hum, U2's classic 1988 album and film capturing the Irish band's experiments with Southern gospel and blues music.
Grohl hit the streets to interview local figures, who flesh out the history of these great cities.
Each episode focuses on a particular historic studio, and treats viewers to guest performances or interviews with superstars who recorded there, the likes of Joe Walsh of the Eagles, Chuck D of Public Enemy, KISS's Paul Stanley, Dolly Parton, Buddy Guy, and Fugazi's Ian MacKaye. In addition, Grohl hit the streets to interview local figures, who flesh out the history of these great cities. And if that weren't enough, each one-hour episode gets its own new Foo Fighters song, written on the fly.
"We'd get there, start recording and I would just run around town filming and interviewing as many people as I can," Grohl told The Hollywood Reporter. "I did over 100 interviews. At the end of the week, I'd take all my transcripts, put them on the floor, sit there with a pen and my journal, and … reduce all of these stories into a song."
The songs will be released as the Foo Fighters' eighth studio album, also called Sonic Highways. "It's gonna be our longest album—because there are some epic jams," Grohl told Rolling Stone. "When you get Joe Walsh with you out in the desert (at a session at a studio in California), it's not going to be a three-minute pop single. It gets a little weird."
And so, although produced by Butch Vig, who orchestrated the classic Nirvana sound, it's likely to be the band's most experimental album, inspired as it was by divergent musical styles from across many different eras, with lyrics written in a style Grohl admits is unconventional. If you've ever wondered what the Foo Fighters would sound like jamming with New Orleans' Preservation Hall Jazz Band, you'll soon find out.
"...it's important for musicians to get together with everybody, and just go for it..."
"I think it's important for musicians to get together with everybody, and just go for it, and jam," Grohl told fans at a screening of Sound City. "You're totally inspired when you get to jam with your heroes, and you've grown as a musician."
Liisa Ladouceur is a Toronto-based journalist and writer.