Go West, Denzel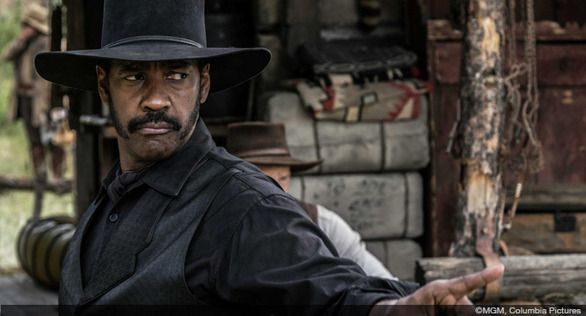 The star of The Magnificent Seven cowboys up for his first ride in the saddle...
"Denzel walks into room, the room stops..."
How did Denzel Washington end up starring in a western? The Magnificent Seven director Antoine Fuqua says he started by connecting the dots between Washington and Clint Eastwood.
"Denzel walks into room, the room stops," Fuqua told a Toronto International Film Festival press conference for the movie. "Clint Eastwood walks into a room, the room stops."
The only thing missing in the connection was that Washington had never done a western. "I just wanted to see Denzel on a horse. I figured, THAT would be an event."
"And THAT was terrifying," interjected Washington, who admits to no great affinity for westerns. In fact, he never bothered to watch the 1960 Steve McQueen/Yul Brynner film of the same name (though he did watch its predecessor, Akira Kurosawa's Seven Samurai, the film that inspired Fuqua).
"Although, by the end, it was the horse that was terrified," Fuqua joked.
In a private interview, Fuqua expanded on the Washington/Eastwood connection. This is Denzel's "Eastwood time," apparently.
"Older action heroes — I think they bring a gravitas," Fuqua said. "I think when you look at Clint Eastwood or some of the great actors of the past, they're probably most powerful when they're around Denzel's age, from the 40s to the 60s. That's when they become fully developed men, in a way."
Not that being in an action film was a selling point to Washington, 62. Though he has been in films that clearly fall into that category (including The Equalizer, one of three films he's done with Fuqua), Washington says: "I think [genre] titles are just people being lazy. 'It's an action film, it's a thriller.' I don't know what that means. An action scene is drama. I don't even know what an action film is. I don't know if I've even made one."
None of which matters to Washington if Fuqua is the director. "I will follow him anywhere," he says. You might feel that way, too, if your first project together had won you an Oscar. (Washington's Best Actor Oscar for Training Day was the first won by an African-American in 38 years since Sidney Poitier was honoured for Lilies of the Field.)
The modern The Magnificent Seven takes place in a dusty town in the U.S. old West, where citizens are being terrorized by a criminal businessman (Peter Sarsgaard) with a private army of gunslingers. The townsfolk turn to a bounty hunter named Sam Chisolm (Washington) for help, and he, in turn, lines up six outlaws as allies to defy the odds and set things right.
"And none of them were black, either..."
Also unlike its predecessor, this Magnificent Seven has a diverse cast that includes a knife-fighting Asian named Billy Rocks (Byung-hun Lee), a Mexican outlaw named Vasquez (Manuel Garcia-Rulfo), a Comanche warrior named Red Harvest (Martin Sensmeier), a Cajun gunslinger named Goodnight Robicheaux (Ethan Hawke), a skilled tracker named Jack Horne (Vincent D'Onofrio), plus a gambler named Joshua Faraday (Chris Pratt).
"It's probably more like The Wild Bunch than [the original] Magnificent Seven," Fuqua says. When the original was made, "The world was different then. They were more wholesome. They never got dirty. They never sweat."
"And none of them were black, either," Washington interjects.
Fuqua got hold of the script for The Magnificent Seven reboot while Washington was on Broadway in a production of A Raisin in the Sun (just prior to adapting August Wilson's play Fences into a movie, and then directing and starring in it).
"The stage was really consuming him, so it took him a couple of weeks to get to the script," Fuqua says. "He knew Seven Samurai was one of my favourite films. And the script, well, I'd read a couple of other remake versions that really didn't do it. So I was excited when I found one that did.
"But when it came to selling it to him, Denzel is a theatre actor, a powerful actor. It's always character first. As a director, you can use your technology to get the blend of drama and action. That's when you get your popcorn and your Coke and you enjoy the journey."
As for the haunted Chisolm, attempting to atone for something in his past he can never undo, Washington is all about absorbing inner turmoil.
"But you take some of what you're doing home," Washington said in another presser with Fuqua for The Equalizer. "Unfortunately, my wife has to deal with it. She's like, 'Who's coming in the door today? Oh, it's Malcolm X today. It's the white man's fault today. Oh, it's Training Day today. It's everybody's fault.' "
Sometimes, knowing what he'll be bringing home makes Washington reluctant. The "no" he most second-guesses was his rejection of the role Brad Pitt played in David Fincher's disturbing thriller Se7en.
"It was too much for me when I was reading it, but it was different when I saw it. Evidently, it was meant for Brad all the time."
Jim Slotek is a Toronto movie critic and freelance entertainment journalist.