Director Jeremy Podeswa on the Small Screen with Big Opportunities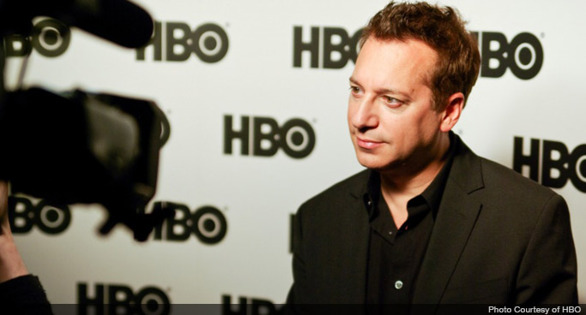 After starting his career in independent cinema, the Canadian filmmaker Jeremy Podeswa honed his craft on Boardwalk Empire and The Newsroom...
Today, television is more complex, more stylish — in short, more cinematic.
For director Jeremy Podeswa, Boardwalk Empire isn't just about the schemes. It's also about the suits.
"I always say that men never looked better," Podeswa explains, than in that time and place. The Toronto-born filmmaker has directed several episodes of the dark and dapper crime drama, which ended this year after five seasons (all episodes are available on TMN GO). "The guys never went out without a hat. There was a sense of occasion."
Tracing the corrupt reign of Atlantic City political swindler Enoch "Nucky" Thompson, Boardwalk Empire brings the 1920s to life with pinstripe blazers, tilted fedoras, and plenty of mood lighting. But the series' finely articulated visual world reflects more than gangster cool: It is also indicative of a wider trend in television toward sophisticated, challenging productions. Gone are the days when prime time just passed the time. Today, television is more complex, more stylish — in short, more cinematic.
That makes it a more appealing avenue for ambitious directors like Podeswa, who got their start on the big screen but have found creative fulfillment on the tube.
"I think there used to be a real hierarchy, where film was the goal and television was seen as the poorer cousin," Podeswa says. "But that's completely changed now. Television has become really central to the cultural conversation. Everybody's watching TV and talking about shows. They're really primary."
Podeswa would know: He directed episodes of some of the most talked-about series in your PVR queue. Having helmed several feature films in Canada during the 1980s and '90s — most notably The Five Senses (1999), which was awarded the Genie for Best Picture — Podeswa shifted to American television in the early 2000s, working for shows like Queer as Folk, The L Word, Carnivàle, Rome, and Six Feet Under. In 2007, Podeswa released Fugitive Pieces, his last feature film to date. Since then, he has directed episodes of The Tudors, True Blood, Homeland, The Walking Dead, The Newsroom, and Boardwalk Empire, among several other TV series that are all widely seen, debated, and blogged about.
"Every new show gives you different opportunities to do different things and work with different kinds of creative people..."
It's a resumé that encompasses a diverse medley of genres, historical periods, and personalities — from vampires and zombies to Shakespeare-era kings and Jazz Age mobsters — but Podeswa says variety is just one of the benefits of working in television.
"Every new show gives you different opportunities to do different things and work with different kinds of creative people," he says. "It's always invigorating, I think, to explore new ways of using the medium and expressing yourself."
Another benefit of working on the small screen: freedom from the financial constraints of traditional cinema. According to Podeswa, "The bottom line is much more severe there. If your movie doesn't make $100 million in the first week, then it's a failure. But TV shows, they can be by their nature more niche. That's attracting a lot of creative people, because they're not confined by the expectation that you have to be lowest-common-denominator popular."
Within this more flexible system, there is perhaps no company that has put as much emphasis on creative freedom as HBO. When pop-culture critics talk of the current Golden Age of TV, they are usually referring to a shift that started sometime around the premiere of The Sopranos on HBO in 1999 and continued with high-concept, high-production-value shows like The Wire, Game of Thrones, and, more recently, True Detective. While Podeswa has worked for many networks, making series of equal calibre, he credits HBO with spearheading the dynamic era of television viewers now enjoy.
"I think HBO invented it, really. Their whole catchline, 'It's not TV, it's HBO,' came out of a way of explaining what HBO is — which is a pay service, not a commercial network. So they have to deliver on that promise and create something that pushes boundaries creatively — and offer a true alternative."
Because of this commitment to originality, Podeswa says, the network attracts top-of-their-field filmmakers, writers and actors. This is no more evident than with Boardwalk Empire, for which Martin Scorsese directed the pilot episode. And even if your name is not explicitly associated with a show, directing for TV is no longer just a job-for-hire, but a chance to have an artistic impact.
"I'll only direct a show that I feel I have some connection to," Podeswa stresses. "I'm not interested in doing shows where I feel like anybody could direct. If you're a little more anonymous directing, that doesn't interest me. I want to do shows where I can have a real imprint, where I can really interpret a script."
Considering how many series Podeswa has to his name, he's been leaving his stamp across the dial. Which means that even if you didn't know it, you're probably a Podeswa fan.
Eleni Deacon is Toronto-based freelance writer.