Disney Wishes and California Dreams in the Golden State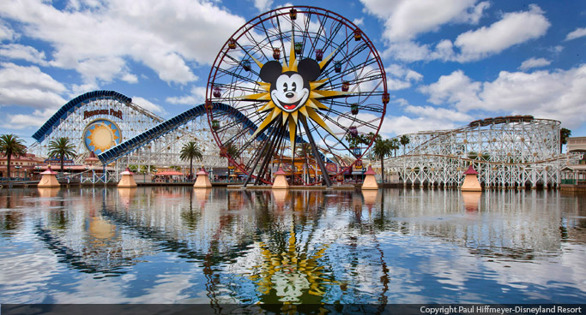 Go west, young family, go west for the vacation of a lifetime
With so many easy and awesome beach destinations that are less than a four-hour flight from Toronto, and the mecca of all things Mickey Mouse even closer, you may be wondering why one might want to bother with Disneyland, and have to endure a longer flight and a time change when just seeking beach and Disney.
Because California. And Cars Land.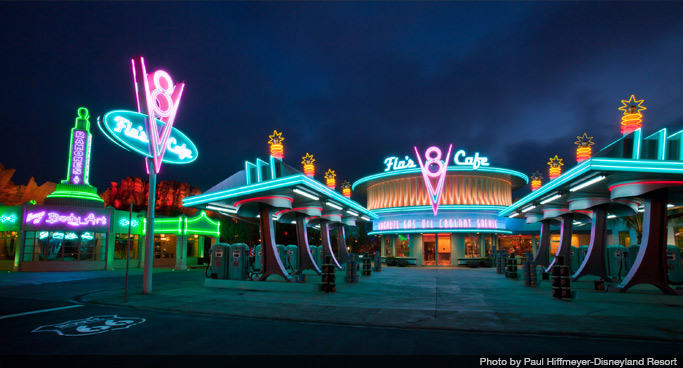 "He did what in his cup?"
If a five-year-old's mind is blown by a theme park, mark that down as a parental win. If your mind is blown in the process, even better. I don't think I can count the number of times we've watched Cars. My son received the Blu-ray as a Christmas gift when he was about 18 months old, and for a solid year he would wear nothing but Lightning McQueen shirts (I bought five). As a family, we can recite the movie line by line ("He did what in his cup?").
Rounding the corner in Disneyland Resort's California Adventure Park onto "Route 66" is literally like stepping into Radiator Springs. And occasionally, Lightning and Mater drive by. And talk! Then, DJ will drive up and pump out the tunes for a street party, using his hydraulics to show off some dance moves of his own. You really have to see it to believe it.
...the overall vibe is just more … Californian.
Disneyland Resort in Anaheim, California, is a different experience from its Florida cousin, Walt Disney World Resort. Seeing as we've spent a great deal of time at the Orlando hub-of-all-things-Disney, I wasn't sure how the Anaheim one would compare. It's certainly smaller and more compact. Some classic rides like Pirates of the Caribbean and It's a Small World are longer and more engaging, and the overall vibe is just more … Californian. That might be because it's less of a destination and more of a featured attraction. You can easily spend a week or more at Walt Disney World without seeing anything else in Florida. A couple of days at Disneyland and you've truly seen and done everything, at a much less hectic pace.
Disneyland is the realization of Walt Disney's original vision of a "magical park."
Open since 1955, Disneyland is the realization of Walt Disney's original vision of a "magical park." It's fairly close to Walt Disney Studios in Burbank (tours of the studios and The Walt Disney Archives are available through Adventures by Disney and the D23 Disney Fan Club), and perhaps this proximity is what maintains the nostalgic feel, while the environment and state of the art animation and animatronics make you feel like you're in a movie. By midday, the Radiator Springs Racers ride is usually out of FastPasses, and that's because the ride is amazing. Same goes for the Indiana Jones Adventure — on our last day, we ran there when the park opened to sneak in one last ride before going to the airport to head home.
Disneyland vs. Walt Disney World?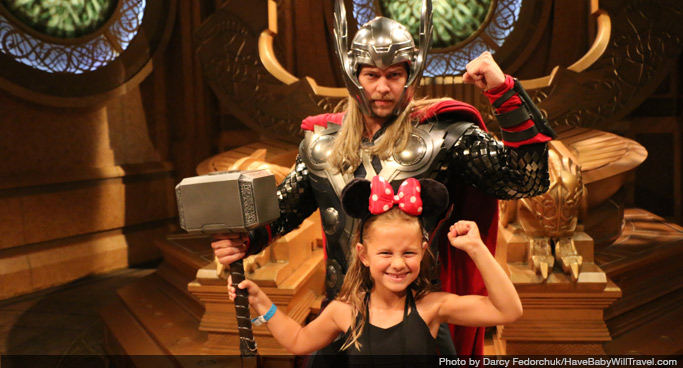 With five Disney vacations under her belt, my eight-year-old daughter, Megan, is now a bona fide Disney aficionado. But when I asked her if she preferred one Disney theme park over the other, she grimaced. Without playing favourites, she offered five things she liked "better" about Disneyland, without betraying her love for its Orlando counterpart …
• Walkability
The smaller overall size of the parks, with the proximity to Downtown Disney and the three on-site Disney hotels, meant it was very easy (and fast) to walk back and forth to our hotel. We stayed at the Grand Californian, and were able to enjoy the pools and waterslide while still maximizing our park time.
• Weather
Orlando weather can be volatile; we've been to Walt Disney World in both sweltering humidity and temperatures so chilly the fountains froze. Anaheim's climate is fairly consistent, with more sunshine and less humidity year-round.
• Marvel
Though Disney bought Marvel Entertainment in 2009, the Universal Orlando Resort in Florida maintains the sole rights to showcase Marvel characters in a theme park east of the Mississippi River. So Disneyland is the place to see The Avengers et al, and usually unveils a character showcase and meet-and-greet shortly after a Marvel movie comes out. We met Captain America and Thor (sigh).
• California Screamin'
California Adventure Park's California Screamin' is the tallest and longest Disney ride, and about the closest you'll get to a classic roller coaster in any Disney park. My daughter went on it three times.
• Huntington Beach
It's easy to incorporate a visit to Disneyland into a bigger and beachier California itinerary. We visited a number of Orange County beaches and communities, and my family's favourite was Huntington Beach. It's less than 30 minutes from Anaheim, and the Hilton Waterfront Beach Resort offers a seasonal free shuttle to and from Disneyland twice daily. They also arrange bonfires and s'mores on the beach at sunset.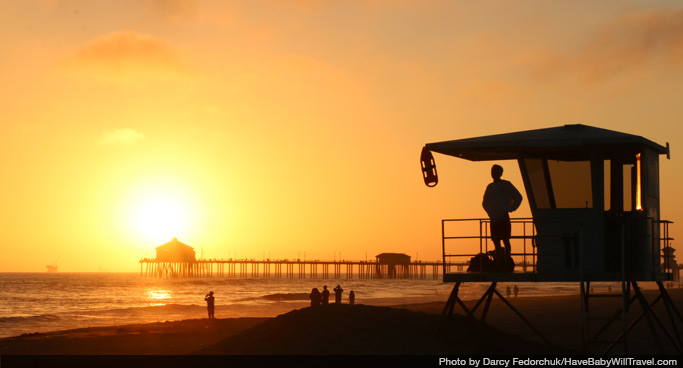 Corinne McDermott is the editor of Movie Entertainment magazine.