Everest: Tragedy on Top of the World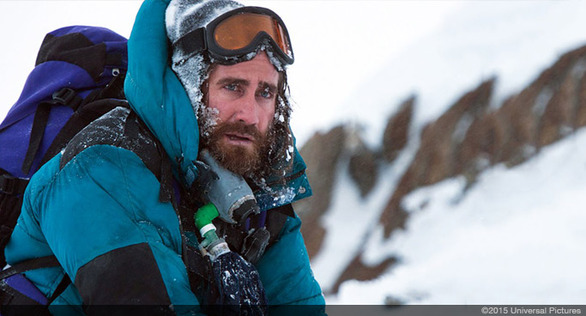 Jason Clarke's heroic character leads an awe-inspiring ascent to triumph — and then disaster — in Everest...
Legendary mountaineer George Mallory, killed in an 1924 expedition to the highest place on Earth, famously replied when asked why he wanted to climb Mount Everest: "Because it's there!"
In the visually awe-inspiring movie Everest, that question is asked and answered by actors Jason Clarke, Jake Gyllenhaal, Josh Brolin, and their castmates, portraying intrepid climbers who attempted to reach the summit of the "beast" in May 1996 on an ill-fated adventure that saw eight climbers die during a ferocious storm.
Their climbing motivations ranged from being a regular guy following "impossible dreams" to "when I'm out here, I feel like I'm reborn."
Filmed on location in Nepal and at Everest's base camp because director Baltasar Kormákur wanted to immerse his cast in "the real places," the movie, which earned more than $200 million US worldwide, features Clarke as tragic hero Rob Hall.
Clarke, an Australian who starred in Terminator Genisys and Dawn of the Planet of the Apes, discussed his character's motivation in Everest: "Balt first told us, 'We're shooting this in the Himalayas, in the ice and cold, and if you don't want to do it, let me know.' Then he put us right on the mountain, so we could have a real idea. As for playing Rob, who's got a pregnant wife at home, why would he keep doing this? But then you see that mountain's majesty and Nature's beauty — and you want to do it."
Kormákur, who had previously directed the crime drama Contraband, was born in Iceland, which he calls a country "full of mountains." So he wanted to give an inside look at Everest, revealing "the mountain in its full scope," with shots and angles audiences don't normally see. "When we were at base camp, we felt immersed by the Himalayas, so I wanted to give our audience what it feels like to be right there. For me, it was about giving the audience that 'wow' factor — this is really big or high."
With Mount Everest, we're reaching for the highest peak on Earth, but it means nothing if you don't come back home...
While the higher camps and the summit were reproduced on soundstages at Britain's Pinewood Studios using green-screen technology, Clarke says Kormákur achieved such a sense of authenticity that you can "actually feel the challenge that is Everest." He says the movie features an underlying theme of what it means to be human: "With Mount Everest, we're reaching for the highest peak on Earth, but it means nothing if you don't come back home. And that's something that stayed with me. Rob, a man you expected to come home, didn't. And another, Josh's character Beck Weathers, twice came back from the dead to return home."
Apart from using Sherpa guides in the movie, Kormákur also called on the services of producer/cinematographer David Breashears, who was on the mountain in 1996 to direct a short documentary for IMAX, also called Everest, when the disaster happened. Breashears and his crew helped in the rescue of Weathers and others. His documentary was released in 1998.
Breashears, 60, also the director/cinematographer of a 2007 documentary called Remnants of Everest: The 1996 Tragedy, served as co-producer on Kormákur's Everest, saying: "It's extremely authentic. It's the mountain as I've known it since I was a young man."
There have been other movies about the 1996 disaster, including Into Thin Air: Death on Everest, a 1997 made-for-TV movie based on Jon Krakauer's book Into Thin Air. A 2003 National Geographic Channel documentary titled The Dark Side of Everest discusses the climbers' motivations and the ethics and challenges involved.
Climbing Everest tends to get romanticized as a symbol of "man's desire to conquer the universe." Says Clarke: "The first time you see Everest is when you're flying into Kathmandu, and there it is! And you're going, 'Can you get me up there?' "
U.S. mountaineer Melissa Arnot, 32, who has climbed Everest five times, says: "It's beautiful at the summit because you can see the curve of the Earth. But people think the summit is this place of celebration. For me, it's always filled with trepidation. You are halfway. All the same dangers you faced to get there are in front of you."
One of the realities of this "beast" is that tragedy often accompanies triumph. It's estimated that more than 200 human bodies are scattered on the mountain, and it's mostly unsafe to recover them. One of Everest's last haunting images is of Rob Hall's body, elegiacally frozen in ice and in time. As it's said, "The last word always belongs to the mountain."
Ashley Jude Collie is a Canadian entertainment writer based in Los Angeles.