Frolicking in a Winter Wonderland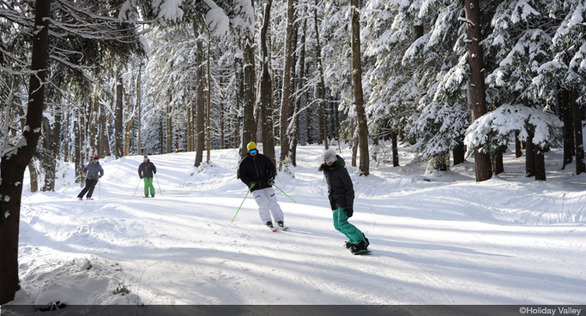 Baby steps are key to learning to love the season, and you don't have to go far...
If you hit the bunny hills now, you'll be ready for the Rockies in no time.
The best way to get through winter is to bundle up and head out to play in the snow. But if your experience on the slopes has been more Dumb & Dumber than James Bond, and your feelings toward the cold lean more toward Jack from The Shining instead of Elsa from Frozen, you might want to try some baby steps closer to home rather than heading straight for the Alps.
If you hit the bunny hills now, you'll be ready for the Rockies in no time.
Holiday Valley Ski Resort
Ellicottville, NY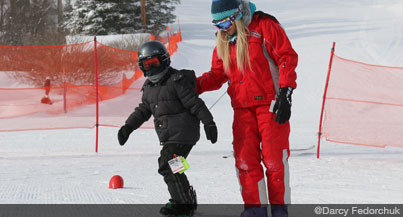 If you grew up anywhere near the border crossing to Buffalo, your impression of winter in western New York likely involves drowning your sorrows in hot wing sauce after shovelling lake-effect snow for hours. That's how I remembered it! So when as a grownup I fell in love with the charming ski resort village of Ellicottville, NY, I was shocked that the only reminder that we were less than an hour's drive from Buffalo was the presence of a Tops Friendly Market. My family learned to snowboard by day at the fantastic Holiday Valley ski resort, with great facilities for beginners and experts alike. By night? Well, yes, we did enjoy our fair share of chicken wings while exploring this lovely little town. HolidayValley.com
Mount St. Louis Moonstone
Coldwater, ON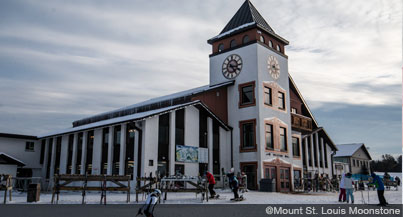 If a single day or only a few hours are all you want to devote to attempting alpine pursuits, you need a place truly dedicated to hitting the slopes. At Mount St. Louis Moonstone, there's no snow tubing or "ice coasters" to distract you from the actual learning (and eventual love) of getting down the hill. MSLM is usually Simcoe County's first ski resort to open and the last to close, and the people on staff at the family-run organization are friendly and patient as they help each "never ever" navigate the runs. With its clock steeple, the exterior of the main lodge is reminiscent of a village in the Austrian Alps. Soon the hills will be alive with the sound of your schussing. mountstlouis.com
Fern Resort
Orillia, ON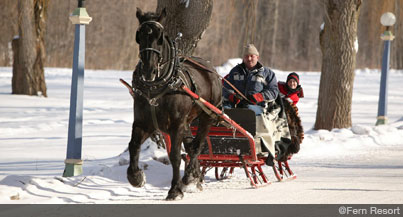 If skiing or shredding is out of the question, but winter pursuits are still on the wish list, Fern Resort in Orillia offers a festive snowy escape with fun winter activities that don't involve chair lifts or ski rentals. There's a small toboggan hill, skating on the lake, a new 1.5-kilometre skating trail, and also snowshoeing, curling, and broomball. There are snowmobile rentals, dogsledding, and horse-drawn sleigh rides. Making this winter getaway even more magical for parents, Fern Resort packages include all meals and supervised activities, as well as child care for children ages 0-6. fernresort.com
Corinne McDermott is the editor of Movie Entertainment.