Fifty Shades of Chocolate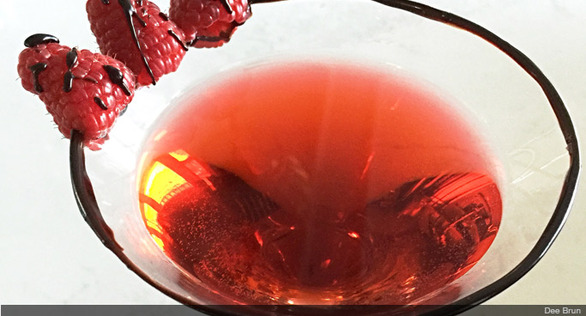 Aim to please your better half with these sinfully delicious treats. Tune into Fifty Shades of Grey this month with the one shade that's guaranteed to make your mouth water: chocolate.
Shady Chocolate Cake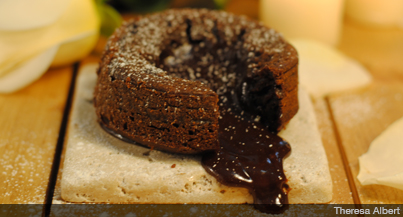 You know that sweet hot ooze that comes from the middle of a molten chocolate cake? The yummy concoction is easier to whip up than you would imagine. The trick is to butter your dish well and don't be too gentle beating the eggs. Try it! Come on over to the darker side. (Tip: you can invert the cake onto a plate or serve directly in individual ramekins. To make inverting easy, line each dish with parchment paper after buttering.)
4 ounces bittersweet chocolate
½ cup butter
½ cup liquid honey
2 whole large eggs
2 egg yolks
6 tbsp unbleached flour
Pinch cayenne powder
Preheat oven to 425 F. Butter a 9-inch cake pan or six ramekins and line with parchment paper (if using). In a large bowl, microwave chocolate and butter together, stirring gently until fully melted. Stir in honey. Beat eggs and egg yolks together briskly in a separate bowl and fold into the melted chocolate. Gently stir in flour and cayenne, and pour into pan or ramekins.
Bake ramekins for 11-12 minutes until sides are firm but centre is still wiggly, or pans for 20 to 40 minutes depending upon how gooey you want it. When the top puffs and rises, watch carefully and remove before it falls.
Let sit for 2-5 minutes while you prep the cocktails.
Theresa Albert is a Toronto-based personal nutritionist and food and health writer. Connect with her at theresaalbert.com.
Raspberry Chocolate Martini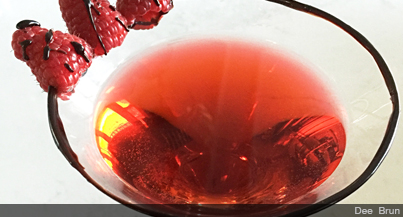 Mixing two aphrodisiacs with vodka and a splash of Kahlua is bound to create an interesting night. Cheers!
1 ounce raspberry liqueur
½ ounce vodka
½ ounce white crème de cacao
½ ounce Kahlua
Rim martini glass with melted chocolate. Shake all ingredients well with ice and strain into martini glass. Garnish with chocolate shavings or fresh raspberries. Or both.
Dee Brun is a cocktail stylist and writer at CocktailDeeva.com.