Gal Gadot: Adventures in Wonderland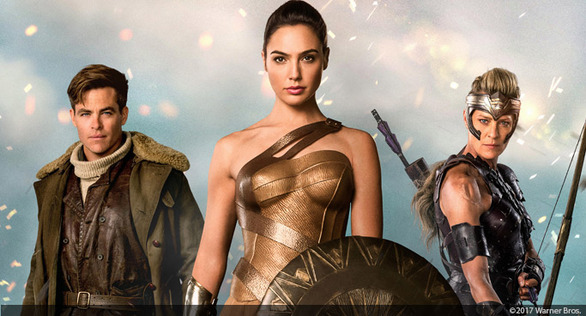 The Wonder Woman star is wielding her real-life power to make changes in Hollywood...
...The stance she took in support of other women was important...
Try finding an article or interview that doesn't include a guide to pronouncing Gal Gadot's name. It's like finding a Wonder Woman costume the day before Halloween. But don't expect that trend to last: After landing a breakout role as the instantly iconic title character in Wonder Woman, the Israeli actor is well on her way to becoming a correctly pronounced household name (it's Gah-dohte, by the way) with the kind of real-life power to make an impact on the Hollywood establishment.
Gadot made headlines last fall (right around the time Justice League was set to premiere) when it was reported that she was threatening to walk away from the 2019 Wonder Woman sequel if producer Brett Ratner remained attached to the picture. In the wake of the Harvey Weinstein scandal, Ratner was accused of sexually harassing or assaulting at least eight women, including actor Olivia Munn. Through his ties with Warner Bros., he stood to profit from DC's follow-up film.
Having just starred in the highest-earning superhero origin story film in history, the gamble Gadot made seemed like a safe one, and yet the stance she took in support of other women was important. It underscored that they were believed — and by a woman currently carrying the mantle of one of pop culture's biggest feminist icons.
It was Gadot's reported ultimatum that got the media's attention, but she credits the team behind the film for protesting alongside her. "The truth is, there's so many people involved in making this movie — it's not just me — and they all echoed the same sentiments," Gadot said in an NBC interview with Savannah Guthrie of The Today Show. "Everyone knew what was the right thing to do."
The actor first picked up her character's Lasso of Truth in DC's introduction to their Justice League franchise, Batman v Superman: Dawn of Justice. It wasn't the easiest way to make an entrance. Zack Snyder's movie was panned for being too light on story and too heavy on special effects, pitch-dark storm clouds, and unrelenting superhero-on-superhero fight scenes. In short, it was a bit of a bummer (and not just because Snyder killed off Superman).
As a mostly unknown and untested actor, her ability to successfully carry the first female-led superhero film might have come as a surprise.
While Gadot made every effort to shine through the gloom, it wasn't until she teamed up with director Patty Jenkins on Wonder Woman that it became evident how big a talent and personality she was. Jenkins clocks that unforgettable moment when Wonder Woman emerges from First World War battlefield trenches into a hailstorm of German bullets as the instant when Gadot first fully embodies — and then completely owns — the character. "That scene is my pride and joy," Jenkins told Elle. "Because it's about her transformation into Wonder Woman, rather than us watching Wonder Woman show up."
Following a repeat role in four Fast and Furious franchise films and an unsuccessful audition to play a Bond girl, Wonder Woman was Gadot's big DC break. As a mostly unknown and untested actor, her ability to successfully carry the first female-led superhero film might have come as a surprise.
If you know her history, though, it makes perfect sense. The former Miss Israel spent two years as an Israel Defense Forces combat trainer. When you're already proficient in high-level pageantry and krav maga (the hybrid martial art practiced by the IDF), the Justice League-mandated kung fu, kickboxing, capoeira, Brazilian jiu-jitsu sequences, and punishing media gauntlet, probably seem like no big deal. Gadot mastered it all ... while pregnant.
When filming got under way for Wonder Woman, Gadot was in the early weeks of her second pregnancy (she and real estate developer Jaron Varsano had welcomed their first daughter, Alma, in 2011). By the time DC began rolling on Justice League, some accommodations had to be made for Gadot's growing belly. "We cut open the costume and had this green screen on my stomach," she told Rolling Stone. "It was funny as hell — Wonder Woman with a bump."
But the actor never slowed down. Hiding morning sickness and migraines, she toughed it out in secret during the early part of her pregnancy and showed up for reshoots with Jenkins while five months along.
"I always felt capable..."
She attributes that kind of unruffled, unsinkable attitude to her phys-ed teacher mother: "My mom raised my sister and me to be confident women with aspirations, and I always felt capable," she told Marie Claire. That upbringing seeded roots for the unabashed feminism she expresses (and acts on) today.
"I'm not saying that I'm stronger than most men," Gadot says, "but we all have the same brains and we can achieve the same things."
Corrina Allen writes for TheLoop.ca.