The Grandparent Trap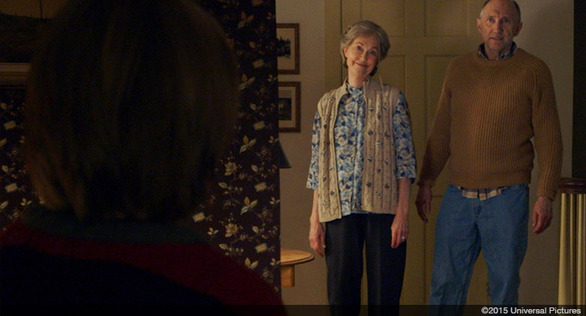 The Visit encourages viewers to take a closer look at movie grandparents
Thanks to countless flattering depictions, movie grannies are generally seen as sensitive, honourable, and wise, while movie grandpas have developed a far more sordid reputation...
While it might be unfair to generalize about the real-world behaviour of grandparents, some undeniable patterns have emerged among their fictional counterparts. With that in mind, you are likely to enter The Visit with some preconceived notions about the elderly couple hosting curious teens Tyler and Becca. Having never previously met their grandparents, these kids approach this visit with great enthusiasm — and little knowledge. The history of movie grandmas and grandpas might seem like a logical place to turn for answers, but nothing is what it seems in the world of writer-director M. Night Shyamalan (The Sixth Sense). In keeping with tradition, he delivers one of his signature twists in The Visit, undercutting much of what we think we know about these very unconventional grandparents.
On the way to that surprise, Shyamalan delivers a uniquely shocking and unsettling experience — simply by challenging our expectations about grandparents. Thanks to countless flattering depictions, movie grannies are generally seen as sensitive, honourable, and wise, while movie grandpas have developed a far more sordid reputation, filled with mischief, anger, even criminality. These tendencies might be partly rooted in reality, but they are especially prevalent in cinema.
Here's a closer look at 10 characters who played a role in reinforcing these age-old stereotypes … about the old-aged.
GOOD GRANNIES
Rose Dawson Calvert (Titanic)
Fortunately for Titanic's 100-year-old Rose Dawson Calvert (née Rose DeWitt Bukater), she has a grown granddaughter (Lizzy) keeping an eye on her. This devotion speaks well of Rose's grandparenting past and lands Lizzy a unique granddaughter perk: a front-row seat for Rose's Titanic (and occasionally "erotic") tales.
Grandma (Happy Gilmore)
In spite of her negligence as a taxpayer (she owes $270,000 in back taxes), Happy Gilmore's grandma doesn't have a mean-spirited bone in her body. This may explain why the film's title character is willing to drop everything and miraculously conquer the pro golf tour, just to settle her debts.
Queen Clarisse Renaldi (The Princess Diaries)
As The Visit demonstrates, the children of single mothers often feel an especially powerful curiosity about their grandparents. The Princess Diaries' Mia has good reason to be curious, as her grandmother is the Queen of Genovia, putting her in an ideal position to offer all kinds of luxurious opportunities fit for a princess. Royalty can be a little stuffy, but few grandkids have the restraint to turn down limo rides and makeovers.
Grandma (Parenthood)
When you're a grandparent to adults, being a good role model is less important than sharing valuable wisdom and life experience. In Parenthood, Grandma turns a puzzling, innuendo-filled non sequitur about roller coasters into an enlightening lesson on the importance of highs and lows.
Aurora Greenway (Terms of Endearment)
With her daughter battling cancer, Aurora Greenway loses her cool in a hospital parking lot, physically assaulting her ill-tempered grandson. Under the film's life-threatening circumstances, this lapse in judgment is easily forgiven, thanks in part to Aurora's overall attentiveness and dedication to hands-on grandparenting. But whatever you do, don't call her "Grandma" in front of her boyfriend.
BAD GRANDPAS
Norman Thayer Jr. (On Golden Pond)
When the Thayers are left in charge of their 13-year-old step-grandson, Norman proves to be a far less adept grandparent than his wife. Impaired by several medical conditions, he encourages dangerous diving manoeuvres, shouts volatile fishing instructions, and scolds his "son of a bitch" step-grandson for extinguishing a house fire started by Norman himself.
Edwin Hoover (Little Miss Sunshine)
A bitter, drug-addicted homophobe who carelessly sprinkles obscenity throughout every conversation, Edwin Hoover is nonetheless entrusted with the responsibility of choreographing his granddaughter's beauty pageant dance. While he doesn't live to see his age-inappropriate routine in action, he would have been proud of the outrage it inspires.
Royal Tenenbaum (The Royal Tenenbaums)
Determined to turn over a new leaf after years of estrangement, Royal Tenenbaum enlists his grandsons for an afternoon of family bonding. A good time is had by all, but their choice of activities (jaywalking, shoplifting, reckless go-karting) constitutes a kind of low-level crime spree.
Vito Corleone (The Godfather)
When it comes to grandparenting, the old orange-in-the-mouth trick only gets you so far. Judging from the fearful reaction of Vito Corleone's grandson Anthony, it's clear that he senses some trace of his grandfather's violent past, and he doesn't like it. It makes sense, then, that he ultimately steers clear of the family business, pursuing a career in music.
Irving Zisman (Bad Grandpa)
Through insults, alcohol, wedgies, and womanizing, Irving Zisman exposes this film's title as an extreme understatement. When he grows tired of grandson Billy's company, he even attempts to ship him cross-country in a box. For all you future grandparents, this is not how it's done.
Jonathan Doyle writes about movies for Comedy, The Loop, and Space.