Have the Vinyl Say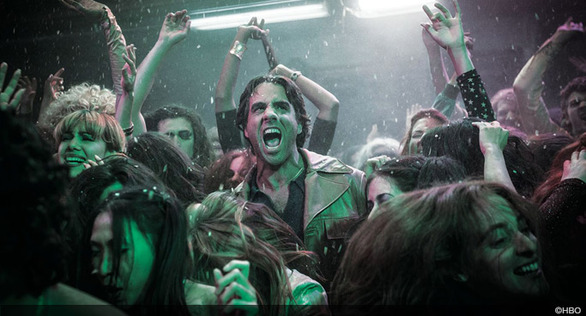 How you listen to the songs in the fabulous HBO series is your business. Counting the ways is ours...
"I'm going to shut up, put the record on, drop the needle, and crank up the volume."
"This is my story, clouded by lost brain cells and then maybe a little bulls**t." So says New York record exec Richie Finestra, the main character of HBO's rock 'n' roll drama Vinyl, in one of the show's trailers. "You know what? I'm going to shut up, put the record on, drop the needle, and crank up the volume."
Cut to a wall of gold and platinum records, a glam-punk band, a street melee, more musicians, some champagne popping and cocaine, all set to the New York Dolls' 1973 classic "Personality Crisis." That very choice of song tells us that Vinyl is not a fictionalized music industry series with a lame soundtrack. Another clue is obviously Mick Jagger's involvement.
The Rolling Stones frontman — along with film legend Martin Scorsese (whose music docs include Woodstock, The Last Waltz, and Shine a Light) and Terence Winter (Boardwalk Empire, Sopranos) — are the executive producers of Vinyl, and who better to know about "the sex- and drug-addled music business at the dawn of punk, disco, and hip-hop"?
And there is, according to Billboard, a six-figure music budget per episode for this 10-part first season. That means no sound-alike song placements because the producers can't (or don't want to) spend money on the real deal. Jagger, Scorsese, and Winter reportedly had a say in the music selections but the job was left to music supervisors Randall Poster and Meghan Currier to source, assign, and place them.
So as Vinyl's record label president Finestra, played by Bobby Cannavale, tries to save his company amid the changing musical landscape, those along for the ride — us — are immersed in the killer music as we watch Cannavale and fellow cast members Olivia Wilde, Juno Temple, Ray Romano, Andrew Dice Clay, and Jagger's son James, a real-life punk singer himself (his band was Turbogeist), cast as Kip Stevens, the frontman for the fictional punk band Nasty Bits.
What's cool and unique about the show is that Atlantic and Warner Bros. Records are releasing an EP digitally every Friday (eight in all), featuring music from or inspired by that weekend's episode, so we can do our homework and be fully prepared for the Vinyl "experience."
Among the artists included are Iggy Pop, Chris Cornell, Julian Casablanca (of the Strokes), Nate Ruess (of fun), Jessie J, Charli XCX, Trey Songz, Charlie Wilson, Jess Glynne, the Arcs, DJ Cassidy, Alex Newell, and Royal Blood. Many of the songs have been written and recorded exclusively for Vinyl; others are covers of vintage classics by today's acts; the rest are the original versions.
A physical and digital full-length soundtrack, Vinyl: Music from the HBO Original Series — Volume 1, came out Feb. 12. A second, Vinyl: Music from the HBO Original Series — Volume 1: Finale, will follow on April 15, two days before Season 1 ends.
The first compilation — produced by music supervisors Poster and Currier, Atlantic exec Kevin Weaver, and Vinyl music producer Stewart Lerman — features 18 songs from Vinyl's premiere. There are tracks plucked right from the era, such as Mott the Hoople's "All the Way From Memphis," Foghat's "I Just Want to Make Love to You," the Jimmy Castor Bunch's "It's Just Begun," Edgar Winter's "Frankenstein," and the Meters' "Hand Clapping Song;" and there are flashbacks to the 1950s with Ruth Brown's "Mama He Treats Your Daughter Mean," and to the '60s with Otis Redding's "Mr. Pitiful."
But the soundtrack offers more than just rehashed oldies you can find anywhere. Sturgill Simpson composed Vinyl's theme song, called "Sugar Daddy;" Iceland's Kaleo offers its third single, "No Good" (heard in a trailer); and David Johansen of the New York Dolls re-recorded his seminal band's "Personality Crisis" and its 1974 cover of the Jay Hawks' "Stranded in the Jungle."
You could call Vinyl a sing-along series, except that isn't very rock 'n' roll.
Of note, Vol. 1 includes an original by Nasty Bits, sung by James Jagger and co-written with his dad, Luis Felber, and James Dunson. Vintage Trouble's Ty Taylor — the singing voice behind the series' character Lester Grimes (played by Ato Essandoh) — also contributes a cover of "Cha Cha Twist."
You could call Vinyl a sing-along series, except that isn't very rock 'n' roll. Instead, it's privately interactive. Sing along, play air guitar, fling a feather boa around your neck. We don't want to know. How you watch and listen to Vinyl is your own business.
Karen Bliss is a Toronto-based music journalist.