The Vice of Principals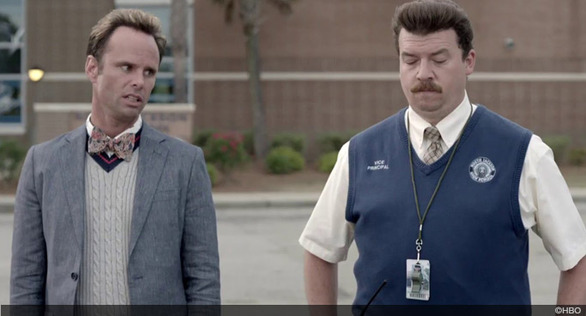 Vice Principals continues the tradition of colourful administrative misbehaviour...
... there is a long history of fictional principals who abuse power, students, and the rule of law.
During Eastbound & Down's four seasons on HBO, Kenny Powers (Danny McBride) brought reckless, dysfunctional behaviour to a variety of professions, including teaching. The creative team behind that series reunites for Vice Principals, a more focused look at inappropriate academic antics, specifically as they relate to a pair of duelling high school vice principals: Neal Gamby (McBride) and Lee Russell (Walton Goggins).
While the excesses of vice principals have gone largely unexplored in pop culture, there is a long history of fictional principals who abuse power, students, and the rule of law. As a result, aspiring principals are likely to have a hard time finding heroic role models who inspire young people and make the world a better place. Instead, they usually have to settle for violent drill-sergeant types with anger-management issues and distasteful personalities. Unlike their real-life counterparts, these characters are rarely subjected to evaluation, leaving their frequent misconduct undocumented. With that in mind, consider this a belated report card.
Rick Latimer (The Principal)
When alcoholic teacher Rick Latimer hits rock bottom, he is transferred to a crime-addled high school — and is inexplicably appointed principal. Throughout his harrowing ordeal, he chain-smokes, wields a baseball bat, and gets in physical altercations with students. Latimer's vigilante routine isn't ideal principal behaviour, but the school's rampant criminality almost justifies these desperate measures.
Latimer's grade: C+
Gale Nolan (Dead Poets Society)
The clean-cut students in Dead Poets Society would be a dream come true for most principals, but Gale Nolan is an authoritarian control freak who cracks down on even the mildest forms of dissent. When an article and a prank by Charlie Dalton embarrass the headmaster, Nolan belts this student repeatedly with a cricket bat. He also runs his most inspiring teacher out of town, cementing his reputation for irrational cruelty.
Nolan's grade: D-
Rosalie Mullins (School of Rock)
The well-meaning Rosalie Mullins runs "the best elementary school in the state," but her naive gullibility borders on recklessness. In a moment of desperation, she overlooks all kinds of red flags (a request for cash up front, promises of abuse) and gives an untrained imposter a chance to teach one of her classes. She also has a dangerous weakness for Stevie Nicks's "Edge of Seventeen."
Mullins' grade: B
Evelyn Togar (Rock 'n' Roll High School)
Twenty-four years earlier, Rock 'n' Roll High School did for teens what School of Rock did for tweens — but with a far more troubled principal. In some ways, Evelyn Togar is a relatively standard disciplinarian, but her alarmist attitudes about rock music result in campus-wide anarchy. She even dares to take on legendary punk band the Ramones, a miscalculation that ultimately lands her in a straitjacket.
Togar's grade: D+
Mr. Hancock (Forrest Gump)
The education system had little impact on Forrest Gump's intellect, but his mother did whatever she could to give him a fighting chance. After determining that Forrest's IQ is too low for public school, principal Hancock agrees to make an exception in exchange for a disturbing and unprofessional reward: an intimate evening with Mrs. Gump.
Hancock's grade: C
Mr. Strickland (Back to the Future)
Always willing to share "a nickel's worth of free advice," Back to the Future's Mr. Strickland offers cruel assessments of at least two students, namely George and Marty McFly. In this multi-generational vendetta, he claims that "no McFly ever amounted to anything," insisting that both father and son are irredeemable slackers. He also enables bullies, instructing George to shape up, even as his classmates torment him mercilessly.
Strickland's grade: C-
A deeply bitter, unhappy man, Richard Vernon insists on devoting his Saturdays to the continued abuse of students. Not long after his latest crop of victims arrives, he scolds them unfairly and threatens to "crack skulls." However, he reserves his most violent impulses for John Bender, pushing him around, kicking a basketball in his direction, and trying to bait him into a fist fight. Vernon also calls this misunderstood rebel "a gutless turd" — and worse.
Vernon's grade: D
Ed Rooney (Ferris Bueller's Day Off)
While Ed Rooney's concerns about the chronic truancy of Ferris Bueller are justified, his methods are not. Abandoning school grounds — and all his professional obligations — for the day, he does battle with Ferris's dog and creeps inside his house, getting busted (and repeatedly kicked) by Jeanie Bueller. Ultimately, Ferris is too elusive to suffer any real punishment at the hands of his nemesis, making Rooney the primary victim of his own abuse.
Rooney's grade: D+
Agatha Trunchbull (Matilda)
Arguably the most reprehensible principal in movie history, the imposing Agatha Trunchbull refers to new students as "fresh meat," locks them in solitary confinement, hurls them out windows, and even hammer-throws one girl by her pigtails. Needless to say, Trunchbull's eventual comeuppance is cause for celebration, particularly if you're one of her students. Trunchbull's grade: F
Jonathan Doyle writes about movies for Comedy, The Loop, and Space.