Holidays On Horseback Inspired By The Lone Ranger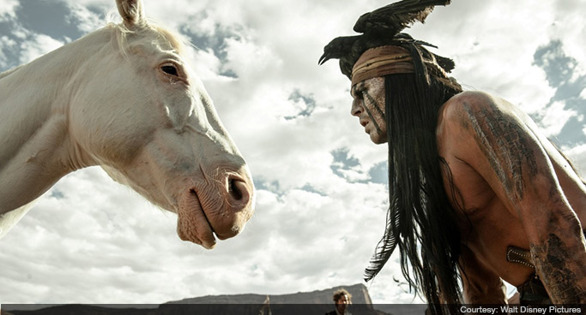 Here are some options for great getaways involving our pony pals.
Johnny Depp aside, the biggest co-star gracing the screen alongside Armie Hammer in Disney's adaptation of The Lone Ranger is the beautiful white horse named Silver — actually played by no less than four equine actors. The film's horse trainer, Bobby Lovgren, told the Atlantic Wire that the production hired a "full-time crew" whose sole responsibility was keeping the horses clean.
But if you can stand a little dust and love the idea of making some new animal friends, here are some options for great getaways involving our pony pals.
New Mexico
The Lone Ranger was filmed in 16 spots throughout New Mexico – with nary a meth lab Winnebago in sight! The Geronimo Trail Guest Ranch hosts guests in cosy cabins decorated in themed decor – each with a front porch and private fireplace. Pitch in and help care for the horses and with other ranch chores, or kick up your boots and soak in the glorious southwestern New Mexico scenery. Rates include accommodations, all meals and activities, as well as unlimited horseback riding. Horses are available for all ages and levels of ability.
Jamaica
If the idea of sun, sand, and salt water is more appealing than dusty trails, you can get your filly fix in the Caribbean. Located just inside the historic and luxurious Half Moon Resort in Montego Bay, Jamaica's Half Moon Equestrian Centre offers traditional riding and dressage lessons, pony rides for little ones, and an incredible beach experience where you ride to the sea and remain on horseback while your horse swims. After your ride, you can return to the beach to swim with dolphins in the resort's private lagoon.
Quebec City
Perhaps you think only of cobblestones and poutine when you think of Quebec City, but one of North America's oldest European settlements is a mere 30 minutes from the Mont-Sainte-Anne ski resort area in the "breadbasket of Quebec" – the region of Côte-de-Beaupré. Explore the forest at the base of the mountain on horseback at the Centre Équestre des Pionniers. Lessons and customized rides are available on the more than 40 kilometres of equestrian trails. But if you'd rather ride in a less active sense, don't miss a calèche tour – a classic horse and carriage ride through Vieux-Québec. It's a history lesson disguised as a tourist activity, and as unofficial ambassadors, the drivers have the best poutine recommendations.
Corinne McDermott is the editor of Movie Entertainment.