James Dean: Hollywood's Vulnerable Rebel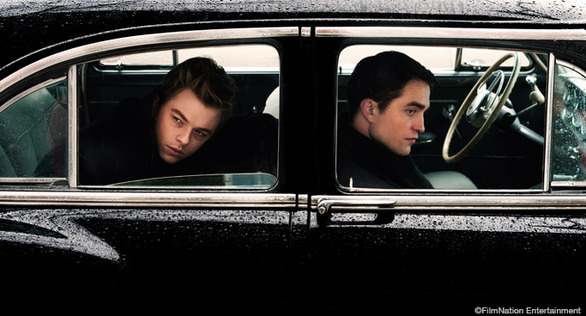 The James Dean biopic Life underscores why a 1950s actor with a tiny filmography is such an enduring cultural icon.
Dean had yet to headline a film, but he was already embodying a new breed of Hollywood hero...
Before he became a movie star, James Dean was already on his way to becoming an icon. Days ahead of the release of East of Eden, the first of only three films in which Dean held a leading role, Life magazine published a photo series titled "Moody New Star," a four-page spread capturing the actor's nonconformist spirit and broody sex appeal. The images are intimate and candid; more than 60 years later, they are still utterly cool. Dean had yet to headline a film, but he was already embodying a new breed of Hollywood hero — one admired, both onscreen and off, for redefining what it meant to be a star.
Life, the recent James Dean biopic, explores both the man behind the legend and how Dean's distinct legend was cultivated. Robert Pattinson plays Dennis Stock, a freelance photographer who met Dean (a bespectacled Dane DeHaan) at a Los Angeles party in early 1955. Stock saw something special in Dean. "He's the symbol of a new movement or something," he explains early in the film, trying to persuade his agent that Life magazine should run photo essay on an unknown kid with idol potential.
...the actor's way-too-early death cemented his status as an enduring symbol of youthful dissent and reckless thrill-seeking.
Stock's pictures were published on March 7, 1955, and East of Eden premiered two days afterward in New York. On Sept. 30, less than a year later, Dean was killed when his speeding Porsche slammed into another car on a California highway. Rebel Without a Cause, his most celebrated feature, hit theatres the following month. The movie, which centres on a disillusioned teenager named Jim Stark, was already destined to boost Dean's profile. But the actor's way-too-early death — he was only 24 at the time of the crash — cemented his status as an enduring symbol of youthful dissent and reckless thrill-seeking.
But while Dean is known as a rule-breaker, his most radical trait might actually be his vulnerability. In an opening scene of Rebel Without a Cause, Jim cracks while speaking to a local police officer. Tears streaming down his face, he explains that a boy in his previous town had called him a chicken, and his parents just don't understand. It was Dean's willingness to be exposed, more than his penchant for fast cars, that allowed him to speak directly to his generation.
And it's this sensitivity that Stock captured in his photos for Life magazine. Born in Indiana in 1931, Dean moved to California as a child before returning to Indiana at age nine to live with his aunt and uncle after his mother's death from cancer. In an era when movie stars maintained a glamorous public front, Dean invited Stock to his family farm, where they took a series of photos casting light on his rural upbringing: Dean scowling at the camera while standing in front of a tractor; Dean playing with his nephew; Dean posing next to an enormous pig.
The actor's first two films channel that relatability into stories of young men seeking fatherly approval — familiar territory for Dean, whose own father had not supported his decision to drop out of UCLA to pursue acting. In East of Eden, Elia Kazan's screen adaptation of John Steinbeck's 1952 novel, Dean plays Cal Trask, a loner teen competing with his more gregarious older brother for their father's praise. And Rebel Without a Cause is ultimately not the story of a devil-may-care menace, but of a young man who desperately wants a strong father figure. In both films, Dean's characters are fiercely independent troublemakers. Their deeper desire, however, is not to cause mayhem, but to be heard.
Giant (1956), released a year after Dean's death, further demonstrates his anti-heroic humanity. He plays Jett Rink, a Texas ranch hand who competes with his boss, Jordan Benedict (Rock Hudson), for the affection of his beautiful wife (Elizabeth Taylor). Strapping and confident, Hudson represents the Hollywood prototype: Taylor calls him her hero in the film's final scene. Dean's character, meanwhile, is disgraced and unloved, descending into loneliness and alcoholism.
Dean is famous for his too-cool attitude. But it's his willingness to lose his cool — to reveal what's beneath the cigarette and bomber jacket — that has allowed his fame to endure. Life demonstrates how the James Dean mythology was crafted: through a gorgeous collection of photographs and movies that captured his style, freezing him in time and youth. But the film is also suggestive of how the cult of James Dean was unrehearsed. Dean, who refused to attend the premiere party for East of Eden, didn't grin for the camera on the red carpet. Instead, he invited the public into his most personal world.
Legends, perhaps especially in Hollywood, are inevitably caricatures. But in Dean's case, the legend is also based on his desire to be real.
Eleni Deacon is a Toronto-based freelance writer.