Jennifer Jason Leigh: Oops-a-Daisy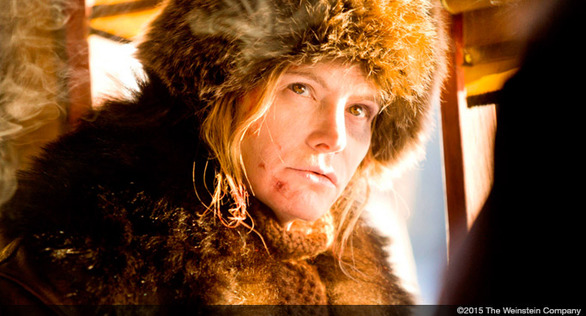 Jennifer Jason Leigh's career quickly went off-script — and The Hateful Eight is all the richer for it...
"Don't they know they have a star on their hands?"
1982's Fast Times at Ridgemont High featured then-unknowns like Sean Penn and Nicolas Cage. But it was of Jennifer Jason Leigh that Roger Ebert opined: "Don't they know they have a star on their hands?"
Leigh, however, turned out to have darker acting impulses than most starlets.
Maybe it was because of her parentage (her father, Vic Morrow, had an up-and-down Hollywood career; mother Barbara Turner was a screenwriter). But after her splash in Fast Times, Leigh went off-script, playing feisty victims to acclaim in often sexually and violently explicit indie, horror, and art films.
It was an arc that would ultimately lead to her Oscar-nominated role as the bedraggled and cunningly murderous Daisy Domergue in Quentin Tarantino's claustrophobic western, The Hateful Eight.
I first interviewed Leigh in 1986 for The Hitcher — the second consecutive movie in which she played a character brutalized by Rutger Hauer. (The first was Paul Verhoeven's early indie film Flesh + Blood, in which she played a princess who turns the tables on a medieval mercenary who'd kidnapped and raped her.)
The then-twentysomething refused to admit that any character she played was a victim. (She also deferred comment on any questions about her dad, killed in a horrifying helicopter accident while filming The Twilight Zone the year Fast Times came out. But one can't help wonder whether that grisly tragedy affected her artistic sensibilities).
Over the years, Leigh's acting chops were beyond question and her choices remained quirky and dark. She was the ill-fated prostitute Tralala in the gritty 1989 adaptation of the novel Last Exit to Brooklyn, a deranged roommate opposite Bridget Fonda in 1992's Single White Female, and — most notably — legendary literary wit Dorothy Parker in the Golden Globe-nominated Mrs. Parker and the Vicious Circle (1994).
After a hiatus from acting during her eight-year marriage to director Noah Baumbach, Leigh returned in 2015 with two Oscar-nominated films. One was Anomalisa, the existential, stop-motion animated feature written and co-directed by Charlie Kaufman.
And the other, of course, was The Hateful Eight. Every Tarantino movie is an event. And being the only starring woman in a film about a snowbound cabin full of no-goods (played by the likes of Samuel L. Jackson, Bruce Dern, Tim Roth, and Michael Madsen) guaranteed maximum attention for Leigh.
Daisy enters the film chained to a bounty hunter named John Ruth, nicknamed The Hangman because he always brings his quarry alive to their final reckoning. Ruth, played by Kurt Russell, isn't above giving alleged murderess Daisy the odd beating.
"It was three weeks of 16-hour days lying on a cold floor," Leigh said at a Berlin press conference, describing the Colorado winter shoot.
"At first, I think we both took it for granted that it would be easy to be cuffed together for that entire time. And then we realized, this is much more complicated …
"Obviously, if he went one way, I would get pulled that way, and vice versa. But within three days — and this is what I found kind of extraordinary and would be true for Daisy and John Ruth as well — we were like an old married couple. We had this dance that was kind of effortless. And after a while when we weren't cuffed together, I missed him terribly."
As for playing another victim, Leigh said Daisy was nothing if not empowered. "Daisy is having a blast. I mean, yeah, she's going to the gallows. But she knows she's not going to the gallows. She's got it figured out. She's never going to show John Ruth she's scared, or that she's afraid she might die. She's going to figure it all out."
Leigh first encountered The Hateful Eight while in the audience at a live-read of the script organized by Tarantino at L.A.'s Ace Hotel in 2014, along with most of the movie's eventual cast.
It was like eating a great meal. I had no idea it was going to be a movie...
"It was just a truly great night in the theatre," Leigh said. "Quentin read all the stage direction and directed the actors onstage, and the script was so brilliant. If they'd read it again the next night, I'd have gone again. It was like eating a great meal. I had no idea it was going to be a movie, and it was like a month or two later I got the call for reading for it."
For his part, Tarantino says her audition inspired him to watch a string of Jennifer Jason Leigh films.
During the auditions, he explained, "I was looking for glimmers, some flecks that could be there. And she gave it to me in a way [by which] I found myself judging the other actors that came in.
"It intrigued me enough to go back and have a Jennifer Jason Leigh film festival. In a lot of cases, it was a re-watch. I saw Mrs. Parker and the Vicious Circle and Georgia (written by Leigh's mother) when they came out. I saw Last Exit to Brooklyn when it came out.
"I watched (David Cronenberg's) eXistenZ, [The] Men's Club, Eyes of a Stranger. And I loved it. I couldn't wait for Fast Times at Ridgemont High to be over so I could put in The Hitcher.
"And I got it. She wasn't just in these movies. The movies were about her performance. The whole cast of actors would be built around her performance. The performance is that big."
Jim Slotek is a writer and columnist with the Toronto Sun.