Jobs and Silicon Valley Lead A New Wave Of Web Tales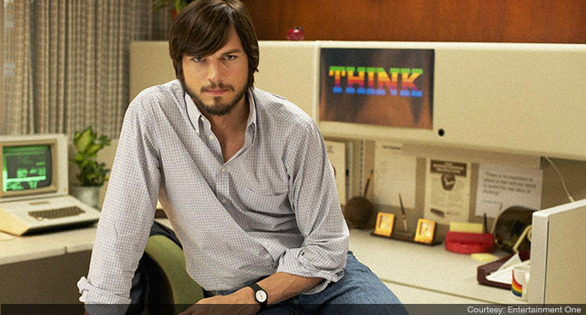 What's the definitive movie about the Internet? So far, it's a limited genre, but a few recent offerings, starting with 2010's The Social Network, suggest this may be changing.
What kind of a movie can you make, producers have asked, about somebody sitting alone, looking at a screen? But in the early 1990s, when ordinary people were first realizing what they could find online – even on a plain black screen with green letters – it seemed as though access to information was going to change the world for anybody with a noisy, dial-up modem and a full MB of RAM.
What kind of a movie can you make, producers have asked, about somebody sitting alone, looking at a screen?
Sneakers (1992), about a mismatched team of security experts seeking a sinister decryption device, was one of the earliest movies to address the challenge. It built an action plot around a whole new pop-culture hero, the hacker, often a scruffy introvert with a moniker like Whistler, Acid Burn, or J-Bone, who was soon to become an adventure-movie staple.
By 1995, there was a flood of movies of this type: The Net, in which Sandra Bullock encounters unusually severe identity-theft problems; Johnny Mnemonic with Keanu Reeves, based on a story by cyberpunk visionary William Gibson; and, of course, the prototypical Hackers, with Jonny Lee Miller and Angelina Jolie.
With the rise of Web 2.0 after 2000, movies about the Internet moved away from the territory of vigilante hackers to look instead at the disturbing side of the growing social media craze and how easily it was helping users assume misleading identities. In Swimfan (2002), an obsessive young woman hounds a school athlete online. The quirky, charming Me and You and Everyone We Know (2005) sees two young boys chatting provocatively online with an adult woman. In Untraceable (2008), Diane Lane plays an investigator seeking a killer who posts videos of his victims online.
The Social Network broke the mould by showing how compelling a film can be when it focuses not on computer users, but on the creators of the technology that's changing the way we live. Though it was not the first of its kind (there was a 1999 TV movie about Apple and Microsoft called Pirates of Silicon Valley), it was brilliantly conceived, and won both an Oscar and a Golden Globe (among other accolades) for its screenplay.
More recently, Ashton Kutcher took on the task of portraying Apple founder Steve Jobs in 2013's Jobs. Though not as sophisticated in its writing as The Social Network, it's a movie that offers signal pleasures, including humorous reminders of the primitive kit that was still common as late as the 1980s and the now-obsolete also-rans in the home computing field (anyone remember the Kaypro?). The soundtrack, ranging from classical to Dylan and Cat Stevens, is also a plus.
A convincing ensemble portrays the often-testy Jobs's long-suffering entourage, especially a sympathetic Josh Gad (1600 Penn) as Apple co-founder Steve Wozniak, the yin to Jobs's yang, as well as Eddie Hassell (The Kids Are All Right) as Chris Espinosa, Lukas Haas (Red Riding Hood) as Daniel Kottke, Dermot Mulroney (New Girl) as Mike Markkula, Victor Rasuk (ER) as Bill Fernandez, Nelson Franklin (New Girl) as Bill Atkinson, and Ron Eldard (Blind Justice) as Rod Holt.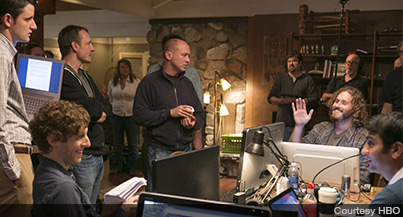 On the small screen, Mike Judge (Beavis and Butt-Head, Office Space, King of the Hill) launched HBO's Silicon Valley, his first non-animated comedy series, with John Altschuler and Dave Krinsky (both writers for The Goode Family, Blades of Glory, and King of the Hill). The eight-episode first season revolved around a shy but talented programmer (Thomas Middleditch of Search Party and The Office). Living on a shoestring in a "Hacker Hostel" startup incubator, he finds that his new compression algorithm may be a ticket to the big time.
Silicon Valley wrings laughs out of the volatile, personality-driven world of tech entrepreneurship, with fictional companies that mirror the high-stakes dramatics of their real-life counterparts. Judge is familiar with this from his stint as a Silicon Valley engineer in the late 1980s. The cast is a young and talented ensemble that includes T.J. Miller (Seeking a Friend for the End of the World), Zach Woods (The Office), Kumail Nanjiani (Portlandia), Martin Starr (Freaks and Geeks), Josh Brener (The Internship), Amanda Crew (Jobs, Charlie St. Cloud), and the late Christopher Evan Welch (The Master).
Meanwhile, Lionsgate is developing a television series based on Hatching Twitter, a book about Twitter and Square founder Jack Dorsey, by New York Times columnist Nick Bilton, who will be writing the screenplay. The industry that's designing our future is fertile territory for witty, character-rich productions. It may well provide fodder for great movies long after the ninja-hacker era has been forgotten.
Sarah B. Hood is a Toronto writer and editor.