Joshua Jackson: Then and Now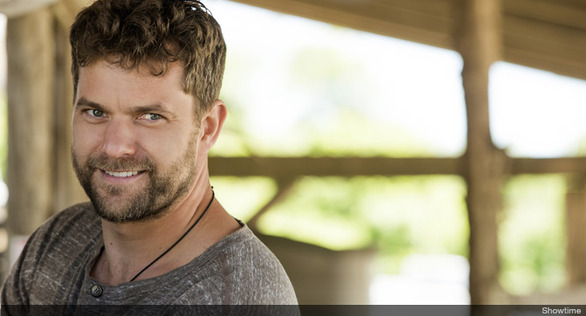 Not yet 40, the Canadian co-star of The Affair already has a distinguished body of work to look back on — from multiple angles...
Jackson continues to prove he's as down-to-earth as ever.
Child hockey star. Teen heartthrob. The genius son of a mad scientist, or the victim of a marriage gone wrong. It's safe to say that after nearly 25 years of water-cooler-worthy roles, Vancouver native Joshua Jackson has become a poster boy for how to make it in Hollywood.
From his teen days in The Mighty Ducks and the groundbreaking drama Dawson's Creek to his more recent run in the sci-fi drama Fringe, the 38-year-old has grown up onscreen without ever falling victim to some of the pressures actors in his position face. In fact, the most salacious thing to ever hit gossip rags about the star was the amicable split from his girlfriend of 10 years, Diane Kruger, this summer.
Meanwhile, Jackson continues to prove he's as down-to-earth as ever. He cracks jokes about Dawson's Creek reruns and his resulting lack of authority if he were ever to have teenagers. At an international press conference, he quips about someone quoting Woody Allen as a relationship expert, refers to reporters' water tumblers as "sippy cups," and lights up when a Canadian reporter announces where she's from.
It's no wonder Canadians are still so quick to claim Jackson as their own.
The lovefest continues thanks to the Season 3 premiere of Golden Globe-winning drama series The Affair. Jackson's role as the quick-tempered, small-town-loving family man Cole Lockhart is the latest in a string of successful roles that seem tailor-made for him. It makes you wonder if having a casting director for a mother had anything to do with it.
"The beauty of being a child to a very strong-willed parent is you learn most of it by osmosis," Jackson says. "The advice she gave me when I was first starting [was] to honour it as work and it will constantly reward you. I love what I do for a living and I think if you put the time and energy into it, it pays you back enormously."
...viewers had left Jackson as an angst-ridden teen, only to have him re-emerge years later as a full-fledged adult..
Time and energy seem to be tent-poles of the actor's success. It would have been easy for Jackson to be typecast after his six-year stint as Pacey Witter on Dawson's Creek, especially considering the buzz he earned on that TV series working alongside the likes of Katie Holmes and Michelle Williams. Rather than jump into another show when that teen favourite ended, Jackson spent most of the early-to-mid 2000s doing a string of movies. It wasn't until 2008 that he seemed ready to shed his Pacey moniker by taking a huge swing into more adult TV territory with J.J. Abrams' sci-fi offering Fringe. It was as though viewers had left Jackson as an angst-ridden teen, only to have him re-emerge years later as a full-fledged adult. It was a behind-the-scenes journey that seems to encapsulate everything Jackson loves about working in television.
"You never actually have to or want to figure the character out completely, because if it's done right, it is going to continue to grow over time. In many ways, the character that you end up with when you're off the air might be almost unrecognizable [compared with] the character that you start with," Jackson says. "Because these events happen in their lives, they react to them in the ways that they do and that leaves a mark. You build up a new personality that's being forged over the course of the storyline. To me, that's actually the fun of it all."
There are definitely personalities aplenty on The Affair, in part thanks to the show's unique storytelling method. The same situations are played out from various characters' perspectives, providing unreliable narration in every scene.
At the outset, those points of view were limited to the two "cheaters" in the group, Alison (Ruth Wilson) and Noah (Dominic West). In Season 2, "victims" Cole and Helen (Maura Tierney) were added to the mix. Season 3, which picks up three years from the cliffhanger second-season finale, also features the perspective of new character Juliette Le Gall (Irène Jacob). It all adds up to what Tierney likens to a 12-character story as told by four actors.
"Take that, Tatiana Maslany," Jackson jokes before reflecting on playing that kind of a role. (Maslany plays multiple clones on the sci-fi series Orphan Black.)
"Once we got into Season 2 and you got to see how Cole perceived himself, it was a pretty radical departure from how he had been before. There is a great joy in being able to play something that is rooted in the central truth about a person, but with very different facets."
It's so different from traditional TV narratives that Jackson admits it isn't always well received. He says the negative reactions are from people who would rather be given one solid, reliable viewpoint. "It bugs the s--- out of them," he says with a laugh, explaining that the premise can be a "confrontational idea" because it means people don't always remember things accurately. It has certainly changed his perspective on memory and objectivity.
"We all live inside of a very subjective world. And I am not really convinced that there is any such thing as objectivity — that there is some other, rightful truth that can be discovered," Jackson says. "We are all going through this with our own experiences, and bumping off of each other, and trying to figure things out as we go along. I am sure that's been shaped partially by the show, but that has certainly been my experience in life."
Well, as for the story from our perspective, we'd say that Jackson has had a pretty great experience in life so far, and we can't wait to see what role he'll tackle next.
Amber Dowling is a Toronto-based writer and the founder of TheTVJunkies.com.