Kim Cattrall Feels Good in her Sensitive Skin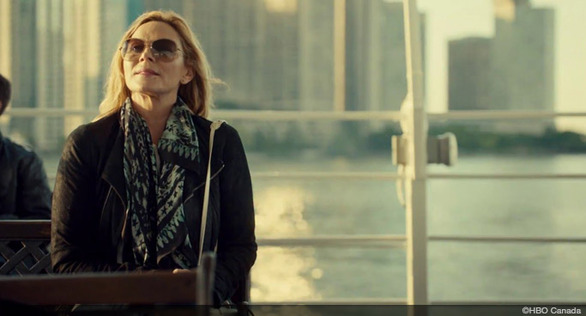 Season 2 of the remake of the U.K. comedy series thrives in its Toronto setting, as does the former Sex and the City star
"I was born on an island, I grew up on an island, and now I live on an island."
While she's championed as one of ours, former Sex and the City star Kim Cattrall originally hails from Liverpool, England. Perhaps that has helped her slip effortlessly under the skin of her Sensitive Skin character, Davina Jackson.
The original U.K. version of Sensitive Skin aired a decade ago and starred Joanna Lumley (Absolutely Fabulous). Both versions examine the life of an attractive woman of a certain age coping with modern relationships — a story just as relevant in a Toronto setting as it was in London.
Season 2 of Sensitive Skin sees Davina cross the pond — albeit on a smaller scale. He character moves out of her sterile urban condo tower and into a rustic houseboat on the Toronto Islands.
"I've always been on an island," says Cattrall. "I was born on an island, I grew up on an island, and now I live on an island."
She's talking Britain, Vancouver Island, and Long Island, respectively. Last summer, however, was the first time she'd set foot on the Toronto Islands. Cattrall stayed on a houseboat over the course of the shoot.
That, she says, was a first. "It's been a fantasy of mine. It's kind of like you're away but you're home. The water is very calming."
Interviewed on shore, steps away from Davina's houseboat, Cattrall marvels at the spectacular view of Toronto and how the islands seem a million miles away. "Seven minutes on a boat and you're in another place."
The experience brought Cattrall and company closer to nature. "We saw ducks mating last week," she says. "The crew gave them a round of applause when they were finished."
The change of scenery very much follows the storyline of the original British scripts. In the U.K. version, the character moves to a houseboat on the Thames.
"We're following the British series very closely," says Rhombus Media co-founder Niv Fichman. Still, writer Bob Martin and director Don McKellar had plenty of freedom to make changes. How did that sit with original creator Hugo Blick, also an executive producer on the Canadian series?
"It would be immodest for me to quote him," McKellar says. "He's very happy, which is really nice. I know Bob in particular was really scared about how he would respond."
British critics — often a tough audience — also gave the Canadian series the thumbs-up when the first season aired in the U.K. "Cattrall has never been better on the small screen," Vicky Frost raved in The Guardian.
Beyond this year, the Canadian team will be on its own, as the U.K. original ran for only two seasons. "We're hoping for Season 3," says Fichman, "in which case we'll be totally liberated to do what we want."
****************************************************
Some expats translate better than others...
The original British version of Sensitive Skin aired on BBC Two in 2005 and 2007. Here are some other U.K. to Canada/U.S. makeovers:
House of Cards (Netflix)
Based on a 1990 BBC miniseries of the same name. Ian Richardson played the ruthless, manipulative schemer in the original, worming his way into the prime minister's office. In the American version, Kevin Spacey takes his character, oily senator Frank Underwood, straight through to the White House. Both characters speak directly to the camera at times, taking us all along for the ride. Two of the best political thrillers ever.
Getting On (HBO)
Like the U.K. original of the same title, this lasted three short seasons. With the Brit creators on-board, the American show closely followed the original scripts. Both were unblinking looks at where many of us will be headed, if we're lucky: the geriatric wing of a broken-down, big-city hospital. Fearless performances from Laurie Metcalf, Alex Borstein, and Niecy Nash made it all darkly hilarious.
Shameless (Showtime)
Blimey! In England there was a crazy, drunken dad with a family of six children who pretty much had to fend for themselves; and then their adventures were transferred to Chicago. Both shows were created by Paul Abbott, with William H. Macy scoring two Emmy noms for playing the perpetually overserved Frank Gallagher in America.
Broadchurch/Gracepoint (ITV/Fox)
Both the British version and the U.S. version (shot in Victoria, B.C.) were created by Chris Chibnall and concerned the search for a young boy's murderer. What sets this Atlantic crossover apart was that the same actor, David Tennant (Doctor Who), played the lead detective on both shows, tailoring his accent for each audience. The "limited run" American version lasted only one season.
Absolutely Fabulous (BBC)
Sometimes the original is simply too original to copy. That's what happened with Ab Fab, a big British hit right from its 1992 start. Two U.S. pilot attempts, one by Roseanne Barr, another by original creator (and Edina) Jennifer Saunders, failed to take off in America. Pity!
Bill Brioux is a Toronto-based freelance journalist and a contributor to the Canadian Press.