Mars Conquers Earth: Kristen Bell is Everywhere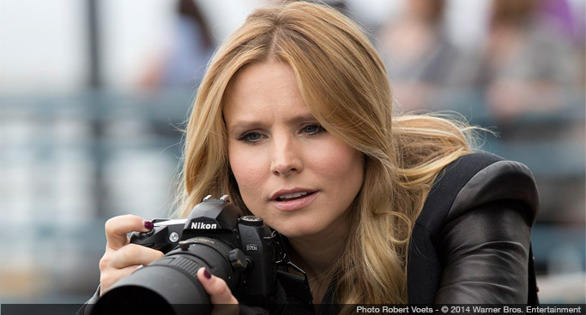 The Kickstarter queen is on a career upswing, taking over screens big and small.
...it seems like you can't get away from Kristen Bell these days.
A hugely successful animated Disney feature, a popular Showtime series about to enter its fourth season, an indie film that screened at Sundance, and the revival, in movie form, of her cult TV show: between Frozen, House of Lies, The Lifeguard, and the Veronica Mars movie, it seems like you can't get away from Kristen Bell these days.
It's easy to be won over by her (just ask any late-night talk show host). The 34-year-old star is regularly described by hard-to-impress people as "lovely" and "delightful." Every now and then, the odd writer will throw around the word "sublime." That isn't just your regular PR-fuelled Hollywood flattery, either. The woman could charm the dimples right off George Clooney's face.
Fans of Bell's breakout show Veronica Mars (and its 2014 movie adaptation) will associate a sharp tongue and a sarcastic wit with her teen-detective title character, but not everyone is aware that the actress herself is a walking wealth of one-liners, quick comebacks, and unselfconscious bravado — she'll drop down and demonstrate the Jersey Turnpike (a dance move that calls for your hands and feet to be on the floor while your butt bobs up and down in the air) on an internationally broadcast daytime show, no special occasion required. She's beloved by geeks, nerds, and Comic-Con attendees of every stripe, those unlikely arbiters of a new kind of cool (for proof of their dominance, go look at the box office numbers for every comic book movie Marvel has made), and she proudly counts herself among them.
"I've been really terrified my whole life that no one would like me," the self-described dork told BuzzFeed this year, "so I've been something of a chameleon and made myself into what I think someone would want to see from me. I came to realize how much time I wasted on being scared that no one would like me. It was all approval-seeking, and eventually, I realized the only approval I needed was my own."
Raised in a Detroit suburb, Bell was drawn to acting at a young age yet didn't land her first credited role until she was 21. (Remember Pootie Tang? That's her wearing a schoolgirl uniform in the closing credits.) In an industry where twentysomethings regularly play teenagers, that lack of a head start wasn't a problem. Bell's youthful looks meant that, at 24, she could easily pass for a high-school junior. That, along with what she calls her "sassy attitude," landed her the television part that would make her a household name.
It was as Veronica Mars, a sharp-tongued Nancy Drew for the iPod generation, that Bell garnered a small but devoted fan base — one that helped her make crowdsourcing history with a Kickstarter campaign that reached its $2 million funding goal in under 10 hours. Six years after the show had gone off the air, 90,000-plus donors chipped in to make the Veronica Mars movie a reality. One of them (a Canadian, actually) handed over $10,000 for the pleasure of having a walk-on role in the film. In the end, Bell and show runner Rob Thomas ended up with nearly $6 million — $4 million more than they'd asked for.
The film had a festival premiere at SXSW back in March, where it won the approval of Marshmallows (Bell's pet name for Mars fans) and critics alike. Like the show, which featured big-name cameos from Joss Whedon, Amanda Seyfried, Bell's Gossip Girl co-star Leighton Meester, and more, the movie has a handful of very funny celebrity appearances worth tuning in for even if you've never heard of Neptune, Calif., and its resident teen detective.
Months after her Kickstarter success, Bell was part of another record-breaking project: Disney's Frozen. The movie won two Oscars, became the highest-grossing animated film of all time, and inspired untold numbers of "Love Is an Open Door" and "Let It Go" YouTube covers. For Bell, the movie was a collaborative effort in which she worked alongside writer Jenny Lee to shape her character, Anna, into someone she could identify with. "I always loved Disney animation," Bell told MTV last August, ahead of the movie's release, "but there was something about the females that was unattainable to me. Their posture was too good and they were too well-spoken, and I feel like I really made this girl much more relatable and weirder and scrappier and more excitable and awkward. I'm really proud of that."
Not one to reserve her scrappiness for the screen, Bell has become the standout voice among a group of actors that includes Halle Berry, Jennifer Garner, and Jennifer Lawrence, engaging in a battle with the paparazzi over photos of celebrities' children. Her strategy has been to go after publications that run photos of famous-by-association kids, using social media to organize and publicize an effective celebrity boycott that has prompted outlets like People, Entertainment Tonight, and Just Jared to bend to her will. Bell, who has a 17-month-old child with her actor husband, Dax Shepard, says, "I'll argue until my dying day that my daughter should not be affected by my career choice."
In the wake of confronting an industry that thrives on publishing stories about celebrity cheating scandals, secret plastic surgery procedures, and post-pregnancy bikini bodies, you might wonder whether the star is worried about a tabloid backlash, but from what we can tell, Bell doesn't care. She's not looking for their approval anymore.
Corrina Allen writes for TheLoop.ca