Laura Dern: Certain Women Have It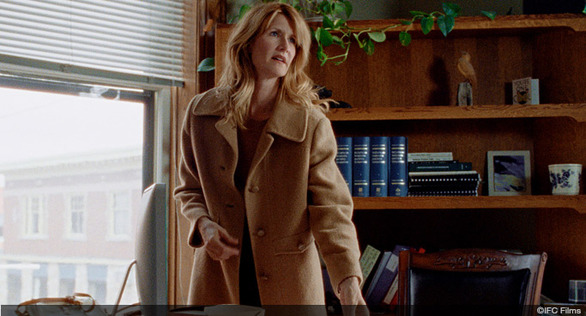 Laura Dern is 50 and enjoying 'the time of my life...'
Any kid who's able to display that level of dedication is surely bound for greatness.
It meant a lot to Laura Dern when Martin Scorsese told her she should be an actress. That was in 1974, when Dern was only seven and spending time on the set of Scorsese's drama Alice Doesn't Live Here Anymore with her mother, Diane Ladd. (Bruce Dern is her other famous acting parent.)
However, the director's comment had less to do with any of the youngster's precocious performing chops than with her digestive prowess. Having been included in a shot behind her mom's co-stars, Kris Kristofferson and Ellen Burstyn, Dern ate a banana-flavoured ice cream cone in each of her 19 takes and — much to the director's astonishment — didn't throw up. Any kid who's able to display that level of dedication is surely bound for greatness.
"I was raised on movie sets," the actress, now 50, told British daily The Telegraph, "and I decided for myself at a very young age that it was what I wanted to do." There were many more signs of Dern's commitment to her craft as she shifted from pre-teen roles to edgier parts in movies like Blue Velvet and 1991's Rambling Rose, for which she won her first Oscar nomination. (She finally earned a second for playing Cheryl Strayed's mother in Wild in 2014.)
Despite her charm in early hits like Mask and Jurassic Park, Dern never seemed like she was out to be a movie star. As a result, there have been times when she didn't garner the attention she deserved. Consider her astonishing performance in 2006 as an actress in crisis in David Lynch's indelibly weird Inland Empire.
Yet the strength and diversity of Dern's work in the last few years has made her impossible for audiences to overlook. "I could never ask for a better time," she recently said about her run of extraordinary roles, which includes a top-secret part in Star Wars: The Last Jedi. "I've had the time of my life, and I've pinched myself a lot."
A low-key ensemble drama featuring Kristen Stewart and Michelle Williams, Certain Women also stars Dern as a small-town lawyer (also named Laura) who becomes part of a dangerous situation with a troubled client. Director Kelly Reichardt's indie feature is one of several recent films and TV shows that demonstrate Dern's ability to get deep inside the skin of women who are always much more than first impressions can convey. These are women who are tough, complicated, vulnerable, loving, angry, or — as real women tend to be — all of the above.
That was certainly the case with the high-powered CEO Dern played on HBO's Big Little Lies. Though Renata Klein initially seemed like the most villainous of the series' archetypal moms, she soon defied those expectations. Dern clearly relishes the chance to play these characters, the kind where, as she told The Hollywood Reporter, "you start with a label and then you get to break it down."
Whereas many of her Hollywood peers are wary of characters who might come off as too abrasive, Dern has repeatedly proven her willingness to take a tougher tack with such women as Renata and Amy Jellicoe on Enlightened, the brilliantly caustic HBO series she co-created with writer-director Mike White. As Dern continued to THR, "Your job is not to find the place where people watching are going to like you more — your job is to be true to the character."
Given that attitude, it's no wonder Scorsese's one-time extra became such a favourite of other great directors. Along with her work with Lynch — for whom she also plays a part in the new Twin Peaks — she has also given superb performances for Robert Altman, Paul Thomas Anderson, and Alexander Payne (she stars in his new comedy, Downsizing). Dern credits filmmaker friend Todd Haynes for putting her together with Certain Women director Reichardt, who has a knack for understated movies that boast the complex female characters Dern loves to play.
Nevertheless, Dern's greatest challenge on Certain Women was having to scale down. Whereas Renata reacts to indignities with rage, Laura (the character) responds only with a tight grimace and a tired shrug. As Dern said to Deadline.com: "For me as an actor, the greatest opportunity — and therefore challenge — was how quiet this person's struggle is, and, in a way, how quiet her shame is about who she hasn't been. Here's a woman who hasn't been considered in her life in the way she deserves, hasn't been listened to in her life the way she deserves, and that's spoken to really beautifully."
Dern also saw the role as another opportunity for her own growth, as important to her now as it was when she was starting out: "I feel lucky to be growing up as a person while I'm growing up as an actor." And thankfully, she's now able to show her dedication to her craft in ways that don't involve eating all that ice cream.
Jason Anderson writes about movies for Cinema Scope, FFWD, and the Toronto Star.