Liam Hemsworth: Little Brother is Watching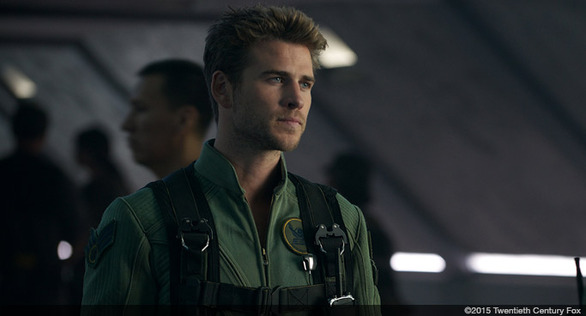 Star of Independence Day: Resurgence, Liam Hemsworth on kicking alien butt, his battling brothers … and Miley.
"Peed your pants? … Yeah, me too!"
There's a scene in Independence Day: Resurgence where Liam Hemsworth (as heroic fighter pilot Jake) asks a panicky scientist as they fight off invading aliens, "Peed your pants? … Yeah, me too!" It totally nails who Hemsworth is as an actor and a dude.
The Australian-born Liam — the youngest Hemsworth brother, the one with the on/off/on-again romance with Miley Cyrus — always appears to be a good sport. Whether it's silly jokes, crawling on the ground to help Ellen DeGeneres surprise office staff on her TV show, "hanging ten" out in Malibu, or uploading amusing posts to Instagram with his parents, pals, and Cyrus, Liam Hemsworth is one fun guy.
Witness him colourfully manicuring one fingernail to show support for the Polished Man campaign aimed, as he says, at saying "no to violence against children." Or on Cyrus's last birthday, posting: "Happiest birthday to my favorite little angel!"
As good a sport as he is, the tall and handsome Hemsworth, 27, is also a serious movie star whose resumé includes The Hunger Games franchise, The Expendables 2, and Independence Day: Resurgence, along with such indie movies as Cut Bank and The Dressmaker. His lifetime box-office gross exceeds $1.7 billion US, no small potatoes.
Ironically, what inspired him to pursue acting was watching Will Smith's fighter pilot character in the original Independence Day (1996).
"...the reason I became an actor was because Will Smith punched an alien in the head..."
"I saw the original on VHS when I was about six or seven," Hemsworth says. "I wasn't technically allowed to watch it at the time, but I snuck in and watched it with my older brothers. And the reason I became an actor was because Will Smith punched an alien in the head. And sure enough, my character, Jake, also gets to punch an alien in the face!"
Punching and fighting with older brothers Luke and Chris was de rigueur in the Hemsworth home on Phillip Island off Melbourne's coast.
Jennifer Lawrence, who worked with Liam on The Hunger Games movies, says: "Bear (Liam) and his whole family, the way they communicate is so physical. They're the craziest family I've been around in my life. They're like real bears."
Liam confesses he wasn't a match for eldest brother Luke, but that he and Chris regularly brawled: "We'd have a fistfight for anything, like who was going to sit in the front seat. Another time, our mum tried to break us up but broke her finger. Thing is, punching is another way of expressing affection, that's how we did it in our place."
Being the smallest, he often used anything at hand: "I used weapons to fight, so I'd just grab things like the broomstick as the only way I could win. Another time, I was about eight, I threw a knife at Chris's head. But luckily, only the handle, not the blade, hit him in the head. But I was sending him a warning that if you mess with me, this is what happens."
When Chris, who would later appear in his own franchise series (Thor, The Avengers, Ghostbusters), first succeeded in Hollywood, he invited Liam to live with him for a bit. And when the younger brother's career started taking off as well, Liam confided: "Me and Chris have been living through it together. We both feel very thankful (to be) where we are, to be working consistently and meeting the people we are."
Still, that brotherly competitive edge lives on. Both of them auditioned for the role of Thor — Liam quipping, "Chris tanked his first audition" — but Chris got it. Today they often tease each other on social media, drolly dissing each other's magazine cover photos.
Another thing they share is their humble background.
"I feel lucky to come from a hard working-class family and to know what that kind of life is like."
"I must've done every type of job, from labouring to working in a bowling alley and as a park ranger doing the penguin parade," Liam says. "I'm thankful I was able to do those kinds of jobs before going to something like this (Hollywood), where you get spoiled. ... I feel lucky to come from a hard working-class family and to know what that kind of life is like."
As for his relationship with Cyrus, they had a breakup in 2013. "It was hard ... but at the time we were going in different directions," Hemsworth says.
The couple met on the set of 2010's Nicholas Sparks saga The Last Song, and were engaged in 2012. It was a chance meeting at a pet adoption event in November of 2015 that led to their reconciliation.
Since reuniting, the couple is back to being tabloid fodder, with frequent headlines suggesting secret weddings and plans to become parents. But their social media outputs reveal a fun and silly pair with lots and lots of dogs.
Proof that happy endings in Hollywood don't just happen in the movies.
Ashley Jude Collie is a Canadian entertainment writer based in Los Angeles.