Putting the Sexy in Sexagenarian Action Hero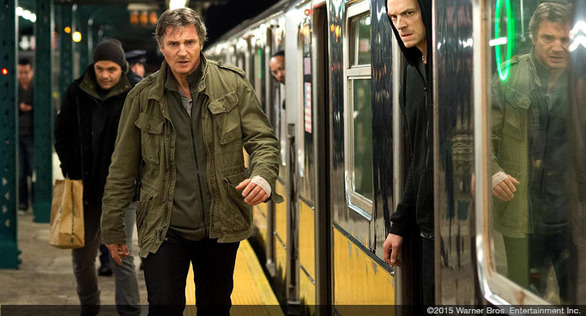 At 63, Liam Neeson is making a killing with thriller roles to die for.
It's strange the way the world turns sometimes...
At a tall (6-foot-4) and lean 63 years old, Liam Neeson is currently the most prolific killing machine on the big screen. He admits, however, that he'd have been physically better suited to being an action star decades earlier.
"But that wasn't the way they thought of me back then. It's strange the way the world turns sometimes," he tells us.
And, of course, there are worse things than working in what's been dubbed "geriaction films." No work at all would be one.
"Being a single parent is a juggle," Neeson says, a reminder of the realities he faced after the tragic death of his wife, Natasha Richardson, in a Quebec skiing accident. "But it's a good juggle. It's great to be offered the work."
Indeed, he has seen enough peers figuratively fall off the screen over the years to not complain about overwork. "I believe, to some extent, you create luck. But in other ways, it's out of your hands. One of my dearest friends in London hasn't worked in five years. And he's a fantastic actor onstage and onscreen. Five years, nada. So I'm just lucky."
So when Liam Neeson works — in the three Taken films, and in films like A Walk Among the Tombstones and the recent man-against-the-Mob film Run All Night — everybody's happy.
Neeson is happy, of course. "I'm happiest in that little moment between 'Action' and 'Cut,' " he says. His family is happy to see more of him (both A Walk Among the Tombstones and Run All Night were shot in his longtime home of New York, "giving me the chance to sleep in my own bed").
And his stuntman is happy. Neeson has what he calls "a special relationship" with stunt co-ordinator Mark Vanselow, whose 17th film with the actor was Taken 3 (their relationship goes back to the 2000 movie Gun Shy with Sandra Bullock). "I don't want to give anybody the false notion that, 'Yeah, that was me,' when you see me doing some incredible stunt onscreen. He's a really good pal. He kind of gets me and I kind of get him."
Their work together became nearly year-round after the first Taken movie — a film Neeson admits he thought "was going straight to video," and which he says he accepted mainly for the chance to hang around Paris and drink red wine.
But Neeson, who earned an Oscar nomination as Oskar Schindler in Schindler's List, admits he sometimes wants more out of a movie. And he says he saw a little something extra in the script for Run All Night.
Run All Night is the third film in which he's worked with Jaume Collet-Serra (director of previous Neeson films Unknown and Non-Stop). In it, the actor is matched up with a dramatic peer, Ed Harris, who plays Shawn Maguire, his longtime boss in the Irish Mob.
Hit man Jimmy Conlon (Neeson) is about to call it a career, when his son (Joel Kinnaman of AMC's The Killing) and his boss's son (Gone Girl's Boyd Holbrook) clash with fatal results. As a result, the lifelong criminal cronies get caught up in a sad and inevitable quest for vengeance.
Yes, there is the expected carnage, car chases, shooting, and fist fights (with hip-hop artist turned actor Common as a meaner, younger hit man on Jimmy's tail). But there is also a quiet storm of a scene, with Neeson and Harris in a restaurant, cold-bloodedly evaluating what must happen next. It is certainly the most memorable scene in the movie. Neeson calls it "the movie's heart. It's the emotional core that gives you a stake in what happens next.
"I see a lot of action scripts, and I know that a lot of directors of these kind of movies shy away from emotion. They kind of cheat audiences by being in such a hurry to get to the car chase and the gunfire. But the relationship gives the story a kind of mythic quality. I love the chemistry Ed and I have as characters. Once that's strong and audiences believe in that, then you can take the action anywhere. It's not tacked on for its own sake, it's all connected."
Neeson isn't sure what the shelf life is for a sexagenarian action hero. "My knees are still in pretty good shape, thank God." He still works out at a boxing gym, but gave up sparring because too many opponents would jump at the chance to say they beat up a celebrity.
As long as I'm able, I don't see any reason not to keep working.
Ultimately, he says of age, "so far at least, it's just a f---ing number. It doesn't bother me at all, it really doesn't.
"There are so many things I love about my work. You get a lovely familiarity with the crew. I do tend to gravitate to them rather than other actors. As long as I'm able, I don't see any reason not to keep working."
Jim Slotek is a writer and columnist with the Toronto Sun.