Margot Robbie: Send in the Clown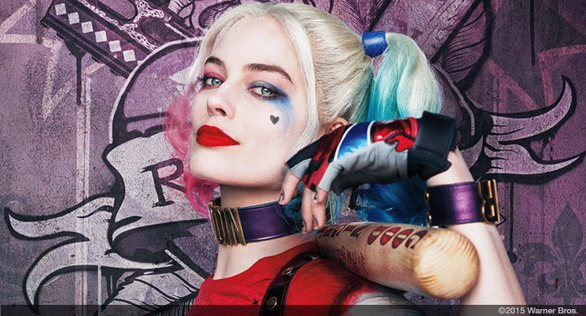 Thanks to Margot Robbie's scene-stealing performance in Suicide Squad, Harley Quinn has become the new reigning queen of supervillains...
Robbie's gangster in a baby-doll tee has become pop culture's new sweetheart.
Growing up on Australia's Gold Coast, Margot Robbie went to circus school. Dangling from the trapeze turned out to be perfect prep for her role as Harley Quinn, the deranged psychiatrist turned circus-style moll of the Joker in Suicide Squad.
Since last summer, when Suicide Squad became the biggest August opening ever, Robbie's gangster in a baby-doll tee has become pop culture's new sweetheart. Harley was the most searched for Halloween costume of 2016, according to Google (the Joker was second). She is one of the core characters on the tween-targeted DC Super Hero Girls series on YouTube. And John Stephens, executive producer of CTV's Batman prequel series Gotham, has teased her appearance on this spring's Season 3 finale.
...post-Harley Quinn, Robbie is a star in her own right...
Robbie herself has followed Harley into the spotlight. The 26-year-old made her debut nine years ago on Australia's evening soap Neighbours, before landing a short-lived stint opposite Christina Ricci on the flight-attendant drama Pan Am, a part she booked during her first trip to L.A. It was cancelled after one season, though Robbie quickly won a role playing Leonardo DiCaprio's wife in Martin Scorsese's The Wolf of Wall Street after she spontaneously slapped DiCaprio across the face during her audition.
But now, post-Harley Quinn, Robbie is a star in her own right. She's not only headlining her own movies but she's producing them, too. She's currently filming the comedy biopic I, Tonya, in which she plays disgraced figure skater Tonya Harding, for LuckyChap Entertainment, which she owns with her husband and their two best friends. (How close are they? The four also share a home in London.) Judging by on-set photos of Robbie in period-precise mom jeans and crimped hair, it looks like a hoot.
But Robbie's not abandoning her breakout role. She's set to play Harley again in the Suicide Squad spinoff Gotham City Sirens, which will introduce Catwoman and Poison Ivy. And while Squad director David Ayer is attached to direct, make no mistake about who wears the hotpants on this set. Once again, Robbie will produce.
As the character's popularity has risen, so has Harley's value on the comic resale market. A copy of the 1993 comic book Batman Adventures #12, which features Harley Quinn's first appearance, sold for $2,500 last June. Quebec-based comics appraiser Ashley Cotter-Cairns ranks it No. 1 on the list of Hot Comics at SellMyComicBooks.com.
"Harley Quinn has brought a whole new crowd of collectors into comic books."
When her own self-titled comic was relaunched last August, Harley Quinn #1 became the bestselling comic book of the month, prompting DC Comics co-publisher Jim Lee to name Harley the "fourth pillar" of the DC comic universe, alongside Batman, Superman, and Wonder Woman.
The biggest difference: Harley was created six decades after Superman, Batman, and Wonder Woman. "They're cold and a bit distant," Cotter-Cairns says of those iconic heroes. "Harley Quinn has brought a whole new crowd of collectors into comic books."
Amanda Conner and Jimmy Palmiotti, the married couple behind the Harley Quinn comic and whose collection Harley Quinn Vol. 1: Die Laughing dropped March 21, have found the jocular Harley's adventures attract a diverse audience. "When we do the [comic] Cons, we have young kids and it's the first comic that they've read, and we also have older people," Palmiotti says. "The coolest thing is we have a lot of moms and daughters who read the book together. It's very sweet and at the same time it's like: 'Oh my God, Mom's got a lot of explaining to do.' "
While Harley was originally an antagonist to Batman, Conner and Palmiotti have made her character evolve so that at least a handful of her personalities are sympathetic. "She thinks about the people around her more than when we started," Palmiotti says. "She's got, like, 200 pets!" Conner interjects, referring to the character's animal menagerie that includes dogs and cats, a turtle, a dove, a beaver, a bunny, and so many more that she requires a "scatapult" to catapult their waste into someone else's problem. "We think of Harley as a horrible yet lovable psycho killer Looney Tunes cartoon," Conner says.
When Conner and Palmiotti attended the Suicide Squad premiere in New York last August, they expected to be scooted down the "black" carpet to make room for the actors. Instead, they were greeted by a roar of applause. "We were like, what is going on?" Palmiotti says. "Because comic book people don't get this."
They hadn't seen the film in advance, but were inspired by early publicity stills to incorporate Robbie's mismatched, dye-tipped blonde pigtails into the character's comic look. They never imagined Robbie would be watching them just as closely. They were shocked when they saw a video of her on TMZ reading Harley Quinn comics at an airport. "It's kind of fun to see that," Palmiotti says. "She's researching and it's flattering that she is using our version as a reference."
When Palmiotti and Conner finally met Robbie after the premiere, her reverence for Harley was palpable. "She asked us if she did a good job," Palmiotti recalls. She didn't need them to confirm it: the evidence is all around that there's a new clown in town.

Ryan Porter is a freelance entertainment writer.