Matt Damon: Nice Guy Finishes First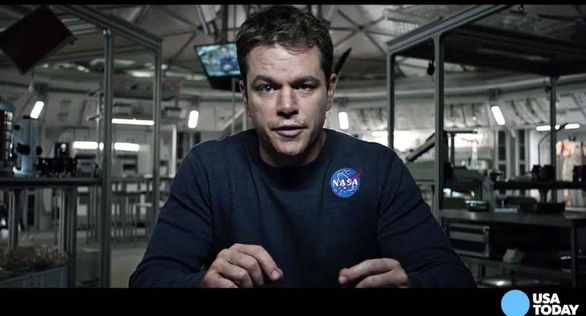 By balancing riskier moves with blockbusters like The Martian and this summer's return of Jason Bourne, Matt Damon stays on the A-list while remaining true to his non-jerk self...
I was not unaware of the implications of being in a few flops in a row.
Jason Bourne may not be the heroic-rescue type so much as the kick-bad-guy-in-throat type, but he sure helped Matt Damon when he needed him most. The actor was at another make-or-break point just a few years after his breakthrough alongside pal Ben Affleck with 1997's Good Will Hunting.
Sure, he looked comfortable among his fellow stars on Ocean's Eleven, but his own wattage was dimming thanks to misfires like The Legend of Bagger Vance and All the Pretty Horses. As he later told an interviewer, "Having been on the sidelines out here in L.A. and watching the ebb and flow of other careers, I was not unaware of the implications of being in a few flops in a row." Things, as he later lamented, were "drying up."
Nor was Damon a sure thing for The Bourne Identity when he landed the role in director Doug Liman's 2002 adaptation of Robert Ludlum's espionage lit classic. Brad Pitt and Russell Crowe had already declined the part of the amnesiac super-spy. Still best known for the more vulnerable likes of Will Hunting and Private Ryan, Damon hardly fit the mold of an action hero.
Becoming Jason Bourne allowed him to become the best kind of Matt Damon — one who's brainy yet brawny, solid yet surprising.
But any viewer who pegged him as a softie had to be shocked by his physical prowess during the movie's frenetic car chases and close-quarters fight scenes. Even more impressive was Damon's ability to man up without sacrificing any of his smarts, sensitivity, or Everyguy appeal. Becoming Jason Bourne allowed him to become the best kind of Matt Damon — one who's brainy yet brawny, solid yet surprising.
Having made some decisions nearly as iffy as Affleck's yes to Gigli (which turned out to be a big flop), Damon was determined to play things smarter (though not necessarily safer) in the wake of his Bourne success. As he explained around the time of the third entry, The Bourne Ultimatum, in 2007, the resulting box-office clout gave him "the freedom to make the films I wanted to make," all while protecting what made him special. In 2015, his star turn as a stranded astronaut in The Martian earned him his fourth Oscar nomination.
Now as he returns to the spy role after a nine-year hiatus for this summer's Jason Bourne, it's startling to see how he's been able to take artistic chances and keep things fresh while retaining audience loyalty.
With its $630-million gross, The Martian is powerful proof of how strongly viewers respond to Damon at his best. He stars as Mark Watney, an astronaut who gets stuck on the Red Planet when his mission is jeopardized and the rest of his crew returns to Earth, mistaking him for dead. Though he faces a desperate situation that would leave others feeling hopeless or (like the spaceman Damon played in Christopher Nolan's darker-hued space epic, Interstellar) totally unhinged, Mark is a pluckier kind of guy.
With his determination to "science the s--- out" of the problems he faces, he expresses the can-do attitude, personal integrity and self-effacing humour that audiences have long associated with Damon, too. Though The Martian still delivers all the dazzling effects and action we'd expect from a space story by director Ridley Scott, Damon's performance provides a sense of warmth and wit that's all too rare among modern blockbuster fare.
Interestingly, Mark is not so different from Damon's characters in the other movies that have most strongly connected with viewers in the years between the actor's Bourne adventures. Whether he's the valiant leader of the South African rugby team in Invictus, the incorruptible Texas Ranger in True Grit, or the congressman who discovers the world is far weirder than it seems in The Adjustment Bureau, these characters all possess a fundamental Damon-ness (is it decency?) complementary to the films' otherwise contrasting natures as a noble-minded sports drama, darkly comedic western, and romantic thriller, respectively.
What Damon can bring to films as diverse as The Martian and Steven Soderbergh's whistleblower satire, The Informant!, is no small thing in today's Hollywood. The enormous scale, vast casts, and interconnected storylines of blockbuster franchises can make the contributions of actors seem negligible.
Indeed, we live in an age when stars count for less and less. Damon seems well aware of that possibility, which is why he has carefully protected his brand, even as he has continued to challenge himself and his audiences.
As uncommercial as it may have seemed, one of his wisest choices might have been staying away from Jason Bourne for nine years. He stated at the time of The Bourne Ultimatum that he and director Paul Greengrass felt there was nowhere left for the series to go. A half-hearted effort would have done no one any favours.
After the stratospheric success of The Martian, Damon can come back to the role from a position of strength rather than desperation.
And since the original film signalled a shift away from the actor's previously boyish demeanour to an eminently modern brand of machismo, it'll be fascinating to see what he does in the role now that he's 45. Whatever the speed of this hero's fists, Damon's own moves are still the right ones.
Jason Anderson writes about movies for Cinema Scope, FFWD, and the Toronto Star.