Ho-Ho-Ho Holiday Treats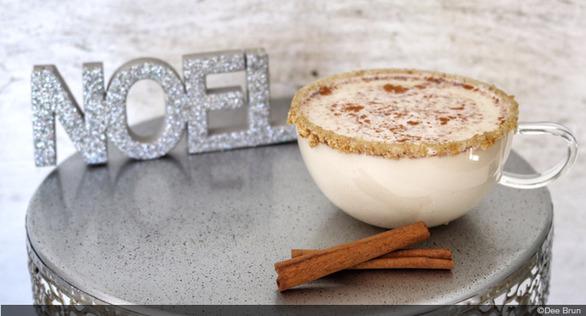 A movie like Love the Coopers highlights the tension and anxiety that the holidays can evoke, despite everyone's best intentions. Since festive food has a starring role in both fictional and real-life family gatherings, treats like these can help sweeten your clan's grinchiest moods.
Pineapple Upside-Down Cake Update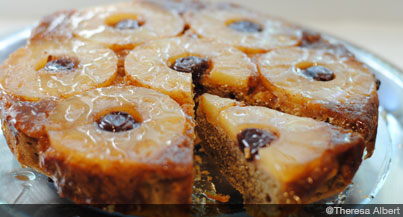 This classic '70s stunner used to be created with a special pan called a spring form, use artificially coloured maraschino cherries, and contain more sugar that your dentist eats in a year. This version does away with the fussy pan, and switches out some of the sugar for agave and the candied cherries for healthier sour cherries. You still need to stand on your head to eat it, though. Kidding. A quick flip onto a pretty plate is all you need to master this dessert.
Makes: 12 servings
Takes: 12 minutes plus 45 baking time
Topping:
4 tbsp butter
½ cup agave
1 pinch cinnamon
1 can pineapple slices
¼ cup sour cherries in light syrup, drained
Batter:
½ cup butter
½ cup brown sugar
2 eggs
1 tbsp cinnamon
1 tsp vanilla
¾ cup whole wheat flour
¾ cup all purpose, unbleached flour
1 tbsp baking powder
Directions:
Heat oven to 350F.
Line a round cake pan with parchment paper for easy upside-downing.
For the topping:
In a small pot, bring butter and agave to a boil. (If you don't have agave, brown sugar will do.) Add cinnamon. Simmer until bubbling and browned, 2 to 4 minutes, swirling but not stirring.
Meanwhile, drain fruit and lay pineapple into pan; place one cherry in each hole. Pour sauce over fruit.
For the batter:
Using a stand mixer, beat butter and sugar together until creamy and then add eggs one at a time. Beat for 5 minutes while you mix together flours and baking powder in a separate bowl.
Add cinnamon and then vanilla to the butter and sugar, and then add flour mixture a cup at a time.
Spoon batter over fruit and bake until a fork comes out clean, about 45-50 minutes.
Allow to cool for 10 minutes and then use the parchment to lift the cake from pan and invert it onto a platter.
Theresa Albert is a holistic nutritionist, food and health writer, and owner of the Rosehurst B&B.
Slow Cooker Eggnog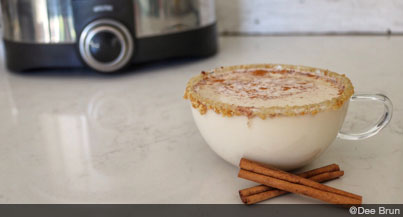 On wintry days, nothing says comfort food like a slow cooker chugging away on your kitchen counter. Now it says comfort drink, too, because what fills you up with good feelings more than eggs and cream and rum?
Ingredients:
8 egg yolks, beaten
¾ cup granulated sugar
4 cups milk, room temperature (do not use non-fat milk)
1½ cups heavy whipping cream, room temperature (can substitute full-fat canned coconut milk or whole evaporated milk)
1 cup spiced rum
2 whole cinnamon sticks
1 tsp nutmeg
Honey & crushed graham crackers for rim (optional)
Directions:
In slow cooker insert, place egg yolks and sugar, and whisk until smooth. Add milk, cream, and rum in a slow, steady stream. Whisk constantly until well-combined. Add the cinnamon sticks and nutmeg. At this point, eggnog should be well mixed and runny.
Cover the slow cooker, and turn on low for two hours. Whisk every now and then. Finished eggnog should be thick enough to coat the back of a spoon. Mixture could curdle if you overcook.
Eggnog can be served warm or chilled. When serving, remove cinnamon sticks and add more spiced rum to taste.
To rim the glass, spread a thin coat of honey on the rim and gently dip into graham cracker crumbs.
Dee Brun is a cocktail stylist and owner of the boutique B&B, Olde Bridge Place.