Nicholas Sparks: Falling in Love with High-Stakes Romance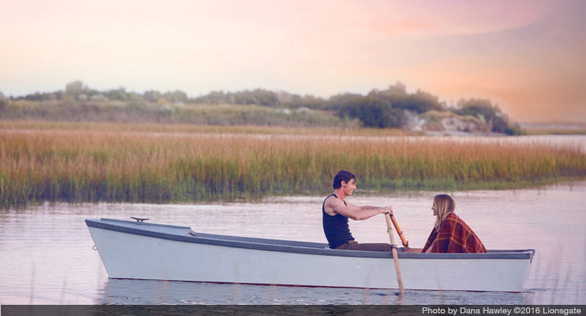 In The Choice, Nicholas Sparks explores yet another life-threatening liaison...
Audiences are touched. Tears are shed. Adaptations are green-lit.
Love him or hate him, novelist Nicholas Sparks has developed a reliably crowd-pleasing formula, making him a massive success in publishing and the movies alike. To date, more than half of his novels have made the leap to the big screen, capitalizing on a loyal audience drawn to his distinctive brand of high-stakes romance. Sparks' recipe for success is simple: bring a man and a woman together in a new relationship, put some daunting obstacles in their way, and leave at least one major character dead. Depending on who is left standing, these couples are either torn apart or brought closer together.
Audiences are touched. Tears are shed. Adaptations are green-lit.
The posters for these films are virtually interchangeable and the stories all follow roughly the same outline, but the author offers subtle variations each time out. For an example of this, look no further than The Choice, the 2016 film of his 2007 novel. Even if this movie ultimately deviates from the formula, Sparks offers a generous sampling of his signature preoccupations, including infidelity, doomed romance, and at least one life-threatening accident. Of course, if you're a real Sparks fan, you know that only one question really matters:
Do they wind up together or apart?
As his 10 previous films (and the brazen spoilers below) illustrate, it can go either way:
TORN APART
Message in a Bottle
In the first Sparks adaptation, Theresa Osborne develops an obsession with the love letters of widower Garret Blake. After she stalks her way into his life, a romance blossoms, though it's compromised by Garret and Theresa's distance from one another and his discovery of her secret letter collection. After some deep introspection, Garret decides to reunite with his long-distance love, but he gets sidetracked by a daring rescue at sea — which ultimately costs him his life.
A Walk to Remember
Brought together by a high school play, lifelong acquaintances Landon Carter and Jamie Sullivan develop a romance that's challenged by their conflicting popularity levels and her secret battle with leukemia. A former delinquent, Landon turns out to be a dream boyfriend, alternately described as a miracle and an angel sent by God. But, as expected, Jamie's illness cuts short this idyllic relationship.
Nights in Rodanthe
Struggling with husband and daughter issues, Adrienne Willis seizes the opportunity to take charge of her friend's B&B for the weekend, an impulsive decision that introduces her to Paul Flanner, the new love of her life. Lucky Adrienne, right? Wrong. Paul quickly abandons her to reunite with his estranged son, a selfless decision that turns fatal when he gets caught in a freak mudslide.
While clashing with his abusive family, Dawson Cole accidentally kills his cousin, resulting in jail time and the end of his romance with Amanda Collier. When their youthful spark reignites decades later, Amanda's husband appears to be the most daunting challenge — until Dawson's estranged father arrives on the scene and takes his son's life.
TOGETHER FOREVER
The Notebook
Spanning roughly six decades, The Notebook tells the story of a seemingly impossible romance that endures countless challenges, including disapproving parents, the Second World War, and dementia. In the end, Noah and Allie simultaneously die of natural causes, a development both unlikely and uplifting.
Dear John
John and Savannah's blossoming romance is quickly derailed by her views on his father, John's addiction to the military, and Savannah's marriage to another man. However, thanks to a convenient, well-timed death, they arrive back in one another's arms.
The Last Song
Will Blakelee appears to have honourable intentions, but Ronnie Miller struggles to accept his romantic past and his vague role in framing her father for arson. But, as is often the case in the work of Nicholas Sparks, a tragic death yields an unexpected reconciliation.
The Lucky One
Reviving the stalk-y undertones of Message in a Bottle, U.S. Marine Logan Thibault becomes obsessed with Beth Green after finding a photo of her on the battlefield. While this romance is disrupted by her unstable ex, he eventually falls into a river and dies, allowing Logan and Beth to live happily ever after.
Safe Haven
When it becomes apparent that Katie Feldman has no intention of ditching Alex Wheatley for her ex, this jealous madman arrives on the scene with a jug of gasoline and a loaded gun. However, he somehow manages to get shot with his own weapon, liberating Katie and Alex from their most unpredictable adversary.
The Longest Ride
Bull rider Luke Collins and art lover Sophia Danko are a classic odd couple. Stubbornly refusing to respect Sophia's colleagues or give up bull riding, Luke lets their relationship fizzle. But when the couple's elderly friend Ira dies, they find themselves in possession of a valuable art collection, and that instantly solves all their relationship problems.
Jonathan Doyle writes about movies for Comedy, CTV, and Space.