Ray Donovan's Family: The Ultimate Fixer Upper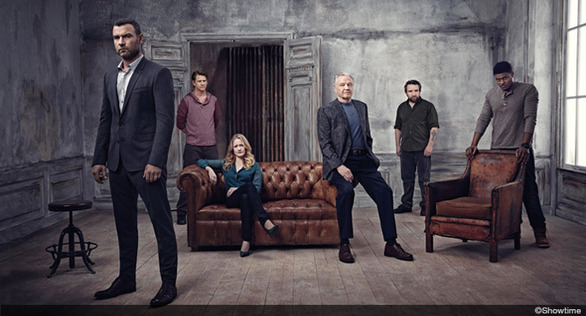 Mercurial Ray and the battling Donovans are back for a bigger, bolder fourth season...
...we can expect a "bigger, bolder, even more dramatic new season" of Ray Donovan.
Liev Schreiber, who plays the title character in the Showtime crime drama series Ray Donovan, has been called "America's greatest actor" by castmate Steven Bauer. Indeed, the multiple Golden Globe and Emmy-nominated Schreiber is a mesmerizing theatrical tour de force on the series, which returns for its fourth season.
In person, Schreiber — who also starred in the movie Spotlight, which earned a Best Picture Oscar — is an imposing presence: tall, handsome, and scruffy yet immaculately suited. He says we can expect a "bigger, bolder, even more dramatic new season" of Ray Donovan.
In "Exsuscito," Season 3's incendiary final episode, the Donovans, a Boston crime family transplanted to Los Angeles, were caught in a web of underhanded business and complicated personal twists. A couple of bloody shootouts left Ray's brother Terry (Eddie Marsan) near death. A wounded Ray was on his way to get a priest for Terry and make his own confession. In the Emmy-worthy confession scene, Ray admitted to killing Father O'Connor, who had molested both him and his younger brother, Bunchy (Dash Mihok), when their father, Mickey (Jon Voight), was away in prison.
While the series is ostensibly about Ray, a "fixer" for the rich and famous, along with the dealings of his Irish Catholic family, at a deeper level it's about fathers and sons. Mickey's absence is at the root of the horrific abuse his sons experienced and the travails they continue to deal with. Ray has such a deep-rooted antipathy toward his dad, we have sensed that the end game (violent death) lurks imminently for one of them.
One of the things you're going to see is this big shift between Ray and Mickey, his dad.
Schreiber, who's conscious of being a present father to the two sons he shares with Oscar-nominated actress Naomi Watts, says of last season's finale: "I think that any confession — spiritual, emotional, personal — is by nature cathartic. And this season, it's going to change the dynamic of their relationship going forward. One of the things you're going to see is this big shift between Ray and Mickey, his dad. It has to happen."
Schreiber says we'll also see a reset of his character: "Last season, there were big questions about sobriety, family, and dealing with the past. Ray doesn't say much. He has kept so much inside, and finally gets to release this pent-up emotion. Now, after that cathartic confession, we pick him up trying to recover emotionally and spiritually, and hopefully build a more stable life for himself and his family."
But that would be too easy. So much for the best-laid plans of mice, men, and Donovans.
Sometimes I don't have to do much acting.
Of this ongoing conflict between father and sons, and among the Donovan family members, veteran actor Voight suggests: "The family dynamic and tension is written, and you personalize the character's stories to make it you, based on your experiences as a parent." Reflecting on his own fatherly travails, when he was once estranged from kids Angelina Jolie and James Haven, he admits, "Sometimes I don't have to do much acting."
Mihok says of his character Bunchy, now dealing with a pregnant wife: "Given his own abused background, he has a fear of being a father. Is he equipped to have a child himself? It's a big moment for most men."
Pooch Hall says that his character, Ray's half-brother Daryll, will continue to strive to find a position in the Donovan family. "Like most people," Hall says, "he's looking for acceptance. So he's trying to prove why he should be part of this family. I'm trying to come out of a world of confusion, and I so much want my dad to accept me. Yet, my dad is sort of responsible for my prostitute girlfriend getting killed, and I have to call out my dad on that. So the struggle of what it means to be a son continues. I see Daryll like a lot of young men who come from broken homes."
And it's not just the men who struggle. Ray's daughter Bridget, played by Kerris Dorsey, also has parental issues. "She's trying to figure out who she wants to be, and struggling for identity. And she wants to know Ray and her own role in the family, with an overbearing mom," Dorsey says.
Schreiber, who had a complicated childhood with his own parents, has an insightful take on the show's characters, comparing them to children. "They grow on their own. They take form and shape, independent of you as an actor, which is fascinating to watch as the show grows and the characters develop and surprise you in that."
So, buckle up, he says, and prepare for a "very exciting season ahead."
Ashley Jude Collie is a Canadian entertainment writer based in Los Angeles.