Reel Life VS. Real Life: Eddie the Eagle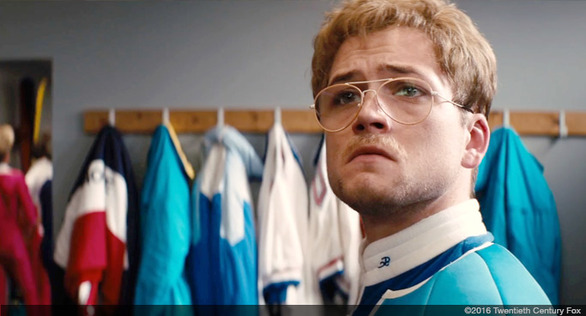 The truth has its ups and downs in this entertaining biopic about the endearing British ski jumper...
...certain liberties have been taken with the real details of Edwards' high-flying adventure...
As a proud Calgarian who experienced the chilly thrills of the 1988 Winter Olympics, I can tell you this for certain: Eddie the Eagle was a big deal.
True, the attention attracted by the British ski jumper wasn't all positive. Indeed, some of it was a little mean, as if some commentators couldn't help but be cruel and condescending when faced with a young man in Coke-bottle glasses who hailed from a nation that hardly ever saw a snowflake and who had none of the grace of his fellow contenders. But many more people embraced Edwards as the plucky hero in a true-life underdog story, so much so that it hardly mattered that he never got anywhere near the podium. (He finished last in his two jumps.)
Eddie the Eagle is a British comedy that celebrates the indefatigable spirit that Edwards displayed in the face of many obstacles and some seriously terrifying heights. The most amazing thing of all is how Edwards — played here by Taron Egerton, of Kingsman: The Secret Service — didn't break every bone in his body. It's also a wonder that his story took so long to inspire a movie, what with the other goofy-inspirational sports story of the Calgary Olympics, that of the Jamaican bobsled team, having long ago received the big-screen treatment in 1993's Cool Runnings.
Just as they were in that Disney hit, certain liberties have been taken with the real details of Edwards' high-flying adventure. Actually, there are a whole lot of liberties taken, according to ME's trusty truth-meter. Edwards himself estimated the film's accuracy rate at five per cent, but we can be a little more generous.
An accident-prone lad from humble origins, Eddie Edwards had been obsessed with the Olympics since he was a child.
TRUE — The movie's charming early scenes certainly get the broad strokes right, emphasizing how young Eddie (who actually went by his given name of Michael to his family, "Eddie" being a schoolyard nickname) was mad for winter sports despite the obvious impediment of living in the U.K.
He shifted from downhill skiing to ski jumping when he realized that he would thereby improve his chances of competing for a gold. That also made him the first ski jumper to represent Britain in the Olympics since 1929.
MOSTLY TRUE — He did indeed switch for that reason, though he was a more skilled skier than the movie suggests, narrowly missing the chance to compete for Britain at the 1984 Olympics in Lake Placid. He tried his hand (and legs) at jumping two years later — indeed, he accomplished his first three jumps of 10 metres, 15m, and 40m on the same afternoon, a feat that takes years of training for most jumpers.
While training in Germany, Edwards came under the wing of Bronson Peary, a once-promising American jumper who worked at the ski-jump facility.
FALSE — Though the filmmakers make some judicious edits to Edwards' real story in the early going (including the existence of a sister whose life he literally would later save with a bone marrow transplant), the events leading up to the Olympics have been most seriously, uh, modified. For one thing, Edwards trained at Lake Placid, N.Y., not in the German town of Oberhof. A boozy Mr. Miyagi-type played by Hugh Jackman, Peary is a fictional character who bears little similarity to Edwards' real coaches. One of his trainers, Chuck Berghorn, recently complained to a British newspaper about not being consulted by the filmmakers. Even so, he can understand why they made a film about Edwards. Says Berghorn, "The moment Eddie turned up in my office wearing those big glasses and telling me wanted to compete in the Olympics, it was like something out of a very funny movie."
Though other competitors were openly hostile to their sport's newcomer, Edwards developed an unusual kinship with the world's greatest jumper, Matti Nykänen.
EVER-SO-SLIGHTLY TRUE — The scene in which "the Flying Finn" gives Edwards some valuable words of wisdom before his climactic final jump might be the invention of the screenwriters, but it still hints at a very strange episode in Edwards' post-Olympics career that isn't in the movie. That's his equally unlikely music career in Finland, where he and Nykänen enjoyed a rivalry on the pop charts.
Edwards' dorky charm and can-do attitude made him a media sensation in Calgary.
TRUE (WITH A CALGARIAN CAVEAT) — Eddie really did become one of the biggest stories of the Winter Games. He even garnered a shout-out during the closing ceremonies by chairman Frank King (included in the film in a piece of archival footage). Yet those who lived through the Games or learned to ski where the jumps were built at Canada Olympic Park (more fondly known by locals by its former name of Paskapoo) will not be impressed by the shoddy efforts to replicate the look of the city in Eddie the Eagle, most of which was shot in Germany. So while you may see a majestic vista of tree-covered mountains behind Eddie as he heads down the jump, there were none behind the real COP. Then again, you will spy a few extras in the city's signature white cowboy hats. That alone is worth a few more of those percentage points, right?
Jason Anderson writes about movies for Cinema Scope, FFWD, and the Toronto Star.