Everything's Coming Up Rose (Byrne)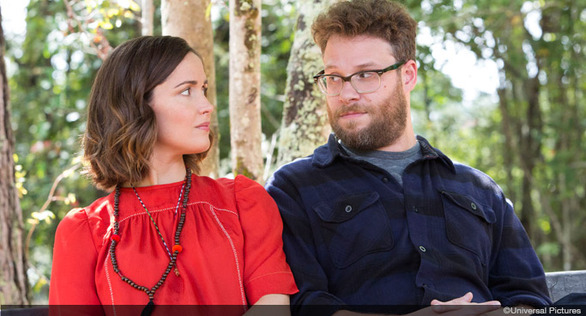 The Neighbors 2: Sorority Rising star continues to prove her dramatic and comedic chops, but the prized parenting role is no longer make-believe...
Her career has taken her from a galaxy far, far away ... to the Marvel Comic Universe ... and points in between.
She doesn't have the overpowering star profile of a Jennifer Lawrence or an Angelina Jolie. But Rose Byrne has quietly been knocking down movie genres since the start of this century.
Her career has taken her from a galaxy far, far away (an early role as Princess Amidala's handmaiden in the Star Wars prequel trilogy) to the Marvel Comic Universe (she played CIA agent Moira MacTaggert in X-Men: First Class and X-Men: Apocalypse) and points in between.
She also has worked the stage recently, starring in productions of You Can't Take It With You on Broadway and David Mamet's Speed-the-Plow back home in Sydney, Australia.
Byrne admits she was pigeonholed into drama projects after five seasons opposite Glenn Close in the crime-procedural TV series Damages. "But diversity is what it's all about in life, isn't it?" she said when I interviewed her about her scream-queen turn in the horror film Insidious: Chapter 2.
"I have a vivid imagination and I'm very responsive."
She said she'd had a hunch she could do well in the horror genre, "because I'm a very good audience. I have a vivid imagination and I'm very responsive. I saw the first (Insidious movie) and I could not stop screaming. I knew what was coming and I still jumped."
But the biggest hurdle she surmounted has seen her become a go-to comedy actress as well, via box-office smashes like Bridesmaids and Neighbors.
Oddly enough, there is a Canadian connection to Byrne's comedy career. She got her comedic feet wet in 2007 playing a leading lady opposite Montrealer Jay Baruchel in Just Buried, a mordant comedy set in a Maritime funeral home.
"I've been lucky with you Canadians," she says. She also appreciates the "seat-of-the-pants approach" of Canuck filmmaking, which reminded her of working in Australian movies.
That same year, as it happened, Baruchel broke through in a Judd Apatow comedy called Knocked Up, which also featured some future Rose Byrne co-stars, including Jonah Hill and Seth Rogen.
Classic networking. But Byrne says she still had to prove herself to the comedy world. She recently told daytime host Kelly Ripa that the acid test was Get Him to the Greek, the 2010 comedy with Russell Brand and Jonah Hill about a run-amok rock star who goes on a drug-fuelled bender mid-tour.
She said director Nicholas Stoller and the casting team were not initially welcoming. "It was like, 'What is she doing here? She's so serious!' I definitely had to convince them."
But apparently, once you're funny, you're funny. Get Him to the Greek was followed the next year by Bridesmaids, in which Byrne played Helen, the jealous and status-conscious bridesmaid who repeatedly tries to undermine the maid of honour (Kristen Wiig).
Stoller then gave Byrne her next big comedy break, no auditions necessary this time. In 2014's Neighbors, he cast her as Kelly, a new mom married to a slowly maturing pot smoker named Mac (Seth Rogen). While in the process of nesting in their new home, Mac and Kelly find themselves next door to a hellacious frat house, led by an alpha male named Teddy (Zac Efron).
The war between the frat boys and the thirtysomething parents played big in theatres. The box office for Neighbors led inevitably to Neighbors 2: Sorority Rising, a feminist twist on the first one that put the film even more firmly in Byrne's newly discovered comedy wheelhouse.
One of the things Byrne, as well as audiences and critics, liked about the Neighbors films was that her role as wife of the overgrown man-child wasn't simply to be the disapproving buzz-kill. In fact, Kelly proves herself to be just as irresponsible and even more of an unleashed party monster when exposed to sorority life. The actress herself describes Kelly's behaviour as "unhinged."
To this end, Stoller insisted she keep her Australian accent — something she rarely gets to do, especially in a Hollywood movie. "It's sort of a stereotype that Australians are kind of wild and disrespectful of authority. But I welcomed the opportunity to speak in my normal voice," she says.
One other notable event occurred between Neighbors and Neighbors 2: Sorority Rising. Byrne and her longtime partner, actor Bobby Cannavale, had a child of their own — a son named Rocco.
At last, Byrne doesn't have to pretend to know what it's like to be a nervous parent in the Neighbors movies.
"It's a cute name, very Italian," Byrne told Ripa. "We went to an Italian restaurant and they were very excited when we told them (his name)."
She had insisted, however, that Rocco was too strong a name to assign to an unborn baby. She waited until after her son was born before giving her OK. "I looked at him and I thought, 'Yeah, I think he could carry it.' "
Jim Slotek is a freelance entertainment writer.