Divorce Crashers: A Look at Sarah Jessica Parker's New Show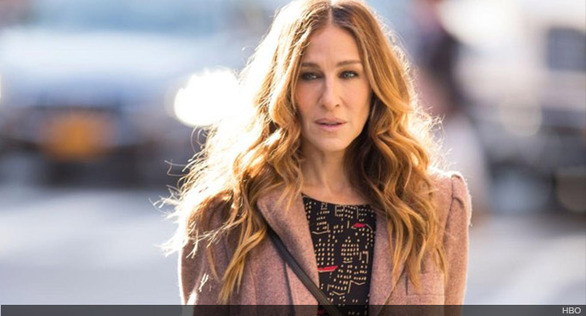 Sarah Jessica Parker returns to HBO with a new series about a marriage off the rails — seemingly building toward a train wreck...
...it's natural to wonder if the couple could have actually pulled off a happily ever after...
It took a sordid affair, several breakups, a heart problem, memorable tomfoolery in Paris, and a big-screen film continuing the story of Sex and the City's six-year television run, before Carrie Bradshaw and Mr. Big finally settled down long enough to walk down the aisle. So in the years that followed those inevitable nuptials, it's natural to wonder if the couple could have actually pulled off a happily ever after.
Sadly, we'll never know, given the lukewarm critical reception to the mess that was the second Sex and the City film. But we do get a glimpse into what's easy to picture as a similar future for those types of characters, thanks to Sarah Jessica Parker's next foray into television with the HBO show Divorce.
As the title suggests, the 10-episode series follows a midlife couple as they reassess their futures and rediscover themselves, all while going through a fairly tumultuous divorce. "This could be the greatest thing that has happened to us," Parker's character (Frances) tells her husband, Robert (Thomas Haden Church), in the trailer. "Now we can go back to just liking each other again."
A conscious uncoupling is too obvious, though; we all know it's never quite as simple or amicable as that. Especially when the world you're unravelling involves kids, an oversized dog, some side action with another man, and girlfriends (played by Molly Shannon and Talia Balsam) who are more messed up than you are.
The end result is a show that Parker has been developing for four years as an executive producer, but one that didn't finally come to fruition until HBO set her up on a "blind date" with creator Sharon Horgan (Catastrophe) and the pair hit it off. With the creative casting out of the way, getting back into action with the cable network made perfect sense in terms of Parker being allowed to thrive as a producer behind the scenes while honing a new character onscreen. But it also meant hordes of SATC fans would inevitably compare the projects — even a dozen years after Carrie and co. went dark on the small screen.
Sure, Divorce lacks the narration, lunch dates with the girls, and the high fashion. This is a much more suburban portrayal of New York, involving kids — something Carrie was never much about. Thematically, though, it's not hard to imagine the scribe living a life similar to that of Frances in her late 40s, early 50s, trying to figure out her place in the world alongside a man she's no longer sure she loves. It's a situation that lends itself to some dark scenes, something Parker feels automatically sets the characters apart.
"I don't think we actually talked a lot about trying to make Frances different. I think this story is different," Parker counters when asked about the characters' similarities. "The only time we really were cognizant of distinction was when we started talking about the wardrobe. But really, Frances was so much her own person from the moment I read the pilot. She was so distinct from not only Carrie, but any other character I have ever played."
That distinction might not be apparent until several episodes in, but it appealed to Parker when she began contemplating her return to TV. In real life, the stability of her marriage to actor Matthew Broderick has often been headline fodder, despite their ongoing commitment to each other and their three children. Frances appears colder and less compassionate than fans are used to seeing from Parker. It's a weighted portrayal that the actress recognizes is completely different from her life experience.
"I don't really relate to Frances. Her life is different. She's a much more withholding, chilly person than I am," Parker explains. "She's not very buoyant. She can be mean and angry, but I love playing somebody like that. I don't need to relate to somebody. In fact, what I want very much is to not relate to somebody."
Television was clearly the best place for Parker to do that. After starring in several films revolving around love, family, and relationships, the small screen appears to be the best place for her to dig in and get to know a character again. She says it was a natural transition back to TV, likening it to relearning to use a muscle that has slightly atrophied and maintaining that the pace, need for perfection, and overall process are things she has always loved.
Parker seems to love this character, even if she doesn't expect audiences to feel like Frances is their latest best friend. After all, she's already played that.
"I don't think Frances ever intended in this marriage to be mean or malicious or violent, but Divorce becomes very battle-like. I've seen family members and close friends go through divorce and it can be a very emotionally charged experience," she says.
"Marriages are incredibly complicated. Smart, thoughtful, evolved people make choices that are not necessarily smart. Frances makes some choices that some of us might not, but she's a very real person. You might not care for her decision-making, but you most certainly have a better sense of why they might have arrived at that decision by the end."
No Carrie Bradshaw-like narration required.
Amber Dowling is a Toronto-based writer and the founder of TheTVJunkies.com.