Scarlett: The 21st Century Starlet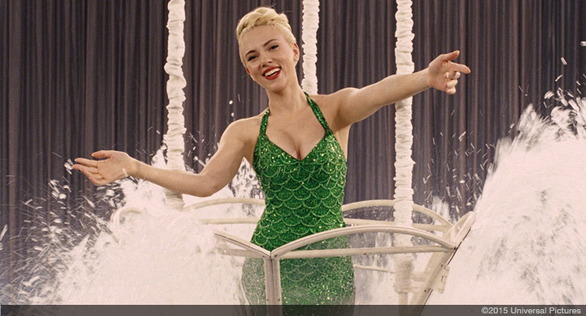 Hail, Scarlett! Classic Hollywood glamour is alive and well with Scarlett Johansson, leading lady of Hail, Caesar!
Johansson's connection to classic Hollywood began long before she made her screen debut.
While Johansson is best known for aggressively modern films both massive (The Avengers, Captain America: Civil War, Lucy) and modest (Ghost World, Her, Lost in Translation, Under the Skin), there's a third category that has resulted in some of her most memorable screen time: period films fuelled by an old-fashioned sense of glamour. Uniquely adept at channelling the spirit of classic Hollywood, Johansson is widely seen as a modern update on the starlets of the studio system, effortlessly reviving the mystique that drew audiences to movies in the first place.
Johansson's connection to classic Hollywood began long before she made her screen debut. Even as a child, she earned comparisons to iconic starlets like Lana Turner and Marilyn Monroe. In 2001, she started earning similar comparisons for her acting when she joined forces with Joel and Ethan Coen on The Man Who Wasn't There, a striking film noir revival set in 1949. By giving the teenage actress precisely the hair, wardrobe, and sets she needed to reveal her nascent starlet appeal, the Coens permanently changed the way Johansson was perceived by filmmakers and audiences alike.
Before long, she won a Tony for her performance in A View from the Bridge. (The play was written by Marilyn Monroe's third husband, Arthur Miller.) She also stirred memories of '50s and '60s glamour by playing Psycho star Janet Leigh (in 2012's Hitchcock) and Maggie Pollitt — one of Elizabeth Taylor's most important roles — in a stage revival of Cat on a Hot Tin Roof. However, no role has brought her closer to the Hollywood starlet ideal than Hail, Caesar!, her long-awaited reunion with the Coen brothers.
Questioning many widespread beliefs about 1950s Hollywood, this film reminds us that the innocence and purity of that period was largely an act. Johansson plays DeeAnna Moran, a movie star with an irresistibly wholesome screen presence, who also happens to be an abusive diva plagued by real-life drama. Thanks to the damage control of Eddie Mannix (Josh Brolin), the notoriously shady studio fixer at the centre of the film, Moran's past indiscretions remain hidden from public view. But when the now-single actress finds herself pregnant and unable to identify the father, Mannix resorts to desperate measures.
In spite of Johansson's resemblance to the leading ladies who ruled Hollywood in the '50s — a period when actors had exclusive contracts with studios and bulletproof reputations — she saw Hail, Caesar! as an opportunity to highlight just how much has changed over the last six decades. "The public wanted to believe that the movie stars they were seeing up there on the screen were in fact as otherworldly and ideal as they were being projected," Johansson says of this period. "The studio did more to protect the image of their prize, their trophies, their stars — and, of course, the system was very different."
Playing DeeAnna may have felt like a stretch to Johansson, but the differences between modern Hollywood and the studio system of the '50s are less dramatic than you might think. While today's stars have a greater degree of control over their careers, long-term relationships with studios are still very much a reality. Johansson has experienced this first-hand, making five films with Marvel in the last six years — with more to come.
...by revealing so little about herself in the press, she has maintained a pristine reputation worthy of Hollywood royalty.
As for the privacy that Eddie Mannix so carefully guards, it's true that some modern stars are happy to live as an open book, revealing aspects of their personal lives at every opportunity. But even this perception can be misleading, as the same stars have arsenals of publicists working overtime to shape public perception, a pursuit very much in keeping with the spirit of the studio system. For actresses like Johansson who prefer to protect their privacy, the enigmatic mystique of a classic starlet is still attainable. Much like DeeAnna Moran, Johansson has married twice and navigated her way through all kinds of Hollywood drama. But by revealing so little about herself in the press, she has maintained a pristine reputation worthy of Hollywood royalty.
This might explain why Johansson so often evokes the actresses of an earlier era. Rather than simply impersonating the Hollywood starlets of yore, she has found a way to revive their way of life, their stories, even their fashions. While she is often described as a modern variation on the classic Hollywood leading lady, all the original ingredients appear to be in place. As her forays into period filmmaking make clear, Johansson isn't just resurrecting the spirit of another era — she's giving us reason to believe it never died.
Jonathan Doyle writes about movies for Comedy, CTV, and Space.