Silicon Valley - Sounds Like Geek To Us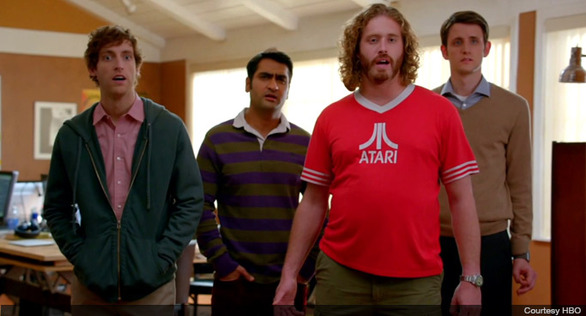 Mike Judge's sitcom Silicon Valley may lampoon geek and tech culture, but he gets it right. The creator of Beavis and Butt-head and Office Space, whose current HBO series began its second season last month, was once a Silicon Valley programmer. Which is probably why he knows exactly what the soundtrack to all-night coding marathons and a life of 1s and 0s should sound like.
They are geeks, too, more prone to inventing new sounds and instruments than woodshedding guitar solos.
Some of the best music in Silicon Valley's first season came from critically acclaimed but under-the-radar performers who are as much scientists as musicians. They are geeks, too, more prone to inventing new sounds and instruments than woodshedding guitar solos. They record for independent labels, under various aliases, in the shadows — their fans find them through SoundCloud and Bandcamp and by Googling "What song is playing when Erlich is in a fight with that kid on the street?" (Answer: "Do What It Do" by Dolce x Ozzie.) In between the hip-hop bangers that illustrate the fantasy lives of our misfit cast is the music that mirrors their real lives — strange, outsider, and ruled by technology. Here then, some of the worthy acts you may have missed in the background of Silicon Valley but which are waiting to be discovered.
The main theme to Silicon Valley, "Stretch Your Face," was written by Tobacco, aka Thomas Fec. The Philadelphia-area artist is an electronic experimentalist who eschews modern tools for retro analogue synths, old tape machines, and other pre-digital music equipment. In 2010, he collaborated with Beck (via email) for a few tracks on Maniac Meat, the album that contains the now-trademark funkadelic squelches that kick off each show. The equally marvellous bit of audio weirdness that is "Father Sister Berzerker," from his 2014 release Ultima II Massage, also appears in some closing credits.
A Canadian duo that built a following by posting tracks on Tumblr, Edmonton's Megan James and Corin Roddick found their futuristic, fairy-tale synth track "Ungirthed," from their 2012 debut Shrines, used for the launch party/stripper scene of Silicon Valley's second episode. Like many electronic acts that perform live, the pair is generally stuck behind banks of machines on stage. So they've put more attention into the visuals, creating handmade costumes and custom-designed light installations (such as colourful cocoon sculptures) that elevate their shows into spectacles. Their second album, Another Eternity, was released in March.
Derek Vincent Smith, aka Pretty Lights, creates groovy hip-hop and soul beats — then gives them away. Since 2006, the Denver artist has been making his music available for free on his own website and services like BitTorrent, in the process becoming one of the most popular electronic dance music artists on social media and playing the biggest dance parties and festivals. His track "Reel 12 Break 2," which plays throughout Season 1, was made on authentic vintage instruments and recording gear. It's available — for free — on his 2013 album A Color Map of the Sun.
This Brooklyn producer (real name Steve Bryant) is a drummer and a composer of down-tempo electro rhythms rooted in jazz, a lifelong musical love he studied in college. The track "Nobs," from his album 30 Days of Night, is the kind of wobbly, woozy, glitchy number perfect for when a late night bleeds into an early morning.
Falling nicely right between the series' hip-hop bangers and electro experiments is the work of New York City's Ratatat. With their own albums, the production duo of Mike Stroud and Evan Mast bounce between art-rock instrumentals and collections of their mixes for songs by Jay-Z, Kanye, and the like. Here, their remix skills are displayed on several tracks, including one of the show's most memorable, "Party and Bullshit" by Notorious B.I.G.
Liisa Ladouceur is a Toronto-based author and journalist.