Yo, Adrian! Sylvester Stallone regains one-two punch in Creed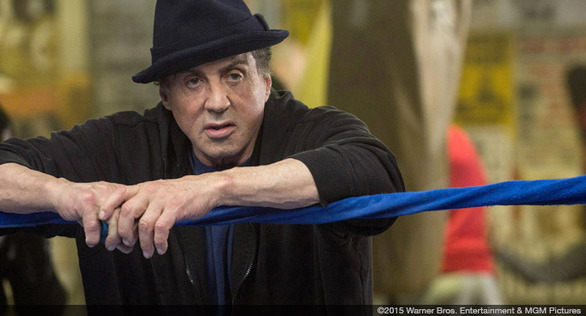 The latest instalment in the four-decade Rocky film franchise is the best since the first.
Zero to hero. Loser to winner.
In the Serbian village of Zitiste, a town that has survived natural disasters and a civil war, stands a life-size concrete statue (they couldn't afford bronze) of the movie character Rocky.
Some 7,000 kilometres away in Philadelphia — Rocky's "hometown" — city officials caused an uproar when they decreed that their own bronze statue of the boxer was "a movie prop, not art," and removed it from its iconic home at the Philadelphia Museum of Art.
After a public outcry, Rocky returned, arms raised victoriously, to the museum — near the 72 steps that tourists run up, in imitation of Rocky Balboa's training for his suicide fight against the unbeatable Apollo Creed (Carl Weathers).
Zero to hero. Loser to winner. The script a young actor/wannabe director named Sylvester Stallone peddled in the 1970s created "buzz" long before the movie was made.
It was a tale of a "no-good nothing" (in the words of his manager, Mickey) who gets a lottery-like title shot. And it brought a then-unheard-of Stallone offers of up to $350,000 for the script — provided someone else would star in it.
Stallone would have none of it. And his persistence resulted in the creation of a worldwide symbol of indomitability.
Of course, like the character, the Rocky franchise had to go full circle to find itself again. That 1976 movie won three Oscars, including Best Picture and Best Director (for John G. Avildsen, who would also direct the Rocky clone The Karate Kid).
Stallone was nominated for Best Actor. Three co-stars — Talia Shire, Burgess Meredith (who played Mickey), and Burt Young — got supporting-actor nominations.
And then? The series sank into parody, as did its star (who used both Rocky and his other signature character, Rambo, to cheap jingoistic effect).
Stallone wouldn't make another trip to the Oscars as a nominee until 2016, when he was nominated for Best Supporting Actor for playing — yes — Rocky Balboa in Creed.
Rocky and Creed are two films that aren't as much about winning as about what you bring to the fight.
So, with four decades between Oscar nominations, what ties Rocky and Creed together as the two films in the series with the most critical cred? Sentiment may have played a part, and Hollywood gratitude, too (thousands have worked on Stallone's movies, and they've generated $4 billion US in box office).
But it's no coincidence that Rocky and Creed are two films that aren't as much about winning as about what you bring to the fight.
Creed stars Michael B. Jordan as Adonis Johnson, a nowhere L.A. fighter whose secret is that he's the biological son of Apollo Creed, Rocky Balboa's foe and later best friend. Johnson wants to be a champ on his own terms, with none of the pressure of his famous bloodline.
But when Adonis travels to Philadelphia to enlist the aging Balboa as a coach, the secret explodes in the media. Suddenly, Adonis finds himself the presumed patsy in a gimmicky set-up match against an undefeated champion he has no business fighting.
It's a neat narrative twist that organically connects the first and latest Rocky movies. Both films have a central romance (Adonis with an aspiring pop singer, played by Tessa Thompson) that all but makes the "big fight" take second billing.
Suffice it to say, the outcome notwithstanding, Rocky and Creed are both movies about underdogs becoming men when the bell rings. They are portraits of human beings.
Though they were (almost) all entertaining, the same could not be said of the five Rocky movies sandwiched between Rocky and Creed.
There's a win-at-all-costs streak in the American psyche that said Rocky couldn't continue with a question mark over his head. He would have to become an undisputed champ (Rocky 2). He would have to defeat an impossibly strong opponent again. Enter Rocky 3's Clubber Lang, played by Mr. T, who pitied the fool.
It would behoove Rocky to fight the Cold War, turning a crowd of Soviets into USA-lovers by defeating Ivan Drago (Dolph Lundgren), a fighter who could destroy training machines with his fists. In Rocky IV, Rocky stopped being Everyman and became Superman.
The morose, misbegotten, and best-forgotten Rocky V had Balboa fighting tax problems, dad problems, and trying his hand at coaching a kid named Tommy Gunn (the late real-life fighter Tommy Morrison). And Rocky Balboa — a.k.a. Rocky VI — took the underdog story to ridiculous extremes, with a sixtysomething Rocky taking it to a twentysomething champion. Even aging Boomers couldn't suspend disbelief.
Creed sings the same song as the original, and hits the same sweet note, with echoes of mortality.
Jim Slotek is a writer and columnist with the Toronto Sun.