Thanksgiving Leftovers Recipes for The Leftovers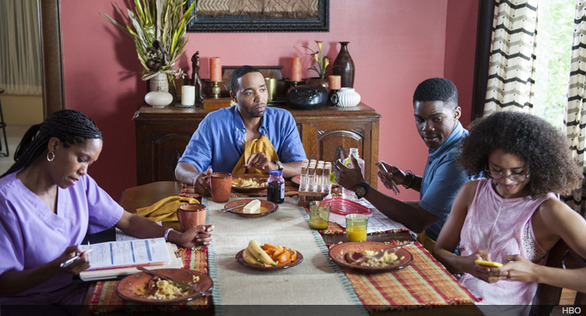 This Thanksgiving, give 'binging on leftovers' a whole new meaning...
Every October, we look forward to Thanksgiving dinner. And the leftovers. This time around, we can also look forward to The Leftovers. With Season 2 premiering just before Turkey Day, take advantage of the three-day weekend to reacquaint yourself with the Rapture-themed series.
Cranberry Bread Pudding
by Theresa Albert
No matter how you slice it, there is bread left over at the end of any holiday meal. Cranberry sauce is great but it often needs a second life, too. Put the two together and you have a hearty brunch dish that can be made ahead and stored in the fridge, or a dessert that is hostess-gift worthy! The recipe and ingredients couldn't be any more simple or delicious.
2 cups milk
¼ cup butter or margarine
½ cup sugar
2 eggs, slightly beaten
1 tsp ground cinnamon or nutmeg
Pinch salt
½ cup dried cranberries
6 cups soft bread cubes (about 6 bread slices of any mixed variety)
½ cup cranberry sauce
2 tbsp icing sugar
Preheat oven to 350F. Butter a large casserole dish. Warm milk, butter, and sugar together over low heat but do not boil. Meanwhile, lightly beat eggs, cinnamon, and salt together. Stir into warm mixture briskly, and add cranberries. Rip bread into ¼-inch pieces and gently add to mixture. Pour into casserole dish and bake for 45 minutes until set. Allow to cool for 20 minutes before topping with cranberry sauce and sprinkling with icing sugar. Serve warm or cold.
Theresa Albert is a Toronto-based personal nutritionist and food and health writer.
Cranberry Sangria
If you decorate with cranberries for the holiday season, or you're one of the few who actually make cranberry sauce, grab an extra bag of berries at the grocery store. Serve this delicious cocktail before Thanksgiving dinner or the next day as you feast on the leftovers.
1 750 ml bottle red wine
1 cup of white grape juice
1 750 ml bottle white cranberry juice
4 ounces Cointreau
Juice of 1 large orange
Juice of 2 large lemons
Juice of 1 large lime
1 small orange, sliced thin crosswise
1 small lemon, sliced thin crosswise
1 small lime, sliced thin crosswise
1 cup frozen raspberries
1 small can sliced peaches (not packed in syrup)
1 bag frozen cranberries
Soda water (optional)
Add everything to a large bowl and let sit in the fridge for about 24 hours. Enjoy over ice or use additional frozen cranberries as ice cubes (so your sangria is not diluted). When serving guests, you can add a splash of soda water to the top for some fun fizz.
Dee Brun is a cocktail stylist and writer at CocktailDeeva.com