Welcome Back, Charlie Brown!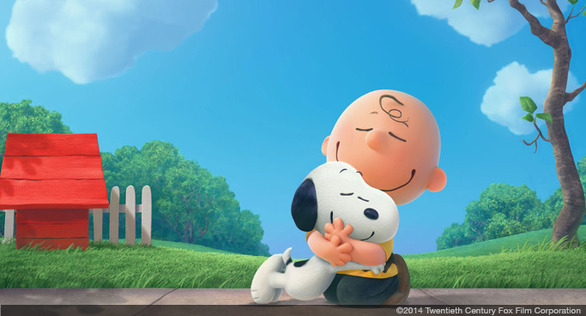 Good grief! After seven decades, the Peanuts gang is just as endearing as ever
As a new generation of kids meets Charlie Brown and his pals in The Peanuts Movie, here's a look at 10 top landmarks in the franchise's history:
1950: The First Comic Strip
On Oct. 2, 1950, cartoonist Charles Schulz launched a comic strip titled "Peanuts." It had developed from a series of cartoons featuring kids that he'd been working on since the 1940s. The very first strip featured Charlie Brown and two early characters who have more or less faded out of memory: Shermy and Patty (a different character from Peppermint Patty, who didn't make her first appearance until 1966).
1950: Snoopy's Debut
Charlie Brown's beloved beagle has been around since the third published cartoon, which appeared on Oct. 4, 1950; he got his name the following month. From a more or less normal dog, he quickly evolved into a complex character with a rich fantasy life, impersonating, at various times, a novelist, a sled dog, a Sherlock Holmes-like detective, the sunglasses-sporting "Joe Cool," and a World War I flying ace (among others).
1954: Charlotte Braun
Charlotte resembled Charlie Brown in name and appearance, but, unlike him, she was a bossy loudmouth. When a reader wrote to tell Schulz she didn't like Charlotte, he agreed to eliminate her, so she appeared in strips for only two months. (Lucy seems to have inherited some of her personality.)
1961: The Little Red-Haired Girl
It was in a comic strip of Nov. 19, 1961, that Charlie Brown first mentioned his unrequited feelings for the enigmatic Little Red-Haired Girl (whose name was later revealed to be Heather). She was not seen on page or screen until 1977, but she's a fully realized character (with lines!) in The Peanuts Movie.
1965: The First TV Special
A Charlie Brown Christmas debuted on Dec. 9, 1965. Working with a modest budget, its creators didn't realize it would become an immortal classic that would be followed by more than 40 other television specials, plus documentaries, an American history mini-series, video games and even a series of dental-awareness films. Paradoxically, the ingredients in the winning formula — the simple, heartfelt storyline, the very basic animation, the voice characterizations by inexperienced child actors, and the surprising choice of the jazz score by Vince Guaraldi — were the very things that had made the producers anxious about potential failure.
1967: You're a Good Man, Charlie Brown
This off-Broadway musical ran at Theatre 80 in New York's East Village for 1,597 performances, starring Gary Burghoff (Radar from M*A*S*H) as Charlie Brown and Bob Balaban (The Grand Budapest Hotel) as Linus. It premiered in London's West End in 1968, and a Broadway production opened in 1971. It's still popular; earlier this year, the York Theatre Company mounted an off-Broadway production cast with youth actors.
1969: The First Peanuts Movie
A Boy Named Charlie Brown, with a title song written and performed by Rod McKuen, traces Charlie Brown's rise (and eventual fall) as a spelling bee champion. It was followed by four other features: Snoopy, Come Home (1972), Race for Your Life, Charlie Brown (1977), Bon Voyage, Charlie Brown (1980), and The Peanuts Movie (2015).
1970: Woodstock
Snoopy's pal, a tousled yellow bird of indeterminate species who speaks in indecipherable scratch marks, first appeared in 1967. However, he didn't get his own name until 1970, when Schulz named him after the famous music festival (which used a stylized image of a bird perching on the neck of a guitar as its logo). In the 1970s, he and Snoopy were among the best-loved North American pop-culture icons, featured on endless mugs, posters, T-shirts, lunch boxes, and other merchandise.
2008: It's the Grand Pumpkin, Milhouse
In its 20th season, The Simpsons paid homage to the Peanuts holiday specials in its annual Treehouse of Horror lineup. Milhouse appears with a Linus-style striped shirt and blue blanket; Lisa is dressed like Sally, and Bart like Charlie Brown. It's a typically twisted mashup that sees a giant humanoid pumpkin taking revenge on the citizens of Springfield for committing "pumpkin atrocities" like jack-o'-lantern carving and eating pumpkin seeds. It's full of loving references to Peanuts lore, including a dog dressed as a WWI flying ace soaring over Springfield Elementary on a red doghouse.
2015: The Peanuts Movie
Charles Schulz's son Craig Schulz and grandson Bryan Schulz contributed to the script of the 3D computer-animated movie, which debuted 65 years after the original comic strip. It revisits classic themes (Charlie Brown's hopeless love for the Little Red-Haired Girl and Snoopy's WWI adventures) with the full roster of favourite characters. It even reaches back to archival recordings to retrieve the original voice tapes laid down by Bill Melendez for Snoopy and Woodstock. Nominated for a Golden Globe, it just goes to show that, even after all these years, happiness is — still — a visit with the Peanuts gang.
Sarah B. Hood is a Toronto writer and editor.