Timothée Chalamet: A Supernova Is Born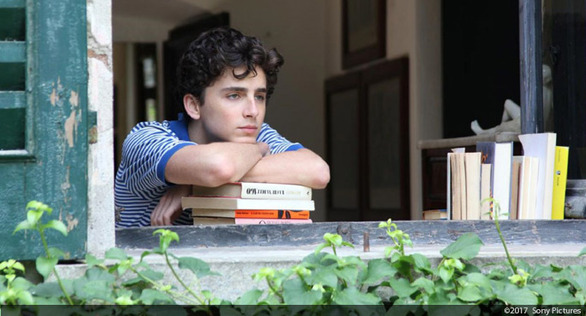 Now everyone in Hollywood calls Oscar nominee Timothée Chalamet by his name...
" ...you keep asking yourself: 'Is it going to be any good?' "
It often happens, with actors and release schedules, that there are years when it seems like they've been cloned.
Timothée Chalamet, now 22, had one of those years in 2017 — with roles in three award-season films, two of them Oscar-nominated, snagging a nomination for himself.
The nomination was for Best Actor in his breakout film Call Me By Your Name, Luca Guadagnino's drama based on the bestselling novel about a 17-year-old's summer affair in northern Italy with his father's brash 25-year-old research assistant (Armie Hammer).
The other roles couldn't have been more different from each other. Chalamet was a callow "cool kid" who broke fellow Oscar nominee Saoirse Ronan's heart in Lady Bird. And his performance as a young American frontier soldier opposite Christian Bale in Hostiles caught the attention of critics' awards groups as well.
All this from a stage-trained actor who says he still doesn't feel quite comfortable in front of a camera. "My background with acting is theatre-oriented and, for me, more performative," the New York-raised Chalamet told me during Call Me By Your Name's launch at last year's Toronto International Film Festival. "In a movie, all this stuff is going on around you, the camera is all close-ups, you keep asking yourself: 'Is it going to be any good?' "
Call Me By Your Name, however, was the sort of immersive filming experience Chalamet says he was looking for.
In it, he plays Elio, a polymath classical music prodigy spending the summer at the villa owned by his academic father (Michael Stuhlbarg). He's annoyed by Oliver, the American who insinuates himself into their home for the summer. Sensitively told and beautifully shot, without the usual outside drama and condemnation that often accompanies same-sex romances, Call Me By Your Name reveals a slowly evolving breakdown of emotional defences that allows two people to find each other.
"I mean, I got to film in northern Italy. And, as great as that was, that wasn't even in the Top 5 reasons to do this film," Chalamet said.
"There was the opportunity to work with Armie. For people of my generation, The Social Network was a really formative film. Armie's performance (the double role of the Winklevoss twins) is iconic.
"And the source material has such a special place in people's hearts. And James Ivory's screenplay, and getting to work with Luca, and incorporating the coolest and most innovative ideas from people.
"And then it was an awesome surprise when Luca said Sufjan Stevens had made music for the film. For anybody my age, or any age really, he's a brilliant, brilliant musician." (The singer-songwriter's music appears prominently in a bittersweet final scene, and was played on the set as the scene was being filmed).
"They say experience is the greatest teacher."
"And then there was the gift of how much time we spent together before shooting, like three or four weeks (rehearsal time during which Chalamet also learned Italian and how to play the piano). "It was just drinking espressos and watching Mike Tyson documentaries, things like that," he told a TIFF news conference.
"They say experience is the greatest teacher. And a lot of physically and emotionally intimate scenes were at the end of filming, so we had time to get to know each other."
For his part, Hammer is effusive in his praise of his young co-star. "Timmy has such a rich and beautiful, almost complicated, inner life that is so vibrant and so full, and he's able to keep it just under the surface in a beautiful way. Watching Tim live in the scenes and watching it affect him was like an acting exercise."
Chalamet says the most frequent reaction he gets to the film has highlighted Stuhlbarg's role as an understanding father. "They say: 'I wish my father had spoken to me the way Michael speaks to you in that film.' I think of the (LGBT struggle) in the States right now, where it's almost like we're struggling with a crackdown on life. To make this movie that's just about two people, with the lack of a violent aggressor, is the strongest antidote there could be.
"I feel quite fortunate that I got to grow up in New York. The idea of self-exploration not being allowed wasn't part of my experience. I encourage self-acceptance," he says, echoing a theme that also ran through Lady Bird.
Coming up, moviegoers will see Chalamet opposite another Oscar nominee, comedian-turned-dramatic-actor Steve Carell in the meth addiction drama Beautiful Boy, and in Woody Allen's A Rainy Day in New York. The latter saw Chalamet adopt a post-filming stance of social awareness, amid the renewal of longstanding sexual abuse claims against the director.
On Instagram, Chalamet announced: "I'm learning that a good role isn't the only (criterion) for accepting a job. I don't want to profit from my work on the film, and to that end, I am going to donate my entire salary (to charity)."
Jim Slotek is a Toronto movie critic and freelance entertainment journalist.