Madam Presidents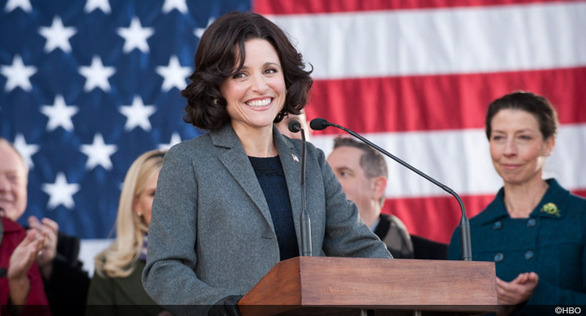 The real glass ceiling may be intact, but Veep's Selina Meyer is one of many characters who've proven which gender ought to lead the Free World
...the idea of a female U.S. president continues to be the stuff of fiction for the foreseeable future...
Some milestones are much easier to achieve in movies and TV shows than they are in real life, seeing as the idea of a female U.S. president continues to be the stuff of fiction for the foreseeable future.
Returning for Season 6, Veep remains a savagely funny satire of power and politics with an unabashedly (and timely) feminist bent. But it isn't the only show or movie that might give comfort to people who have relegated their "I'm With Her" T-shirts to the backs of their closets. Here's a look at the lady presidents we've been proud to serve under — or at least watch kick the butts of chauvinists, terrorists, and invading aliens.
THE PRESIDENT: Selina Meyer
MOVIE OR TV SHOW:
Veep (2012-present)
AS PLAYED BY:
Julia Louis-Dreyfus
LEADERSHIP STYLE:
Though sincere and polished in public, she's far more flustered and foul-mouthed in private, albeit for good reason
TOUGHEST CRISIS:
The Season 5 battle over ballots in an election that was too close to call and left Meyer's fate in the hands of (expletive deleted) Nevada
WORST NEMESIS:
Hugh Laurie's sneaky senator-turned-Veep Tom James, but no political enemy ever inflicted as much damage as Meyer's own staff
COMPETENCY LEVEL:
Low, but she's really trying
THE PRESIDENT: Mackenzie Allen ("Mac" to her friends)
MOVIE OR TV SHOW:
Commander in Chief (2005-2006)

AS PLAYED BY:
Geena Davis

LEADERSHIP STYLE:
Determined, no-nonsense, smart — she's the leader you want, which is why conservatives decried the short-lived show as an infomercial for Hillary Clinton's 2008 run for the Democratic nomination

TOUGHEST CRISIS:
Showing up the naysayers after she goes from VP to POTUS — and yes, it'd be nice if she had got there thanks to an election rather than the death of a male president
GREATEST TRIUMPH:
Staving off a nuclear war after a U.S. submarine accident in North Korea

WORST NEMESIS:
(tie) Terrorists, sexist colleagues, low ratings.

COMPETENCY LEVEL:
High, even if her noble-minded show needed to be way more Scandal-ous
THE PRESIDENT: Elizabeth Lanford
MOVIE OR TV SHOW:
Independence Day: Resurgence (2016)

AS PLAYED BY:
Sela Ward

LEADERSHIP STYLE:
Confident, well-spoken, admirably hawkish toward interplanetary threats

TOUGHEST CRISIS:
When the 20th anniversary party for Earth's victory over alien invaders is interrupted first by Bill Pullman's dishevelled ex-POTUS, and then by another invasion

GREATEST TRIUMPH:
Surviving the movie's first wave of destruction without smudging her pantsuit

WORST NEMESIS:
Those aliens who just don't learn what happens when you mess with Earthlings

COMPETENCY LEVEL:
Pretty good until she's vapourized
THE PRESIDENT: Allison Taylor
MOVIE OR TV SHOW:
24, Seasons 7 and 8 (2009-2010)

AS PLAYED BY:
Cherry Jones

LEADERSHIP STYLE:
Idealistic, courageous, cool even when held hostage in the White House by African commandos

TOUGHEST CRISIS:
When she's forced to turn in her daughter (also her chief of staff) after discovering her role in an assassination plot — talk about tough love

GREATEST TRIUMPH:
Finding her backbone and cancelling the latest order to have Jack Bauer killed, not that anything ever could

WORST NEMESIS:
Former President Charles Logan, the evillest of all evil (onscreen) male POTUS figures

COMPETENCY LEVEL:
Mixed — she really ought to trust Jack more than she trusts her advisers or family members
THE PRESIDENT: Constance Payton
MOVIE OR TV SHOW:
State of Affairs (2014-2015)

AS PLAYED BY:
Alfre Woodard

LEADERSHIP STYLE:
Steely and decisive, yet emotionally raw since the death of her son, a soldier who died while protecting her in a terrorist attack

TOUGHEST CRISIS:
Preventing secret operatives in the Ar Rissalah terrorist network
from committing attacks on American soil

GREATEST TRIUMPH:
Lending real gravitas to a lousy retread of Homeland

WORST NEMESIS:
Officially Ar Rissalah, but Payton's battle for screen time with Katherine Heigl's dull CIA analyst heroine was arguably fiercer

COMPETENCY LEVEL:
So good she deserved a better show
THE PRESIDENT: Laura Roslin
MOVIE OR TV SHOW:
Battlestar Galactica (2004-2009)

AS PLAYED BY:
Mary McDonnell

LEADERSHIP STYLE:
Touchy-feely at times but tougher than anyone would expect from the former secretary of education for the Twelve Colonies (a.k.a. America)

TOUGHEST CRISIS:
Having to keep the last humans alive and unified after a devastating Cylon attack, all while dealing with breast cancer

GREATEST TRIUMPH:
Getting to die peacefully in the loving arms of Lee Adama after suffering more misfortune than any sci-fi character ever ought to

WORST NEMESIS:
Gaius Baltar, a pompous, narcissistic celebrity who somehow steals an election from Roslin

COMPETENCY LEVEL: Off the charts — she's the greatest president this universe will ever know
THE PRESIDENT: Lisa Simpson
MOVIE OR TV SHOW:
The Simpsons, Episode 243: "Bart to the Future" (2000)

AS PLAYED BY:
Yeardley Smith

LEADERSHIP STYLE:
Forthright, courageous, sensible, yellow — pretty good for "America's first straight female president"

TOUGHEST CRISIS:
Her crashing approval ratings after her brother, Bart — now a
40-year-old slacker and wannabe musician — spills the beans about her austerity measures

GREATEST TRIUMPH:
Getting American voters focused on the three Rs: "reading, writing, and refilling the ocean"

WORST NEMESIS:
Bart, of course, but when he gets her out of a jam, she does him a solid by legalizing pot

COMPETENCY LEVEL:
Better than her predecessor Donald Trump, whose 16-year term ended with Lisa's election — we shudder to think what else The Simpsons prophesied
Jason Anderson writes about movies for Cinema Scope, FFWD, and the Toronto Star.