Westworld Ho!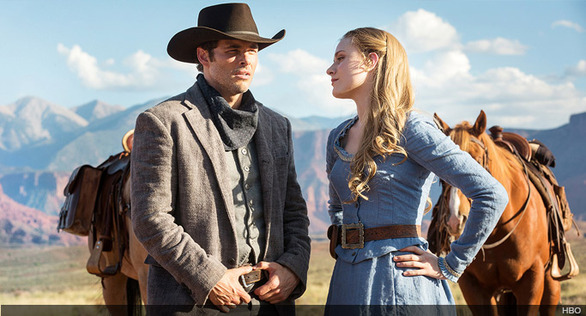 An A-List cast is free to indulge every human appetite in the new HBO series set in an artificial-reality theme park...
Clearly, writer/director Michael Crichton ... was made to stand in one too many long lines at either Disneyland or one of Universal's theme parks.
Giddy up for Westworld, a 10-episode series loosely based on the 1973 feature film of the same name.
The producers say Westworld, described as a "synthetic western," is set at the intersection of the near future and the re-imagined past. The cast is impressive: Anthony Hopkins, Ed Harris, Evan Rachel Wood, James Marsden, Thandie Newton, Jeffrey Wright, and more. And so are the producers behind it: Jonathan Nolan, Lisa Joy, and J.J. Abrams.
A fan of the original movie Westworld, which starred Yul Brynner as a gun-toting robot cowboy, Abrams struggled for years with how to remake the movie. When he figured out that it would make a better series than a feature, Abrams took the idea to the husband-and-wife team of Nolan and Joy. Nolan created Person of Interest; Nolan's brother, Christopher, re-imagined the Batman franchise with The Dark Knight features.
The original Westworld was a sci-fi feature where cowboy robots go crazy and start killing theme park patrons. Clearly, writer/director Michael Crichton, who went on to create Jurassic Park and ER, was made to stand in one too many long lines at either Disneyland or one of Universal's theme parks.
The new series brings the concept into the 21st century. James Marsden, who plays frontier sharpshooter Teddy Flood, says what's engaging about going to the series' fictional Westworld theme park "is that it does allow these people to go get completely immersed in an artificial reality, where the robots are virtually indistinguishable from humans." He calls it "the ultimate video game."
The link between theme parks, movies and TV shows is as long as some of those attraction lineups. Disneyland celebrated its 60th anniversary last year, but few remember that the granddaddy of theme parks was in many ways a child of television. Walt Disney's first TV series was called Disneyland. The series premiered in 1954 and was basically an hour-long infomercial for the theme park, which opened in July of '55. The TV series was even divided into sections that mirrored the park — Adventureland, Tomorrowland, Frontierland, etc.
Not only that, but Disney got the money to build Disneyland from ABC. If not for the network, there'd be no theme park.
Disneyland was used as a setting for an action sequence in Norman Jewison's first feature: 40 Pounds of Trouble (1962). Jewison had to get permission from Walt Disney himself and then improvised much of the Keystone Cops-like chase scenes involving his star, Tony Curtis.
Today, several popular movies and TV shows have been spun into thrill rides. Crichton's Jurassic Park — a tale of a fictional theme park where dinosaurs are brought back to life and go bonkers — is also a theme park attraction at Universal Studios in Hollywood and Orlando.
Universal is also home to The Simpsons ride at both locations. Disney has rides based on Star Wars and Indiana Jones, and it's building a multimillion-dollar expansion of its Animal Kingdom theme park to be a playpen based on James Cameron's 3-D blockbuster Avatar.
It makes you wonder what movies or TV series were rejected as theme park attractions. Fortunately, we here at Movie Entertainment have our own list:
Kanye Westworld: The superstar rapper patrols the midway at his own theme park and takes stuffed dolls and other prizes away from surprised patrons, then awards everything to Beyoncé.

North by Northwest World: Based on Alfred Hitchcock films, this theme park would have guests get whitewashed by attacking pigeons and then be forced to shower with knife-wielding cross-dressers.

Mae Westworld: Guests (who must be at least this tall, dark, and handsome) would be invited to "come up and see me sometime" by a series of wisecracking, Klondike gold rush girls.

West Wing World: An animatronic robot that looks and acts like President Bartlet from The West Wing goes bonkers and starts bullying citizens as if he were Donald Trump.

Jestworld: Built in Montreal to be part of the Just for Laughs comedy festival, the theme park would let audiences gong un-funny comedians by sending them down a big slide from hell.

Wicked Witch of the Westworld: Park-goers must dodge houses falling from the sky and try to avoid being melted at the end of the ride by scarecrows wielding water buckets.

Clint Eastworld: Feelin' lucky, punk? For a fistful of dollars, patrons can choose which Clint Eastwood robot they want to challenge to a duel: the young, poncho-wearing loner or the old coot chasing kids off his lawn with a shotgun.
Bill Brioux is a Toronto-based freelance journalist and contributor to the Canadian Press.