Will Arnett: Batman and Beyond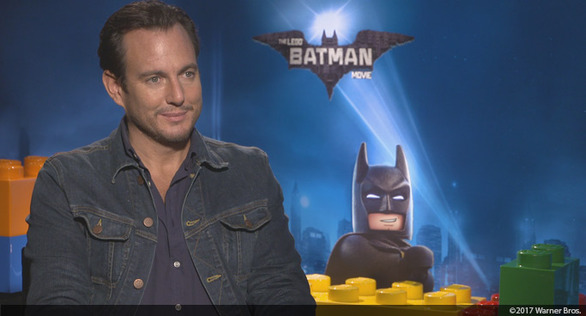 After a stumbling start to his TV career, the multi-talented Canadian found his voice — lots of them, in fact...
Arnett has been building his career one yellow plastic brick at a time.
Will Arnett is a man in a hurry. He ducks into a round-table press conference, quickly greets a half-dozen reporters, apologizes for being late, and then launches into a spot-on impression of the White House press spokesperson of the day.
"As far as we know, he was fine when we vetted him …," he jokes in a mock press-officer voice.
Tanned, casually dressed, and artfully unshaven, Arnett could be promoting any one of a handful of projects on this day. He has had a busy year, starring in a second season of his semi-autobiographical, short-order sitcom Flaked, producing and being a comedy panellist on his revival of The Gong Show, and, most notably, headlining the $312-million US worldwide box office success of The Lego Batman Movie.
Arnett has been building his career one yellow plastic brick at a time. The Lego Batman Movie is a sequel of sorts to 2014's smash hit The Lego Movie, where he also voiced Batman and his alter ego, Bruce Wayne. This sequel co-stars Arnett's Arrested Development cast mate and fellow Canadian Michael Cera as Dick Grayson/Robin, along with Zach Galifianakis as the Joker.
Arnett acknowledges that he could not cram one more thing into his busy schedule.
"It was tough," he says. He finished shooting Season 2 of Flaked last fall "and then we went straight into post-production."
At the same time, Arnett travelled to England and Wales to work on the family comedy Show Dogs with Natasha Lyonne, Stanley Tucci, and Alan Cumming. "I was in London, editing on a laptop from there at night, Skyping with some of our editors who were in California.
"There's no way I could have done one more episode [of Flaked]. I would have probably collapsed."
Work is one thing. Time away from his kids is another. Arnett has two sons, ages seven and nine, with ex-wife Amy Poehler.
"I look at everything I do as taking me away from spending time with my kids," he told the Los Angeles Times last year. "I don't want to be the guy who works all the time."
Part of the fun of working on The Lego Batman Movie and other animated projects is that Arnett can share them with his children. He even runs some projects past them, including Show Dogs.
Arnett has had his ups and downs as an actor, but one thing that has been consistent is the voice work.
By now, his boys are probably used to hearing their multi-talented dad speak for several cartoon characters. Arnett has had his ups and downs as an actor, but one thing that has been consistent is the voice work. He has done plenty of commercials, and for many years was heard in auto ads promoting GMC trucks.
His voice-over credits in animated features extend back to small roles in Ice Age: The Meltdown (2006), Ratatouille (2007), Horton Hears a Who! (2008), and Despicable Me (2010), where he played the president of the Bank of Evil.
After Arrested Development wrapped for the first time, in 2006, he joined several of his former cast members as well as executive producer Mitchell Hurwitz on the 2009 animated Fox series Sit Down, Shut Up. Arnett played teacher Ennis Hofftard, whose catchphrase was: "Catchphrases are for losers."
He has had better animated sitcom success as the title character in the critically acclaimed BoJack Horseman, which recently returned for a fourth season.
A big part of Arnett's drive and determined work ethic is inspired by the days when things were not going his way. Before Arrested Development, he shot four failed TV series in a row, three of which never got past the pilot stage.
He was so discouraged that he swore off TV for a while and had to be talked into auditioning for what became the big break of his career: playing weaselly brother G.O.B. on Arrested Development. Now the entire cast of that series — including Jason Bateman and Portia de Rossi — will reunite one more time for another season of life with the Bluths (coming in 2018).
Back before Arrested Development, Arnett tried to drink away his hard times. He was a struggling actor, living first in New York and then in Venice Beach, California, not sure that he'd made the right decision to leave home in Toronto.
That struggle later became part of the inspiration for Flaked.
"I leaned into experiences I had in my own life," he says of playing a (sort of) recovering alcoholic named Chip. "We felt an imperative to make it as authentic as possible and to write what you know and what you identify with. If we're telling this story, we have to be honest and tell it this way."
These days, Arnett probably relates more to Batman and Bruce Wayne, even if he's only playing a Lego version of the crime fighter. He says part of what drew him to The Lego Batman Movie was a chance to explore why millionaire philanthropist Wayne was so lonely and unhappy, even though he seemed to have everything.
Given the success of the film, there's likely more Lego Batman in Arnett's future. That's good for the actor, but bad for his voice, which he has to rasp into a gruff growl.
"Vocally, physically, it would get hard," he told one reporter. "After four hours of doing it, I'd be pretty spent."
Bill Brioux is a Toronto-based freelance journalist and contributor to the Canadian Press.