Keeping Up with Zach Galifianakis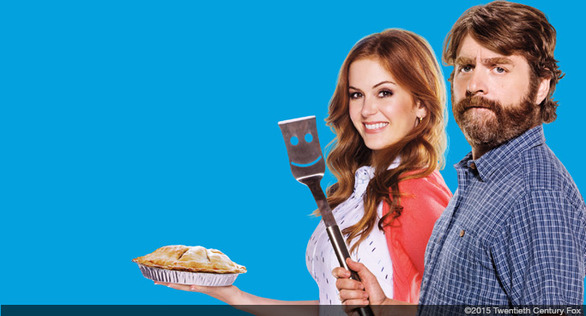 Hungry for Rejection? Discomfort is still the secret weapon of Zach Galifianakis...
Has the actor who once cherished the virtues of discomfort finally embraced the comforts of Hollywood?
Roughly eight years into his surprising career as a Hollywood leading man, Zach Galifianakis has forged a distinctive persona, one that seems miles away from the mainstream Hollywood norm. With that in mind, Keeping Up with the Joneses comes as something of a surprise. Galifianakis plays Jeff Gaffney, a happily married father of two with an ordinary — if unusually tedious — career in Human Resources. He also has a passion for home brewing, indoor skydiving, and the idyllic cul-de-sac where he lives.
No matter how you look at it, this is a long way from the combative, abrasive, intentionally inappropriate standup comic who made his name creating characters like "The Timid Pimp," "The Pretentious Illiterate," and "The Effeminate Racist." Has the actor who once cherished the virtues of discomfort finally embraced the comforts of Hollywood?
To answer this question, you have to go all the way back to Galifianakis' origins as a standup comedian in early '90s New York. From the moment he set foot on stage, rejection was a constant reality. Some comedians despair over failure and radically alter — or even abandon — their act, but Galifianakis saw exciting potential in this predicament. He started looking for ways to push further into uncomfortable territory, finding untapped comic opportunities along the way. "Wherever there's something that people don't feel comfortable talking about, that's where the good jokes are," he once told the New York Times. "A bad comic follows his audience, catering to whatever they want. A good comic will always lead."
This enthusiasm for discomfort extended far beyond his life on stage. Rather than pursue fame and fortune, Galifianakis was content to live in borderline poverty on the margins of show business, remaining free from the burdens of professional ambition. Rather than fixate on success and pander at every opportunity — like so many of his peers — he went in the opposite direction, actively sabotaging his career. When he landed a prominent role on Fox's Tru Calling, he insulted the writers and star Eliza Dushku in the hopes of getting fired. When he got his own talk show (Late World with Zach), he savoured its instant failure, regularly drawing attention to this disappointment on the air — with hilarious results. Rather than stifle his comedy, failure seemed to be making it stronger.
Galifianakis's determination to reject everything Hollywood holds dear — glamour, likability, success — is exactly what made him a star.
By the time these shows were off the air, Galifianakis's comic persona, so refreshingly new to those who appreciated his work, was largely defined by an aversion to success. So far as he was concerned, Hollywood stardom was blissfully out of reach. For Galifianakis to break through, he would need to (a) start caring and (b) find someone from within the system to embrace his uncompromising approach. This was an extreme long shot, but it's exactly what happened when director Todd Phillips gave Galifianakis one of the central roles in The Hangover. Rather than ask the actor to suppress his unique brand of inappropriate awkwardness, Phillips gave him free rein, resulting in the first blockbuster success of his tumultuous career.
In essence, Galifianakis' determination to reject everything Hollywood holds dear — glamour, likability, success — is exactly what made him a star. But with the industry finally ready to embrace him, he showed no signs of returning the favour. While Galifianakis continued to work with Phillips (on Due Date and two Hangover sequels), he largely kept his distance from the mainstream, preferring oddball TV shows (Bored to Death, Baskets), bizarre cameos, and a web series (Between Two Ferns) that picked up where Late World left off. He also kept a literal distance from the industry, spending much of his time on his farm in Alleghany County, North Carolina. In the immediate aftermath of his breakthrough success, he even suggested that retirement might be just three years away, an idea he wisely abandoned.
In part, this constant rejection of Hollywood stems from Galifianakis's disdain for mainstream movies, but Phillips sees a more complicated dynamic at work. "Honestly, I think the hating of Hollywood is a little bit of a defence mechanism," he said to Rolling Stone of his frequent collaborator. "I think some of it has to come from dealing with rejection for so long. Living in a van. Having to go to auditions in Burbank. People not getting it."
Which brings us back to Keeping Up with the Joneses. Whether fuelled by a new sense of confidence or careerism, Galifianakis appears to have finally accepted what Hollywood has to offer. It could also be that he simply discovered a new outlet for his classic approach. On the surface, Joneses might seem like a departure, but the lessons of the actor's early career are very much in evidence. Whether getting attacked by exotic cuisine or humiliated in his clueless handling of high-stakes intrigue — involving spy neighbours Tim (Jon Hamm) and Natalie (Gal Gadot) — Jeff suffers through a constant barrage of awkwardness and discomfort. While Galifianakis' appetite for rejection isn't what it used to be, he is still driven by the obsession that both stalled and launched his storied career: making people squirm.
Jonathan Doyle writes about movies for Comedy, CTV, and Space.